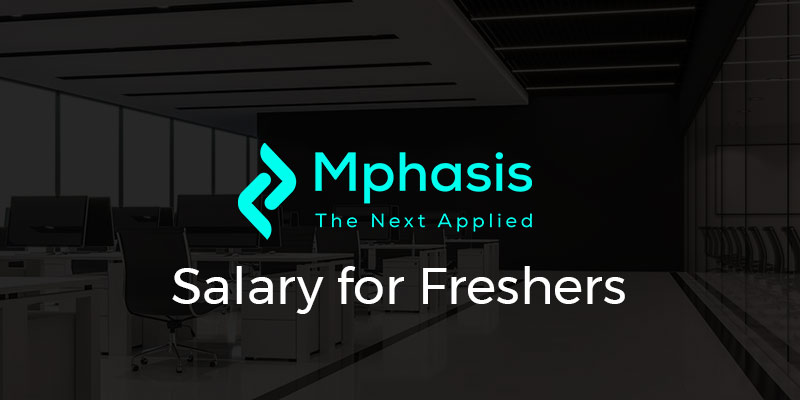 Mphasis is a leading technology startup that is redefining global trade and business. Mphasis is an excellent choice for freshers who want to work in the IT industry as part of their professional development. Mphasis is one of the most incredible and most inspiring IT tech firms. Mphasis salary for freshers varies depending on the position or designation conferred. The significance of freshers' salary and their numerous roles and responsibilities are discussed in this article.
Applicable Candidates for Mphasis Freshers Jobs
Mphasis is looking for IT enthusiasts, both new graduates and experienced professionals. The company's strategy is determined by three words: passion, perseverance, and perfection. Candidates that are daring, enthusiastic, diligent, and clever are considered by Mphasis. Those who can work well with a diverse group of people are then more likely to be selected. In addition, the candidate must have a plan for the future. If you're passionate about your IT career, check out the Mphasis Career Page and apply for a variety of roles. Mphasis freshers are paid differently based on the level of function they hold and their professional experience.
Application Procedure for Getting Placed into Mphasis
Mphasis invites applications from first-year students and aspirants in the field of information technology in two ways:
Off-Campus Interview: You are strongly encouraged to participate in off-campus recruitment events hosted at various locations. The Mphasis website will be updated with new information concerning interview scheduling.
Online Application: In addition to the Off-Campus Drive, you can browse for job positions on the jobs page and apply straight from there.
Qualification Criteria for Mphasis Freshers Jobs
Freshers looking for a variety of employment options at Mphasis with competitive Mphasis Fresher Salary must meet the following requirements. The list is as follows:
Mphasis is looking for graduates with full-time degrees and computing skills. A recognised degree such as B.E/B.Tech/B.Sc/BCA/MCA is required.
A graduation percentile of 60% or higher is required, and a CGPA of 6.3 or above.
Throughout the academic semester, they should not have any current backlogs.
In addition, the candidate must have obtained a grade point average of 60% or above in both their 10th and 12th grades.
Additional Skills Considered for Freshers Jobs at Mphasis
Freshers who want to work at Mphasis should have the following essential skills: scientific vision, critical thinking, problem-solving, problem evaluation, and excellent leadership skills to work with a variety of teams and groups. The ideal candidate will be punctual, productive, creative, and versatile in terms of work hours and locations. Learn AWS Training in Chennai to enhance your resume with a new skill set and make your application stand out with excellent Mphasis Fresher Salary.
Mphasis Salary Structure in India
Depending on the candidate's role, the Mphasis salary for freshers ranges from 2.8 LPA to 4.5 LPA. Furthermore, the graph below depicts the Mphasis freshers' salary versus experienced workers' salary. Nonetheless, the salary information supplied here is speculative. They can vary depending on the package and the number of years of experience candidates possess. However, we have approximated the average salary in the below chart.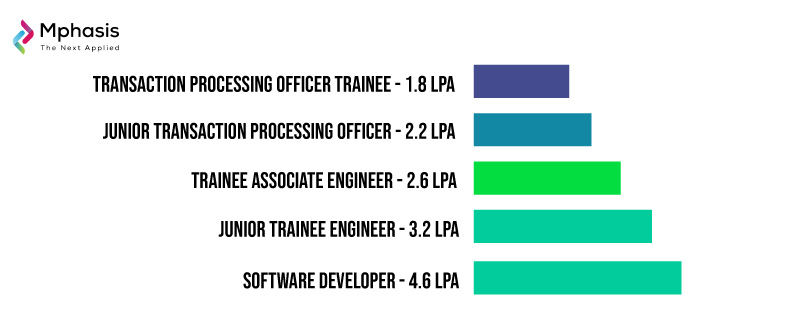 If freshers want to boost their typical compensation package, they can enroll in and complete a Data Science Course in Chennai. With a competitive wage package, the skill required and demand in the IT job market will almost certainly increase.
Basic Skills, Job Roles and Responsibilities
Several significant Mphasis academic standards have already been discussed in the previous section. However, we've discussed the job roles and responsibilities in the following section.
Trainee Engineer
Freshers looking for a job opportunity with good Mphasis Salary For Freshers can apply for Trainee Associate Software Engineer at Mphasis. Mphasis seeks freshers who are familiar with Cloud Apps or Google Cloud. They are primarily about cloud program development and training modules. Python Training in Chennai from FITA Academy will help you become a fantastic consultant. The premier institute is well-known for successful placement for freshers.
Software Engineer
The Associate Software Developer Trainee will create new software applications and solutions by creating, developing, and implementing new ideas and products. The Associate Software Developer Trainee will anticipate and resolve problems that may arise in the design of current or future products. The Associate Software Developer Trainee will be in charge of researching, designing, defining, and implementing product software applications. Mphasis is looking for software engineers with three years of C/C++ expertise, UI/UX development experience, and clinical and health application development experience with an attractive Mphasis salary for freshers. They must also have excellent written and verbal communication skills and the ability to work under pressure in a welcoming environment. As software engineers, they are responsible for the following responsibilities.
Developing software and apps that follow ISO standards.
Increase the quantity of apps and products generated consistently.
Work with coworkers and teams to collaborate and interact.
Reconsider the software architecture, product upgrades, and overall system.
Collaborate with internal and external colleagues for collaborative ventures.
Look for new and innovative ways to write down new thoughts.
Coworkers' skills and expertise are mentored and strengthened.
To become a Best Software Developer at Mphasis, enroll in and earn a Java certification through Java Training in Chennai, the top programming course responsible for the evolution of digital and information technology services.
Junior Full-Stack Developer
Mphasis is looking for junior-level full-stack developers who have worked on apps built with full-stack , Java, AWS, Angular 8+, SQL, GIT, Linux, APL, JSON, and languages related to full-stack Java. Freshers seeking this job role with a feasible Mphasis Fresher Salary must possess the following skills: experience with Jenkins, NoSQL, and other related technologies in order to qualify for a high Mphasis freshers salary. At Mphasis, a full-stack developer's essential tasks and responsibilities are as follows.
Creating a front-end website's architecture.
Creating user interactions on a web page.
Developing backend software for websites.
Servers and databases are developed for functionality.
Ensure cross-platform compatibility for mobile phones.
Assuring the responsiveness of the programme.
Collaborate with graphic designers on web design features.
Inspecting a project through from start to finish.
API development and design.
Taking care of both technical and consumer needs.
Maintaining knowledge of the most recent online apps and programming languages.
Learn Full Stack Developer Course in Bangalore at FITA Academy to demonstrate your skill set in full-stack development. This course will help you gain more experience with full-stack programming.
Dot Net Microservices Engineer
Dot Net Developers or .NET Engineers create presentable, well-functioning apps using Microsoft. NET framework. As a result, on an excellent mphasis salary for freshers, a.NET Engineer must have significant knowledge of at least one of the required coding languages and exceptional graphic design skills. Applicants who are looking for Mphasis positions with good Mphasis fresher salary are encouraged to apply for ASP.Net, MVC, C#, ASP.Net Developer, and hands-on coding certifications. Knowledge of Net Core, Cloud, NoSQL, SOAP, API, REST API, Specflow, JUnit, RabbitMQ, and writing for various technologies is required for this post. The Dotnet engineer must accomplish the following critical activities during their stay in the company.
Using Microsoft's. NET architecture, develop software solutions that meet the needs of clients.
Collaborating with coworkers when needed to make significant, complex tasks easier to complete.
The existing code is being reorganized to ensure that it meets defined standards.
Identifying and repairing faults and omissions in your code.
You can ensure that they are in good working order by checking your outputs.
Ensure that the outputs are appealing to the eye, simple to use, and entertaining.
Introducing new features and tracking how well the target audience receives them.
Client feedback is incorporated into the development of subsequent editions of each result.
Keeping up with changes in the code and technology that will affect your employment.
To increase your Dot Net Microservices to clients, enroll in Dot Net Training in Bangalore. The.NET course has revolutionized the development of mobile, web, and computer applications.
DevOps Automation Engineer
A DevOps engineer provides ideas, techniques, and methodologies to balance needs throughout the software development life cycle, from coding to deployment to maintenance and upgrades. Mphasis is looking for candidates with 4+ years of full-stack programming experience, including 2+ years in AWS, Java, C#, Linux, and other Windows operating systems. Freshers willing to join as DevOps engineer with good Mphasis Fresher Salary are required to fulfill the following key roles and responsibilities which are as follows
Automated approaches are being implemented to boost the speed with which features are supplied.
Collaboration with other DevOps engineers who specialize in automation
Provide DevOps consulting services to companies while on the road.
Enroll in for DevOps Training in Bangalore to boost your development techniques and methods for automating solutions and adding new features to current ones.
Analyst
Analysts use statistical data and computer systems to spot trends, get business insights, and help companies improve their processes, cut costs, and build strategies. These professionals may specialize in a particular field of business, and their job titles may change to reflect this. Life insurance, property and casualty insurance, VB Enrollment, Universal Billing Systems, Microsoft Word and Excel competency, and other business analysis skills are expected from an IT analyst. An Analyst at Mphasis is responsible for the following key responsibilities:
Collecting and analyzing raw data to find trends, patterns, anomalies, and other important information.
Data is utilized to create and improve plans and procedures in order to increase income, efficiency, quality, or security while reducing costs.
Collecting data and working with internal departments to develop and implement plans.
Identifying and validating new data sources.
To summarize findings and influence company decisions, reports and presentations are generated.
With the management team, establish project objectives, budgets, and timetables and monitor and evaluate performance.
Creating policies and procedures that protect corporate data and information when it is being gathered, processed, stored, and discarded.
In order to increase efficiency, accuracy, and security, analytical procedures, methodologies, and tools are being examined and improved.
Operational Coordinator
Mphasis employs operations coordinators to assist global corporations in improving their results. The candidate must have at least 1-3 years of supply chain experience. So that they may collaborate with IT teams to move the industry forward. Additionally, the applicant must possess excellent communication, linguistic, and persuasion skills. The operations coordinator is also in charge of the following key responsibilities.
Assist international corporations with their operations.
The performance of your partners should be communicated to all stakeholders.
Providing information about the company's growth, resources, finances, and costs.
Internal and external outsourcing partners should work out their differences.
Tasks or assignments assigned to the manager or supervisor must be completed.
Employment Benefits for Freshers at Mphasis
Mphasis provides several freshers and career benefits to its new employees. The following are a few of them:
Friendly and Encouraging Workplace: Mphasis employees work in an environment that is both friendly and encouraging. We will value and support your innovation and suggestions.
Cafeteria for Refreshments: During business hours, you can have refreshments from the restaurant, which offers a choice of cool drinks and snacks.
Complimentary Transportation System: Mphasis provides complimentary transportation from your home to your job and vice versa.
Education Assistance: If you are married and have children, Mphasis will support your children in acquiring essential education and assistance.
Child Care Services: Mphasis has child care centers where its workers' children can be cared for.
Free Food and Hospitality Services: As a Mphasis employee, you will enjoy complimentary meals and food goods during onsite work hours.
International Relocation Opportunity: Mphasis has global work hubs, and any employee can relocate anywhere on the planet. The operation is carried out in accordance with specific protocols and with the permission of higher-ranking officials. You must learn and pass IELTS Coaching in Chennai to have your VISA authorized and to take advantage of all the foreign perks.
Additional Employment Benefits at Mphasis
Mphasis employees receive a variety of additional benefits and incentives in addition to their employment benefits. The list is as follows:
Mphasis covers your sick days, vacations, and holidays.
The company allows you to dress informally instead of donning uniforms.
There is a warm and sociable attitude in the workplace.
It reimburses you for your training and certification.
Work schedules that are adhered to, as well as flexible work hours.
There may be opportunities to work from home in the event of a pandemic.
Job Satisfaction Rate
Freshers have given a job satisfaction rating based on their work experience and working environment. Compensation and perks, work-life balance, professional advancement, job satisfaction, and job security were all taken into consideration while generating this score. Mphasis freshers are generally satisfied with their jobs, with an excellent Mphasis salary for freshers of over 70%. The graph below shows Mphasis' varied fresher employment rates.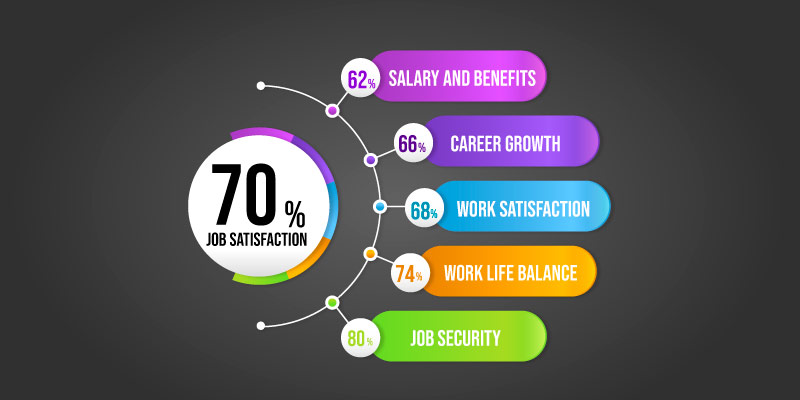 Mphasis has a global reputation for infrastructure technologies, applications, architectural direction, and other IT services and has been recognized as one of the leading MNCs in these areas. The organization is well-suited to both freshers and professional experts. Furthermore, the organization needs applicants who are enthusiastic, hardworking, punctual, and capable of leading others. If you're one among them, make use of most of the professional opportunities listed on their website. The company wants to acquire a few more IT firms in the next few years, with broader opportunities and an excellent Mphasis company salary for freshers. As a result, both trainees and employees gain international experience, which offers new opportunities for their chosen IT career. We strongly encourage both recent and freshly graduated students to take advantage of this opportunity.
Recent Post: Verizon Salary for Freshers