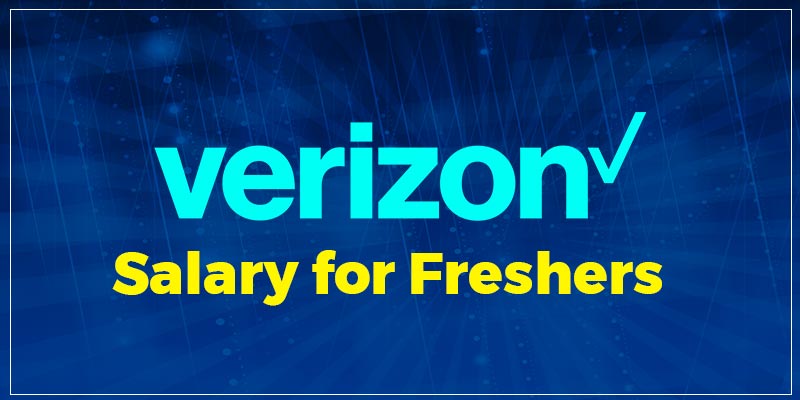 Verizon is an American multinational and telecommunication company headquartered in New York. The company is popular for outsourcing communication services worldwide. It has been inspiring applicants from the communication and engineering department for various job positions along with a feasible Verizon Salary for Freshers.
In this blog, we will walk-through you the company's significance, various open positions, the procedure to apply, recruitment selection process, freshers benefits, and freshers perks. Let's discuss the candidate's eligibility and qualification criteria in the following section.
Applicable Candidate for Verizon's Fresher Jobs
Because Verizon is primarily focused on wireless communication technology, those who are enthusiastic about wireless communication and satellite communication systems are encouraged to apply. Applicants with a passion about cellular networks for mobile devices, home phones, and IoT based services are also urged to apply. As a result, candidates with these skills should search for a Verizon career site for numerous positions. Make you eligible and unique against all competitors through learning Java Training in Chennai.
Application Procedure for Verizon Freshers Jobs
Verizon aspirants can apply for various open positions with feasible verizon salary for freshers through two different application modes, they are as follows
Online Mode - Through this option, applicants can register and submit an application. Once after the successful application submission, the shortlisted candidate will get a communication email from the company's representative.
Offline Mode - Verizon also takes its placement centers to nearby colleges or universities for direct or walk-in interview. Candidates willing to participate in the walk-in interview must register in advance. Registered applicants will receive a follow-up mail mentioning the data, time, and venue for the interview process.
Qualification Criteria for Various Verizon Freshers Jobs
Candidates seeking various job roles with excellent verizon salary for freshers must possess the following qualifications criteria for Verizon job roles which are as follows
The applicant must have earned a bachelor's or master's degree in any field (computer science and information technology are preferred)
Bachelor of engineering (B.E), bachelor of technology (B.Tech), bachelor or master of computer application (MCA), and bachelor of science are all required degrees.
The candidate must have a cumulative grade point average of 65 percent or a 6.5 CGPA (Cumulative Grade Point Average).
In the current or previous academic semesters, the candidate should not have any academic backlogs.
Earn additional qualification criteria for various freshers job roles at Verizon with excellent Verizon Fresher Salary through pursuing Python Training in Bangalore.
Verizon's Interview and Selection Process
The company recruits freshers through three technical rounds which are follows
Online Interview Test Round - The organization conducts an online test in the Multiple Choice Questions (MCQ) format in Round 1, giving candidates 90 minutes to finish the test. This test round has no negative grading, although it does require an average score to pass the exam. The MCQs include topics such as computer science fundamentals and coding. Students who pass this round will be allowed to attend the technical round.
Technical Interview Round - In this round, the candidate will be asked questions regarding programming languages, new technologies, databases, SQL queries, and other topics. As a result, the round will be more technical, including questions based on your résumé.
Human-Resources Interview Round - The interview procedure has now progressed to the final stage. HR will ask you fundamental questions such as "Tell me about yourself?", the applicant's strengths and weaknesses, career objectives.
Verizon Salary for Freshers
The Verizon salary structure varies from different positions and also from the freshers to the experienced professionals. Further, the salary packages also differ from the work location to years of experience the applicant possesses. However, we have shown an approximated salary package for freshers in the below chart.

Until the last section, we have discussed the eligibility, application procedure, and interview selection process, from now, let's discuss about the availability of various job roles along with their key roles and responsibilities
Basic Skills, Roles and Responsibilities for Freshers Jobs
Software Engineer
Freshers willing to join as software engineers at Verizon with an excellent Verizon Salary for Freshers must possess skills in C++, Java, Scala, Database architecture, Agile, Operating Systems, Cloud Computing, Design Testing, Debugging, and other relevant IT fields. As a software engineer, they are concerned with the following key roles and responsibilities which are as follows
Directing and Creating numerous validation and testing approaches for software systems.
Monitoring the software development process and cycle.
Accepting the responsibility of the software documentation process.
Reporting the project status to the clients and cross-functional departments.
Utilizing the data analytics tools for software modification and installations.
Providing team members with crucial project data and creating team cohesion.
Developing and executing project plans.
Initiatives to use mathematics and statistics to solve problems.
Utilizing the standard operating procedures and best practices for resolving software issues.
Creating innovative solutions based on the company's needs or requirements.
Evaluating new software and addressing the raised issues and problems.
If you require extra software developer skills, such as testing, FITA Academy's Software Testing Training in Chennai can teach you everything you need to know about the software testing process.
Solutions Architect
Solution architects develop or modify the architecture of systems to meet the particular business requirements. They test, integrate, and programme software systems in a proper manner to verify specific business solutions. Also they address all kinds of issues related to software architects. Freshers seeking this job role with feasible verizon salary for freshers need to possess the following skills: SAP, Amazon-Web-Services, Microsoft Azure, Apace, Kafka, Informatica, Data Management, Software Development Life Cycle, Big Data Analytics, Enterprise Architecture, and relevant IT security infrastructures. As a solutions architect, they are concerned with the following key roles and responsibilities which are follows
Taking a look at the technological landscape.
Conduct brainstorming sessions to learn about potential solutions to corporate challenges or demands.
Make a list of the testing requirements.
Identify areas where the IT department can assist with the company's goals and needs.
Collaborate with a business unit to develop IT strategies and improve existing IT implementations.
Develop software and services that can be shared between enterprises.
To identify relevant solutions, share your ideas with clients and internal stakeholders.
Become an exceptional solution architect though pursuing AWS Training in Bangalore at FITA Academy. Through this course, the applicant can learn more about the cloud concepts and cloud-based services.
Security Engineer
Security Engineers play a significant role in the protection of computers and company's network systems from the influence of potential hackers and cyber attacks. Freshers. Applicants who want to become a security engineer with an excellent verizon salary package for freshers are advised to acquire the following skills: Firewalls, Office-365, VSX, Endpoint, Security, C++, Java, Ruby, Node, and Go. As a security engineer, they are concerned with the following key roles and responsibilities which are as follows
Monitoring, Managing, Implementing, and Planning security measures for the protection of the organization's data, systems, and networks.
Identifying and resolving security and network issues.
Addressing all system and/or network security breaches.
Enabling and Ensuring proper security controls for the protection of company's data and data infrastructures.
Participating in the process of change management.
Students who want to work at Verizon as a Security Engineer can enroll in the Ethical Hacking Course in Chennai and learn about network and computer security.
Cloud Security Architect
Cloud Security Architect poses a critical role in the management of cloud-computing strategies. The various strategies of a cloud security architect include cloud adoption, cloud app design, cloud management, and monitoring. They also watch application architecture and deployment in cloud environments, such as public, private, and hybrid. Freshers seeking this job role with an acceptable Verizon salary for freshers must possess the following skills: expertise in security measures, IDS, Network access controls, network segmentation, Linux, UNIX, VLAN, COBIT, ITIL frameworks, and cloud risk assessment methodologies. Usually a cloud security architect are concerned with the following key roles and responsibilities which are as follows
For various IT projects, planning, studying, and then creating a resilient security architecture is required.
Creating network, firewall, router, and other network device prerequisites
Vulnerability assessment, security testing, and risk analysis are all tasks that must be completed.
Updated security standards, systems, and best practices are being researched and implemented.
Enroll for Cloud Computing Training in Chennai to increase your knowledge of cloud computing technology and become an expert in it if you want to work for Verizon as a Cloud Security Architect.
Full Stack Developer
Full Stack Developers are the developers who work closely with back-end and front-end systems. Freshers or newer graduates willing to join Verizon with feasible Verizon fresher salary are advised to possess the following skills in the following domains: HTML, CSS, Java Script, XML, JQuery, C#, Python, Ruby, Java, Angular, React, Node.js, MySQL, MongoDB, Web-Servers, UI/UX Design, and other IT fields. As a full stack developer, they are associated with the following key roles and responsibilities which are as follows
To come up with software solutions, collaborate with development teams and product managers.
Create appealing visual design for the front-end of applications by designing client-side and server-side architecture.
Create and maintain efficient databases and applications.
Create APIs that work.
Software should be tested for responsiveness and efficiency.
Upgrade, debug, and troubleshoot software
Make security and data-protection configurations.
Create features and applications that are mobile-friendly.
Prepare technical documents
Improve software with the help of data scientists and analytics.
Join and Pursue Full Stack Developer Course in Chennai to master the technology from the basics to advanced ideas and join Verizon as a Full Stack Developer with verizon salary for freshers in india.
Employment Benefits for Freshers at Verizon
Employees at Verizon are offered with numerous perks and fresher benefits. These offers and benefits are to encourage their employees or worker for their extended sustenance in the Company. Some of the employment benefits for freshers at Verizon is listed as follows
Verizon covers dental, medical, health, and life insurances and policies with all kinds of financial compensation.
It also covers temporary and long-term physical disability insurances.
Verizon provides an international community platform where the workers can engage with teams for exploring numerous collaboration benefits.
Paid-leaves on maternity and paternity with 100% base pay.
Verizon also provides competitive verizon fresher salary with performance- based incentives.
The company prioritizes relaxation, fun, and to re-energize with loved ones.
It also offers an employee assistance program (EAP) which is free and available for 24 hours.
Verizon also provides international relocation opportunities to both freshers and experienced professionals. Through this opportunity, any employee can relocate the work location depending on their convenience.
In order to avail all the international opportunities at Verizon, you need to clear either IELTS or TOEFL to process your visa application. Therefore, we suggest you undertake IELTS Coaching in Bangalore. It will provide your excellent cracking tips with IELTS certification to move your international application forward.
Job Satisfaction Rate
Freshers have given a rating of job satisfaction based on their work experience and working environment. This rate has been calculated based on compensation and benefits, work-life balance, career advancement, job satisfaction, and job security. Overall, freshers at Verizon are happy with their jobs, with a fantastic Verizon Salary For Freshers of around 76 percent. The following graph shows the various freshers' rates for employment at Verizon.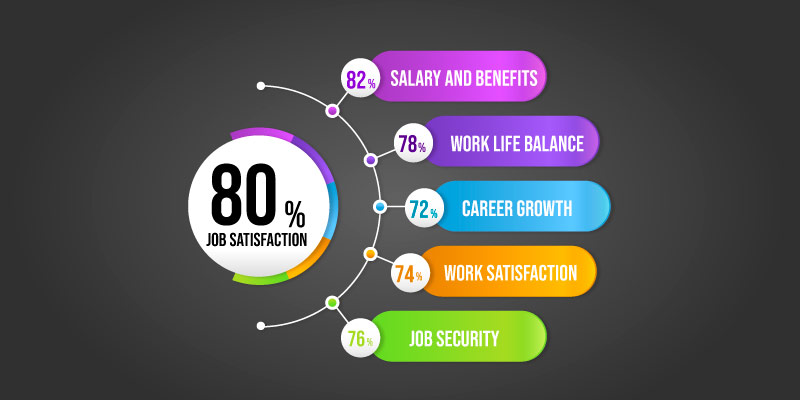 Our well-researched blog has covered all of the basic requirements and application methods for freshers to be hired at Verizon and earn a reasonable verizon india salary for freshers. The organization has a stellar international reputation, and its employees' value in the IT employment market continues to grow. Furthermore, if freshers join Verizon, they will receive significant job and professional benefits. As a result, we recommend graduated students or freshers who are interested in a variety of employment roles and to look for various open positions at Verizon. Finally, we intend to give all necessary information for new applicants interested in joining Verizon Fresher Jobs.
Recent Post: L&T Infotech Salary For Freshers