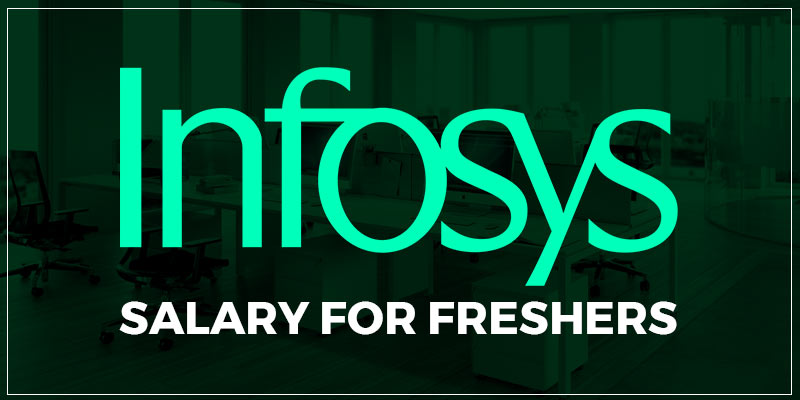 Infosys is an Indian based consulting conglomerate company outsourcing software related services to international clients. The successful establishment of the company has created wider opportunities for youngsters and freshers with affordable infosys fresher salary. The company has acquired the top most leading position among the competitive industry and global market capitalization.
This blog will present you with all of the information you'll need to apply for various jobs at Infosys. Let's talk about job vacancies, application methods, the roles and responsibilities of various job roles, employment benefits and bonuses, and Infosys Salary Structure.
Applicable Candidates for Infosys Jobs
Candidates who are enthusiastic about digital marketing technologies, analytics, connectivity, and a wide range of IT services are encouraged to apply. Additionally, those who wish to advance their featured IT career with Infosys should visit their official career page. Complete a Digital Marketing Course in Chennai as well to set yourself apart from the competitors. Because the organization is primarily focused on Digital Marketing, this course will provide additional benefits.
Application Procedure for Freshers Jobs at Infosys
Applicants have five stages of interview and selection process to get their desired role at Infosys with feasible Infosys fresher salary. The application stages are as follows
Career Fairs or Informative Seminars - Infosys affords a dedicated blog to know more about their job positions and vacancies. So, any Infosys aspirants can go and explore the page for career information.
Procedure for Application - In order to apply for either Internships or Job roles, the candidate needs to fill a form with all the necessary particulars. Make sure to include all the basic and significant information like CGPA, Experience, Academic Projects, and key skills. Because, Infosys gives significance to the list of projects completed by the competences.
Evaluation and Shortlisting - Once the application is submitted, all the resumes will be evaluated to meet their job requirements. This process follows the candidate shortlisting.
Telephonic Interview Process and Offer Letter Roll-out - In this process, the selected candidate will be invited or communicated through a telephone from a company's representative. Once the interview process gets completed. Selected candidates will receive an offer letter from the human-resources department.
Qualification Criteria for Infosys Jobs
Applicants seeking to this job roles with a feasible salary in infosys for freshers need to meet the following qualification criteria. They are as follows
The candidate must have acquired any degree (such as CSE, ECE, IT, CIVIL, ME, EEE)
The candidate must possess a percentile of 65% and above through the academic career.
Parallel to mark percentage, the applicant should not possess any kind of academic backlogs during their present or past academic careers.
Complete a Data Science Courses in Chennai to improve your academic qualifications. Because business data can assist you in identifying actual clients for Infosys Limited's marketing services.
Interview Procedure for Infosys Freshers Jobs
After being shortlisted, candidates go through three steps of the interview process. The list is as follows:
Technical Written Test - This is the initial stage of the interview process, during which candidates are evaluated on their quantitative reasoning, aptitude, and logical reasoning skills.
Technical Interview Round - Freshmen are interviewed with technical questions during the technical interview round. The capacity to respond quickly, think logically, and think creatively are all examined here.
Human-Resource Interview Round - This is the final stage of the interview process, during which a human-resource representative will conduct a face-to-face assessment.
Infosys Salary Structure
The Infosys basic salary for freshers varies depending on the position, as well as between freshers and seasoned workers. However, the expected compensation package for freshers is depicted in the chart below.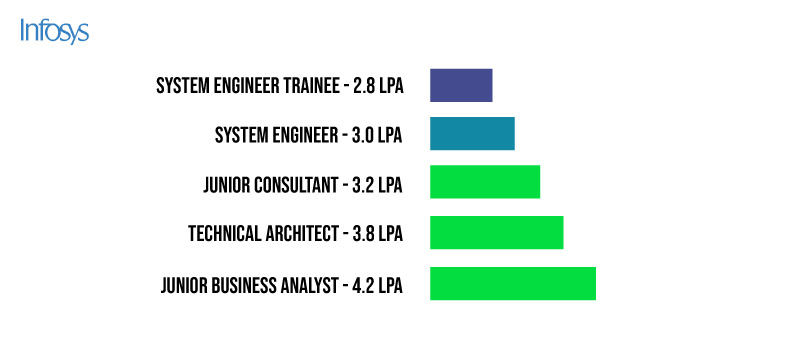 Through taking Java Training in Bangalore, you can increase your chances of getting a significant salary raise if you have exceptional Java abilities.
Basic Skills, Job Roles, and Responsibilities of Freshers Job Posts
System Engineer Trainee
New graduates who have joined a company to obtain practical experience are known as trainee engineers. Trainee engineers operate under the supervision of a manager or supervisor and are responsible for a variety of responsibilities such as aiding employees with new projects, making comments on current procedures, conducting research, preparing reports, and managing data. The applicant needs to possess the following skills: proficiency in problem-solving and mathematics, analytic skill, and good verbal and communication skills. As a system engineer trainee, they are responsible for the following key tasks and duties.
Performing all of the supervisor's tasks and assisting as needed.
Observing existing strategies and techniques and making suggestions for improvements.
Obtaining information and performing research
Visiting different places and gaining practical experience in a new work environment.
Working with employees to promote professional ideas and build strong working relationships.
Health and safety regulations must be followed at all times.
My employment requires me to attend meetings and training on a regular basis.
During the traineeship, you will be subjected to various forms of evaluation.
Creating reports and presenting to coworkers and other stakeholders.
To become a renowned System Engineer Trainee, enroll in Selenium Training in Chennai and gain in-depth and precise knowledge of software technology from industry specialists.
System Engineer
A Systems Engineer is a person who examines the state of a system and determines how to correct it, which may entail creating new solutions from scratch. They are also responsible for advising clients on the proper hardware and/or software to guarantee that their computer system fits their demands. The, the candidate need to possess the following skills: relevant experience in UNIX, LINUX; proficiency in Tomcat, Apache, JBoss, Ruby, NGINX; knowledge in Amazon Web Services (AWS), VMware, Virtual Box; and subsequent skills in Puppet, Ruby, Python, TCP, and OSI Networks. As a system engineer, they are confined to follow the below listed key roles and responsibilities
Managing, Maintaining, and Monitoring all the installed systems and infrastructures.
Install, set up, test, and keep operating systems, application software, and system management tools in good working order.
Ensure the most outstanding levels of system and infrastructure availability ahead of time.
Monitor and test the performance of your application for any bottlenecks, then collaborate with engineers to implement changes.
Keep your security, backup, and redundancy measures up to date.
Create and maintain custom scripts to improve system efficiency and reduce the time required for human intervention in any task.
Participate and enhance the skill set in the design of information and operational support systems
Enroll in and complete AWS Training in Bangalore to get your application noticed. This training will show you all of Amazon's basic approaches and web-cloud interfaces.
Junior Consultant
An associate consultant is a specialist with advanced education and experience in a certain field. It's possible that they're a new graduate with little or no professional experience. They are usually at the bottom of a company's advisory hierarchy and can rise to a higher position after a minimum of three years of experience. Freshers seeking this role with an excellent Infosys salary for freshers are required to possess the following skills: good interpersonal and communication skills; problem-solving and analytical skills; time management and organization skills along with Python and Java. programming skills As a associate consultant, the applicant is associated with the following key roles and responsibilities at Infosys
Interviewing clients to learn about their needs and establish trust
Considering the project's requirements in light of the client's demands
Creating process standards and specifications for requirements
Examining suggested solutions and looking into more options
Using processes, procedures, and policies to improve operations
Developing a clear project strategy and implementing risk reduction measures
Assisting the project team with the project's implementation
Clients are kept informed about the project's scope and progress.
Meetings with clients to address project difficulties
Performing quality assurance checks on operations on a regular basis
Client interviews to learn about their needs and build trust
Taking into account the project's requirements in light of the client's requirements
Creating process standards and requirements specifications
Examining proposed solutions and researching more possibilities
Improving operations through the use of processes, procedures, and policies
Creating a defined project strategy and putting risk mitigation measures in place
Assisting the project team with the implementation of the project
Clients are brought up to date on the scope and progress of the project.
Meetings with customers to discuss project issues
Regularly doing quality assurance inspections on activities
Enroll in and complete Spoken English Classes in Chennai to improve your consulting services and communication skills. In order to do effective business, you must be able to interact with international clients.
Technical Architect
Systems logistics specialists, or technical architects, design, build, and maintain IT systems for corporate clients. They're in charge of planning the structure of new technological systems, supervising programme implementation, and communicating with the software development team. Freshers seeking this job roles with a feasible infosys fresher salary must possess the following skills: knowledge in networking modules, software integration, networking systems, operating systems, microsoft azure, and other IT related softwares. As a technical architect, they are concerned with the following key roles and responsibilities which are as follows
To identify the company's existing and future needs, meet with the IT manager.
Identifying whether the current system can be updated or whether a new system is required.
Providing design concepts and schematics to the company.
Project directing the system's design and implementation.
Meeting with software engineers to talk about system software requirements.
Resolving issues when the system found any malfunction.
Managing the system integration parts and other systems.
Measuring the updated or newly installed system's performance.
Staff education on system procedures.
Providing post-installation feedback to the company.
Enroll in a Data Science Course in Bangalore at FITA Academy to get advanced skills and understanding on databases and structures, and you'll be on your way to being an amazing technical architect.
Junior Business Analyst
A business analyst is a significant part of any project's team. As the principal interface between users and the project manager, they gather information, document processes, and confirm final papers with users. Applicants who want this job role with an affordable infosys package for freshers must acquire the following skills: business analysis, analytical, technical, documentation, programming and presentation skills. As a Junior Business Analyst, they are associated with the following key roles and responsibilities
The process includes evaluating company operations, forecasting requirements, finding areas for improvement, and developing and implementing solutions.
Conducting continual business process reviews and proposing optimization methods.
Keeping up with the latest process and IT advances so that systems can be automated and modernized.
Meetings and presentations are held to share ideas and discoveries.
Performing a needs assessment.
Keeping track of and communicating the outcomes of your work.
Effectively communicating your thoughts and strategies to members of your cross-functional team and management.
Obtaining critical information from meetings with a variety of stakeholders and generating informative reports
Clients, technicians, and management all work together.
Providing leadership, teaching, coaching, and counsel to junior employees.
Allocating resources in a cost-effective manner.
Assuring that solutions meet the business's needs and expectations.
Testing the process and approach for product through proper procedures.
Project management, project planning, and performance evaluation are all tasks that must be completed.
Updated, implemented, and maintained procedures are all part of the process.
Prioritizing projects based on the company's needs and requirements.
As a liaison, assisting stakeholders and users.
Conflicting resources and priorities must be managed.
Keeping track of project deliverables and making sure projects are completed on time.
Become an Exceptional Business Analyst with additional skill in Digital Marketing. Learn Digital Marketing Courses in Chennai today to gain supplemental skills to enhance your company's business solutions.
Employment Perks at Infosys
Employees of Infosys Limited are offered with different employment benefits and perks apart from infosys fresher salary which are as follows
Life, Health, Dental, and Vision care insurance policies with a responsibility for complete medical expenses.
Insurances and claim benefits for long-term disability and accidental death.
Pension and Retirement plan for all the dedicated employees who has been serving for Infosys for years.
Paid Holidays and Vacation Trips
Educational training, tuition, and funding assistance to their employees' children.
Friendly work environment with supporting and engaging seniors.
Job Satisfaction at Infosys
Freshers have given a rating of job satisfaction based on their work experience and working environment. This rate has been calculated based on compensation and benefits, work-life balance, career advancement, job satisfaction, and job security. Overall, freshers at Infosys are satisfied with their jobs, with a fantastic infosys starting salary for freshers of over 75%. The following graph shows the various freshers' rates for employment at Infosys.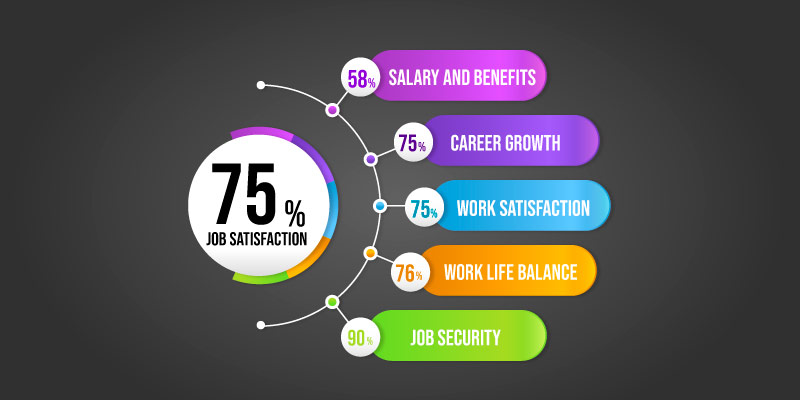 Our study covered all of the basic guidelines and application methods for getting hired at Infosys with a potential Infosys fresher salary. The organization has a brilliant international reputation and continues to increase the importance of its employees in the IT industry. Besides, freshers would gain enormous employment and career perks if they joined Infosys. Therefore, we recommend newly graduating students or freshers looking for various employment responsibilities and available positions to get associated with Infosys. Finally, we hope that we have given sufficient and necessary information for new applicants interested in joining Infosys Fresher Jobs.
Recent Post: Accenture Salary for Freshers