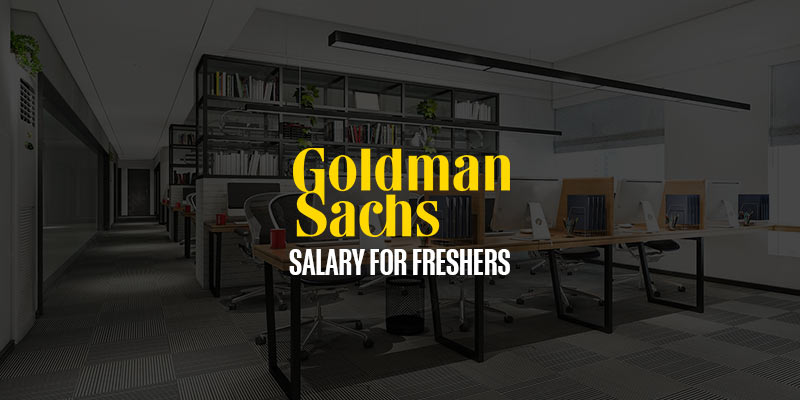 The Goldman Sachs Group Inc is the most significant worldwide investment banking organization, offering corporate investors comprehensive investment banking, financial consulting, securities, and other financial services. Goldman Sachs is interested in bringing people, capital, and ideas together to better serve its clients and communities. There are several employment and career opportunities accessible for recent grads like you. Goldman Sachs goes above and beyond each year to employ as many people as possible, providing them a more excellent Goldman Sachs Salary for Freshers.
This blog will provide you with all of the information you require in order to apply to this company. We will go through the qualifying standards, application procedures, wage structure, new employee benefits, and how satisfied new workers are with their jobs. Before we begin, let's discuss eligibility.
Who is qualified to apply?
Applicants must be graduate or postgraduate students. Furthermore, we recommend that freshers cultivate some of the highlighted skills for effective recruiting. They're
A keen interest in establishing marketing tactics for business expansion.
Interest in analyzing and improving business solutions.
Interest to create cutting-edge tools for assessing sales and goods.
To search for various open roles, go to their official webpage, then to their careers site. This page lists the available positions for freshmen and the Goldman Sachs Freshman Package. If you wish to work for this firm, complete the outlined steps.
www.goldmansachs.com is their official website.
Find the career page and apply for the positions you want.
Look for employment and carefully read all directions.
If you find any job that interests you, click on it to apply.
How are new hires compensated at Goldman Sachs?
This firm pays well for new employees. The Goldman Sachs Salary for Freshers, on the other hand, varies from freshers to experts. It also varies according to your specialization, employment experience, and performance. We have approximated an average wage for freshers in the graphic below based on salary reviews supplied by firm alumni and current working employees.
How are freshers paid at Goldman Sachs?
Freshers are highly paid at this company. But, the Goldman Sachs Salary for Freshers vary from non-experienced to experienced professionals. It also varies depending on your skills of expertise, work experience, and performance. Based on the salary review provided by the company alumni and current working employee, we have estimated an average salary for freshers in the below image.

What are the key talents necessary for positions at Goldman Sachs?
To be employed by this reputable organization, fresh graduates must learn a wide range of supplementary abilities, because recruiters are drawn to your outstanding skills and how exceptional you are compared to your competitors. As a result, it is critical to improve your talents before attending an interview. Some of the essential skills are as follows.
Competence in retail services, sales, and products.
Outstanding corporate management and leadership abilities.
Basic programming skills for working with scripting tools and applications.
Understanding of financial and economic models.
Excellent quantitative and analytical abilities for business analysis.
If you want to acquire skills about marketing strategy to boost your company's business, we propose enrolling in the Digital Marketing Course in Chennai. This course will help you add to your CV and learn the skills you need to promote your business online.
What are the primary functions and responsibilities of Goldman Sachs freshers?
Different job roles and duties are available at Goldman Sachs; however, we have picked the top leading employment opportunities available for freshers to outline the essential tasks. Let us go through the job duties and the necessary skills and responsibilities.
Junior Vendor Executive
Junior Vendor Executives are frequently employed by businesses to monitor dealer activity and create and maintain connections with current and new suppliers. They look for possible suppliers, negotiate with them to get the best rates for products and services and ensure that vendors follow the terms of their contracts by monitoring their performance. If you want to apply for this position with an exceptional Goldman Sachs Salary for Freshers, you must first learn specific essential abilities.
Relevant job experience as a Junior Vendor Executive is required.
A suitable and valid driver's license is required.
All Microsoft Office products and apps are required.
Effective problem-solving, analytical, and organizational abilities.
Improved verbal and written communication abilities.
Adaptability to work-related travel.
Capability to manage numerous tasks concurrently.
When you join the company as a Junior Vendor Executive, you will be given the following tasks to do.
Create and manage ongoing relationships with company-approved vendors.
Meet with potential suppliers to assess their products, negotiate costs, and discuss any product or service problems.
Investigate the available vendors to determine which one has the greatest cost and product quality.
Determine the most popular product by examining sales patterns on a regular basis.
Interview new suppliers and explain their roles and duties.
Establish criteria for assessing vendor performance.
Analyze and find methods to improve existing vendor management programs.
You must be adept at discovering new consumers and boosting the company's sales as a vendor. We recommend doing Digital Marketing Courses in Bangalore to improve your abilities. This course will teach you new marketing tactics for attracting international clients.
Process Coordinator
The project manager is responsible for management of projects and their associated activities. They work with key stakeholders to obtain the information needed to provide better solutions. If you wish to enter this profession with a reasonable Goldman Sachs Salary for Freshers, you should first learn certain specialized abilities.
Knowledge of important industrial processes.
Capability to identify and implement cost-cutting measures.
Advanced knowledge of company management software.
Analytical and problem-solving abilities.
Capability to manage and organize different teams and projects.
Excellent writing and communication skills.
If necessary, I am available to work after hours and on weekends.
If you join as a Process Coordinator, you must meet the major duties and responsibilities listed below.
Evaluating the effectiveness and cost-effectiveness of existing business processes.
Understanding opportunities for improvement and delivering process improvement reports
Keeping improvement teams and outside contractors in place.
Meeting with company executives to discuss business objectives.
Keeping abreast with new technology and techniques.
In conformity with industry norms, do process analysis.
Capable of troubleshooting and improving new procedures.
The installation of new business procedures is being monitored.
Process Coordinators are responsible for a wide range of data and analytical duties. As a result, you must develop considerable abilities in data and business analysis. In terms of data analysis, we recommend doing a Data Science Course in Chennai to boost your analytical abilities. It may also help you obtain extra credit for your job application.
Junior Business Analyst
Junior Business Analysts use statistical data to examine business patterns and offer insights to help the company's business succeed. They provide a low-cost method for developing an exceptional revenue prototype. Freshers interested in working as business analysts with a good Goldman Sachs Salary for Freshers should develop the following abilities.
Microsoft Office Fundamentals, Analytic Tools, and Programming
Learn how to implement various business model strategies.
Problem-solving and mathematics abilities are required.
If you join as a business analyst, you must complete the major duties and responsibilities listed below.
Identifying business patterns, collecting data, and conducting analytic processes
Collaborate with internal data collection and analysis teams.
Locate and evaluate other data sources.
Make new company operations and analytical reports.
Before making key judgments in applying for this profession, it is critical to have strong analytics or data science skills; thus, we recommend that you enroll in the Data Science Course in Bangalore to strengthen your fundamental and advanced data handling capabilities.
Programmer Analyst
A programmer analyst performs the functions of both a computer programmer and a system analyst. Program analysts are in charge of writing computer programs as well as developing and installing software. If you want to join as a programmer analyst with an excellent Goldman Sachs Salary for Freshers, you must first learn important abilities.
Experience in software or application development is preferred.
Excellent logical and analytical abilities.
Excellent knowledge of SQL servers, ASP.NET, SSQS, and HTML.
Excellent communication, verbal, and written abilities.
If you join as a programmer analyst, you must meet the major duties and responsibilities listed below.
Check for problems in the system and system programs.
Create and maintain system patches for the application.
Document the work and provide a progress report on the application.
Upkeep the firm website and network servers.
Determine the project requirements and make an attempt to meet them.
If you want to take your core programming skills to the next level, enroll in Python Training in Bangalore to develop your knowledge since Python is the top language in today's IT employment market.
Software Developer
Software developers use software development models to design and construct software. They are also in charge of upgrading and repairing systems in order to improve overall system performance. If you want to join as a software engineer at Goldman Sachs and earn a Goldman Sachs Salary for Freshers that you can afford, you must possess certain talents.
Excellent programming skills in PHP, Python, Java, and C/C++.
Knowledge of numerous software programs and technologies is required.
Excellent programming and computational abilities.
For the Software Development Life Cycle, SDLC expertise is necessary.
If you are chosen for this post, you will be expected to perform the fundamental functions and responsibilities specified in the enlistments below.
Develop, test, and verify a wide range of software testing processes.
Monitor the software and its control programs to improve the software development process.
Inform clients and internal teams on the progress and status of software development.
Investigate and validate emerging software transformation technologies.
Maintain the software development life cycle.
Implement new programs to boost computer application speed.
Make use of the software data to produce one-of-a-kind, trustworthy software.
Work with internal teams to provide bug-free software for clients.
Before discussing the next level of the application process for software engineer roles, you must first learn and enhance your programming abilities. As a result, enrolling in Python Training in Chennai at FITA Academy to obtain a Python certification is a wise decision. This curriculum will provide you with the fundamental programming skills necessary for software development and testing.
What are the freshers benefits at Goldman Sachs?
Goldman Sachs offers fantastic newer advantages and perks. The more the perks, the more likely their employees will be engaged to work and sustain for years. Let us go through some of the advantages for new employees at Goldman Sachs.
Workers who have excelled in their occupations should be compensated financially.
The firm offers health and life insurance coverage.
Paid vacation and business travels
Financial assistance and retirement programs for the benefit of employees
Services for family and worker health and fitness.
Child and family care services are discounted.
Employees are also given extended leave for maternity, paternity, and marriage.
International relocation possibilities are available for employees who wish to work from overseas.
Finish a language course through IELTS Coaching in Chennai to assist speed up the visa application process and to take advantage of any foreign chances.
How are employees satisfied with their jobs?
Seventy-three percent of Goldman Sachs alumni and new workers were satisfied with their careers. This figure is an estimate based on criteria such as pay and benefits, work-life balance, career advancement, job satisfaction, and job security. The figure below depicts the expected growth rate.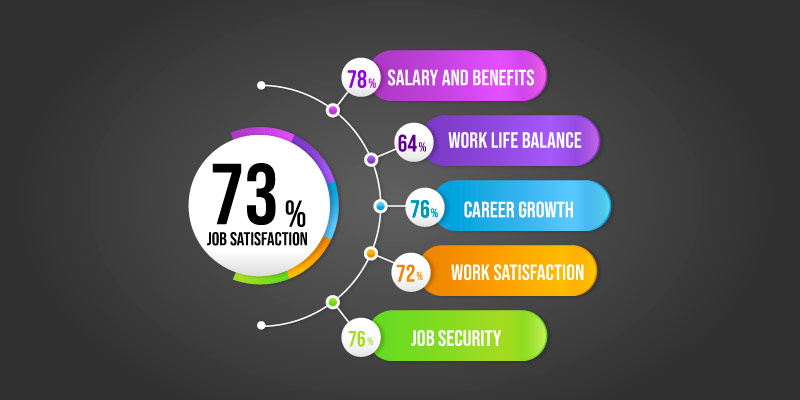 Our blog discusses more about the significance of Goldman Sachs and the career opportunities open to fresh graduates. Aside from that, we've spoken about the core application processes for applying for a number of open opportunities at Goldman Sachs, as well as the necessary qualifications and expertise. Following that, we discussed the requirements and responsibilities of each work role, as well as the Goldman Sachs CTC for Freshers and other employment perks. We really hope that our blog has been of assistance to you in terms of offering knowledge that you may utilize to obtain employment.
Recent Post: Adobe Salary for Freshers