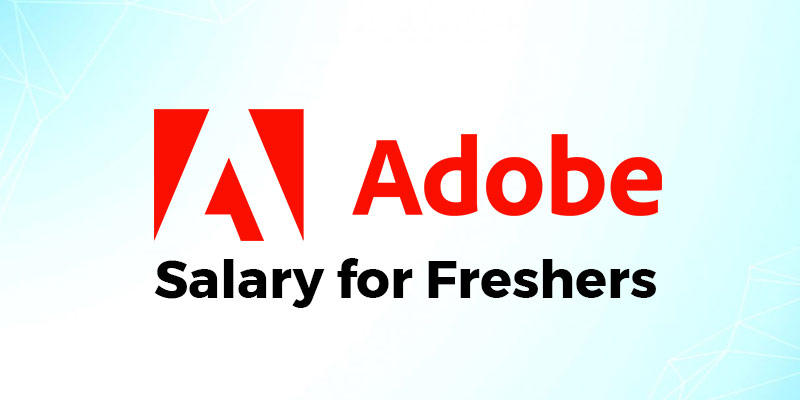 Adobe is a leading vintage multinational corporation that synchronizes data and information to design unique technologies with the goal of digitalization to supply creativity and shape for next-generation narrative experiences. The firm is most renowned for its expertise in photography, graphics, illustration, animation, multimedia, video graphics, motion pictures, and digital prints. Adobe Products and Services are well-known to us. So, for newcomers interested in building a digital life with Adobe Inc, this post will monitor and guide you to an excellent Adobe Salary for freshers. Let us discuss the eligibility and qualities required for Adobe Jobs.
Who Can Apply for Different Positions at Adobe Inc?
If you are looking for excellent jobs at Adobe Inc., You need to acquire the following additional skills, which are
Creative and innovative skills.
Interest in pursuing a digital career.
Good multimedia services and design skills.
Passionate about innovating digital graphics and software products.
Good logical and interpersonal skills.
If you possess any of these qualities, you are likely to get successfully hired into this fantastic firm. In addition, you need to possess some academic qualifications, which are
Any degree in disciplines such as B.E, B.Tech, M.E, M.Tech, or MCA.
Good academic record with 60% or higher aggregate marks in all subjects.
It would help if you did not have any academic backlogs when applying.
Any relevant experience in design and software engineering would be a plus.
Internships or work experience in the software-related field are much appreciated and considered by the recruiters. Therefore, if you are pursuing your initial graduation, we recommend undertaking any internships so that you can expect a good Adobe Salary for Freshers at the time of joining.
We want to make you qualified for any information technology job. So, we suggest joining Python Training in Bangalore. Because Python is one of the most popular programming languages today. It will increase your qualification standard before applying for the job.
How to search and apply for different positions at Adobe Inc?
If you want to apply for various open positions, you need to search for the availability of vacancies for freshers. So, for the proper application procedure, follow the below-mentioned guidelines.
Initially, you need to visit their official career page at (https://www.adobe.com/careers.html)
Click over the "Find a career" tab and search for open positions.
You can refine your search results based on work location, experience, and job roles.
If you find any matching job, click on it to apply.
Adobe Salary Structure for Freshers
The Adobe package for freshers varies according to the position, but some estimates are shown here. Adobe supports and welcomes new employees from all backgrounds, including those with disabilities and veterans.

Adobe, Inc. provides an excellent salary for beginners and interns. The salary packages described here, ranging from entry-level employees to experienced professionals, are approximations calculated from the salary packages rated by Adobe employees. You may improve your chances of getting a salary increase at Adobe by taking a Full Stack Developer Course in Chennai. This course will help you gain new skills and improve your capabilities.
What are the basic skills, roles and responsibilities of freshers?
Technical Support Consultant
Workers in technical support manage, maintain, and repair information technology systems. In addition to installing and configuring hardware and software, their duties include identifying and correcting problems, troubleshooting network difficulties, and diagnosing and preventing security breaches. Adobe Inc. anticipates that its newly hired technical support consultants will have more considerable knowledge or skill in fields including but not limited to
Skills in Troubleshooting issues and resolving them.
Knowledge of Microsoft SQL Server and System Query Language (SQL)
Strong skills in Technical analysis and product support.
Relevant work experience would be beneficial.
If you are selected for this job role with a good Adobe Salary for Freshers, then you need to accomplish the following key roles and responsibilities, which are
Find the source of technical problems and solve them while recording the steps taken and their outcomes.
Issues need to be categorized, escalated, and organized before they can be solved.
Maintain open lines of communication with end-users, make haste to address issues, and instruct users.
Conduct an analysis of the existing services and infrastructure, and offer any necessary technical recommendations.
Suppose you want to enhance your consulting skills for this job position. You need to improve your language proficiency in English. So, we suggest joining Spoken English Classes in Chennai would impart you with the necessary communication skills.
Technical Support Engineer
A technical support engineer is a great option for recent graduates seeking a decent Adobe Salary for Freshers. The firm offers an exceptional salary package even at an early stage of employment. It is anticipated that the candidate will possess the requisite competencies in the following areas:
Good skills in computer and technical domains.
Knowledge of IT support and analytical tasks.
Client's governance skills with effective CRM management.
Good verbal and communication skills.
If you get selected for this job position, you need to accomplish the following key roles and responsibilities, which are
Accept responsibility for client concerns and keep track of their status while being resolved.
To fix the problems that your customers are having, you need to do an investigation, conduct an analysis, troubleshoot, and come up with solutions.
Commit to reporting unresolved issues to the relevant internal teams in accordance with the appropriate standards.
Make sure you give customers replies that are prompt and dependable.
Make sure that every complaint is adequately documented and that it is handled as soon as possible.
Compile reports in a timely and efficient manner.
The accumulation of knowledge ought to take place through the production of technical reports and articles.
SLA should be consulted on problems ranging in degree of seriousness.
Are you looking forward to improving your technical skills? Are you confused about choosing which IT course? There is an exciting course called Robotic, Process, and Automation, where you can learn more technical skills associated with automation technologies. To join this course, enroll for RPA Training in Bangalore. You can only acquire the skills mentioned earlier at this institute.
Software Engineer
Adobe Software Engineers are responsible for engineering and developing new software products. They are also responsible for modifying existing applications such as Adobe Photoshop, Adobe Illustrator, and Adobe PDF Readers. If you are interested in applying for this job position, it's great, and you can proceed further to apply because Adobe offers an excellent Adobe Salary for Freshers. Before that, you need to acquire some specific skills, which are
Relevant experience in software engineering.
Application and Software Development skills.
Knowledge of software utilities and Agile methodologies.
Excellent Programming skills in Python and Java.
Further, if you join as a software engineer, you need to accomplish the following key roles and responsibilities, which are
Creating and directing the testing and validation of system software and other testing approaches.
Project management of software development initiatives.
Process of Documentation and Management
Consult with clients and cross-functional divisions about the progress of projects and proposals.
Modify and analyze installation methods for new or current systems.
Software Development Lifecycle Management
Lifecycle
Monitoring the system software's performance.
Providing team members with crucial project data and building team cohesion
Creating and executing project plans
Taking on problem-solving initiatives involving mathematics and statistics.
Best practices and standard operating procedures are followed.
Creating unique ways to meet our company's technical needs.
Testing new software and its associated difficulties and looking for software prospects.
Learning programming in advance is the best way to enhance your skills at the time of applying. It will attract the recruiter's attention to consider your skills. In order to become an auspicious software engineer, learn Java Training in Bangalore at FITA Academy. This course will teach you everything from basic programming to advanced scripting.
Computer Engineer
Computer engineers maintain and develop a company's computer hardware and software systems. These skilled individuals, known as programmers, may specialize in hardware or software. Their responsibilities include creating software, upgrading hardware, and designing new instruments. If you want to join Adobe as a computer engineer for a reasonable Adobe Salary for Freshers, you need to acquire essential skills such as
Relevant experience in software products.
Good programming skills in C and C++.
Knowledge of Design, Analysis, and Documentation.
Good skills in software testing and validation.
Fundamental understanding of computer architecture, design, and development.
As a computer engineer, you are assigned to fulfill the following key roles and responsibilities, which are as follows.
Creating sophisticated features and algorithms for digital transformations.
Contribute significantly to the analysis, design, prototyping, and implementation of new features and the enhancement of existing ones.
Providing strategic guidance in evaluating new technologies by addressing broad architectural and design concerns of the present and future technology.
Analyzing and identifying new features to incorporate, as well as engaging with product management and marketing clients
Should be a self-starter and quick learner with the capacity to adapt techniques, procedures, and evaluation criteria to achieve results.
Assist engineers as a mentor and provide leadership within the division.
Acquiring advanced and supplemental skills always remains a plus. If you want to improve your design skills as a computer engineer, you need to join Graphic Design Courses in Chennai. This course will enrich you with all the fundamental and advanced concepts related to design and development skills.
Software Developer
The duties and responsibilities of a software developer change according to the requirements of the business and organization. Some people construct and maintain the computer systems that control the devices and networks. Others create applications that run on personal computers, mobile phones, and other devices and enable users to carry out various tasks using those platforms. If you are interested in applying for this position with a reasonable Adobe Salary for Freshers, you need to acquire significant skills such as
Good skills in Loadrunner, Jmeter, Java, XSL
Excellent skills in HTML, Javascript, and Python Programming.
Strong mathematical and analytical skills.
If you join as a software developer at Adobe, you are required to accomplish the following key roles and responsibilities, which are
Develop and execute test scripts, and test cases
The ability to conduct corner assessment tests, and consumer workflows
Undertake management of end-to-end technical features of products or services
Assure speed and quality of Adobe connection servers
Identify metric performance and its limits
If you are interested in becoming an excellent software developer, you need to acquire maximum skills in software and software-related products. Therefore, we suggest joining Software Testing Course in Bangalore would be more beneficial for your featured software developer career.
What are the freshers benefits available at Adobe?
Freshers at Adobe enjoy multiple range of employment benefits and perks. Some of them are as follows.
Family Care Services: Adobe provides several advantages for backup care, better family support, child support, maternity support, fertility benefit, adoption aid, surrogacy assistance, breast milk transportation, and other outreach services for survival benefits.
Flexible Account for Expense: Adobe provides a 5000 USD per calendar year flexible spending account for children and other flexible costs.
Educational Assistance: Adobe provides academic and financial support to students. It promotes education repayment, professional development, graduate education, college coaching, and the 529 college savings plan.
Unique Benefits: Employees from some regions of the United States, such as Arden Hills, Austin, Chicago, Denver, Detroit, Emeryville, Lehi, McLean, New York, and others, receive unique commuter advantages.
International Relocation Offer: Adobe provides Altair Global's Affinity Program, allowing employees to discover all the required assistance for international relocation in any country. Buying, selling, renting a property; getting a mortgage in the United States, home and car insurance, shipping goods, and temporary housing assistance.
Travel Assistance & Services: Adobe employees have exclusive access to travel support services during urgent or emergencies. Furthermore, it provides business travel programs for its skilled staff.
Health and Life Insurance: Adobe provides its workers with assured, renewable, individually owned, and portable life insurance. It offers additional cash rewards in an emergency or severe scenario.
Work-Life Balance: Adobe employees enjoy an outstanding work-life balance by caring for their professional and personal life.
In order to avail of the international relocation offer, you need to be proficient in any of the foreign languages; therefore, we suggest you join IELTS Coaching in Chennai. This course will teach you all the language proficiency skills and enhance good interpersonal and communication skills.
Salient Features on Benefits of Freshers at Adobe
An excellent environment in which to launch a creative and prominent profession while maintaining a high level of mental and psychological health
Numerous educational and professional options available in other countries
Work experiences that are recognized and guided by professionals or more senior workers.
An excellent place to begin a prosperous professional career, providing freshers with a comprehensive Adobe Fresher Salary.
Integrated health, life, and policy insurances with additional benefits for travel and dining out
Significantly alters the journey of life that one takes.
Allows you to access a worldwide market for your work and experience and hundreds of new prospects.
How far are Freshers satisfied with their jobs at Adobe?
Freshers and present employees seem to have greater satisfaction with their job. Adobe contributes 80% of the job satisfaction rate, which is comparably higher than other IT companies. Therefore, it would be an excellent platform for freshers who want to kick-start a featured IT career with Adobe. Hence, we suggest searching for numerous job roles and grabbing every opportunity. Detailed information can be found in the image below.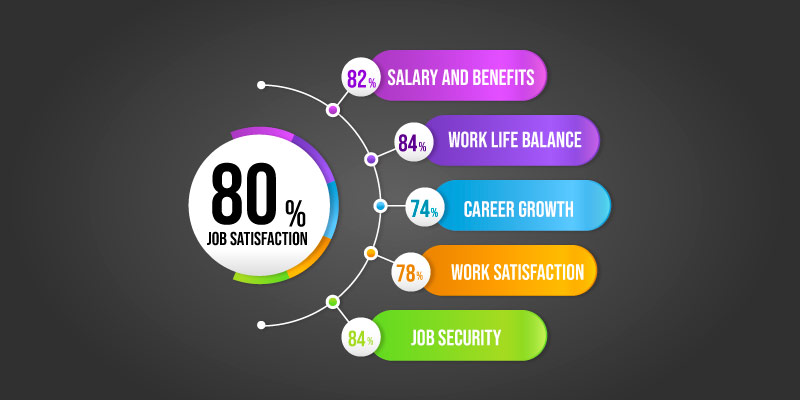 Adobe Inc. is an excellent company to approach if you are a recent graduate or a new graduate seeking a terrific and increased career at a creative and graphical company. Like all other IT organizations, Adobe has worldwide merit and a recognizable position for all newcomers, and the company offers a competitive Adobe Salary for Freshers. Candidates and professionals who have extensive hands-on experience working for Adobe Inc. are highly considered globally. They have a good chance of being employed by various worldwide IT companies. Therefore, to avoid passing on a fantastic opportunity, go to Adobe's Careers page and discover the multiple job postings and openings available.
Recent Post: Vmware Salary for Freshers