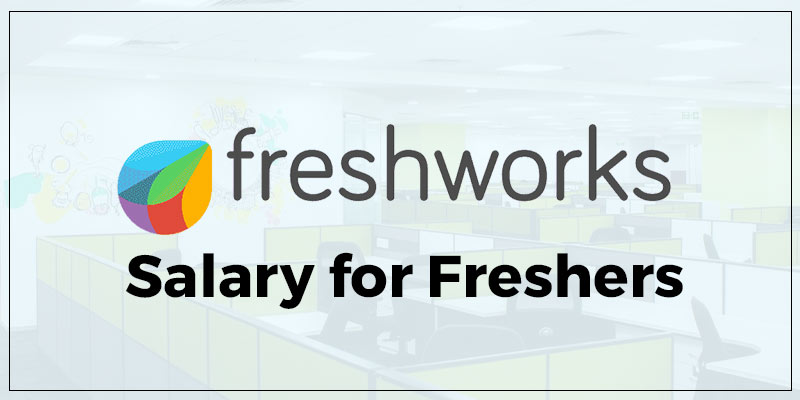 Freshworks is an emerging SaaS outsourcing and cloud-based company that processes business and software products. The company has served more than 50K companies across the world and has been opening excellent gateway to youngsters with feasible Freshworks Salary for Freshers.
The highest payscale and emerging demand in the IT Job market has diverted the attention of fresh graduates and young professionals to seek for various job roles at freshworks. This blog will go over the job description, qualifications, eligibility requirements, courses to pursue, open positions, roles and responsibilities, employment benefits, and salary package.
Eligible Applicants for Freshworks Jobs
IT aspirants who are passionate about learning and revolutionizing the cloud and web-based applications are encouraged to apply for various job roles at freshworks. Candidates interested in digital disruptive technologies, Cloud Computing, and other related IT services are also welcome to apply. Furthermore, when compared to other IT corporations, Freshworks offers an excellent initial Freshworks Salary for Freshers, thus applicants who expect a high freshers income can compete for Freshworks job openings. Make you eligible through learning Python Training In Bangalore, the leading course in the programming era.
Procedure to Application Process
Freshworks job seekers have two options for applying for various openings. The list is as follows:
Online Mode: Candidates are recommended to read their official career website before submitting their application through the correct processes for online application submission.
Offline Mode: Freshworks' IT placement cell travels to several surrounding sites to recruit new employees. External applicants (alumni or non-academic students) can register for the interview on their career page and then show up for the interview.
Let's discuss the qualification and other eligibility criteria for freshers job roles at freshworks.
Qualification Criteria for Freshers Jobs at Freshworks
Applicants who are seeking freshworks job roles with good freshworks salary must meet the following qualification criteria to apply or appear for an interview. The criteria's are
Candidates must have any degree from disciplines such as Bachelor's or Master's degree in engineering or technology.
Graduates from other non-engineering streams are also eligible to apply for freshworks posts.
The graduation or degree must accompany the computer major: it may be computer science (CSE) , information technology (IT), and electronic communication (ECE).
The candidate must possess an academic percentage of 65% or above in their respective semester examinations.
The candidate must not possess any kind of backlogs throughout their academic program.
In addition to the qualification criteria, the candidates are expected to have desired skills in the following domains: API testing, automation, manual testing, automation framework, UI automation, data structures, programming languages, test cases, debugging skills, and non-functional testing.
Make your resume exceptional and let it get noticed through acquiring a certification in PHP through learning PHP Training in Bangalore. This course may add additional weightage to your application resume.
Important Documents Need to Produced During Interview
The candidates willing to attend the walk-in interview or off-campus drive must carry the following documents. The documents are essential to process the application.
The candidate must carry the most recent and updated resume
Aadhaar Card or any other government issued authentication card to show their identity along with recent passport size photographs.
Further, the applicant must carry either PAN Card, Passport, or Voter ID
Photocopies of all the necessary certificates, consolidated and original marksheets, and other relevant documents.
Freshworks Salary Structure
The Freshworks Salaries vary from freshers to the experienced professionals. It also varies in accordance to the years of hands-on experience and relevant skill set the application possesses. Here, in the below chart, we have shown the approximated freshers salary at freshworks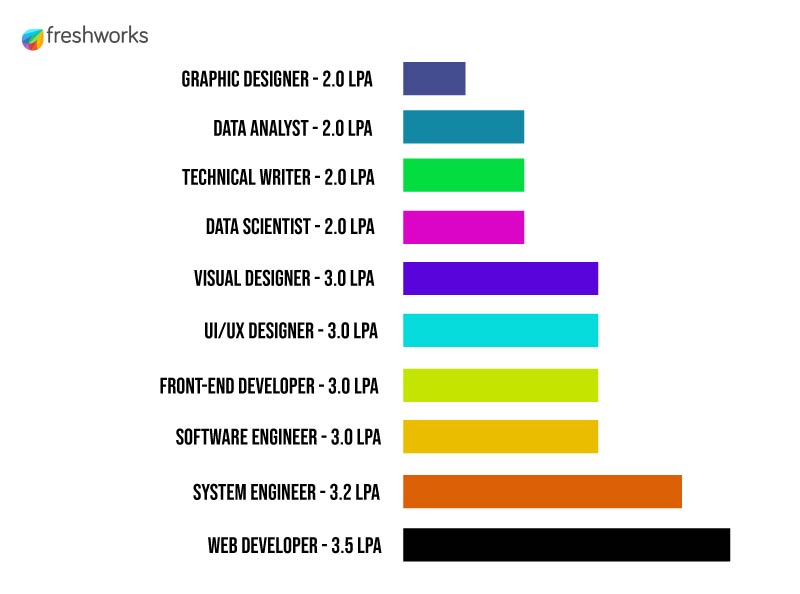 Until this section, we have discussed the average freshworks salary for freshers. Let's walk through the essential skills required, responsive roles, and key responsibilities of significant job roles at freshworks.
Worried about the low salary package, learn Java today through Java Training in Chennai at FITA Academy. It may increase the chances of getting higher compensation through an efficient skillset.
Essential Required Skills, Roles and Responsibilities of freshers at Freshworks
Graphic Designer
A graphic designer is one who uses attractive visual concepts to convey ideas and information. They create visually appealing graphics with design software. They logically combine design components to produce appealing to the eye layouts, advertising, reports, logos, and other items. Freshworks demands their new applicant to possess a skill set in visualization, adobe illustrator, photoshop, and other graphic editing software. As a graphic designers, they are associated with the following key tasks and responsibilities to accomplish
Outreaching and Explaining the strategies to global clients and targeted audiences.
Sorting out the effective ways to get client's visions through the best design process.
Create and Design visualizations, illustrations through Photo Editors, and Software Layouts.
Choosing Colors, images, typography, and layout for communication items including websites, logos, annual reports, commercials, and social media postings.
Generate and Develop drafts for client's review and revise them as per the client's feedback.
Collaborating with other teammates for effective growth and better business solutions.
To become an exceptional graphic designer, learn Graphic Design Courses in Bangalore. This may create a significant impact in considering your application.
UI/UX Designer
The UI/UX Designer is responsible for both the user interface and the user experience. The designer is in charge of creating user interface components such as menus, buttons, and layouts. Then he examines to see if the designed pieces are functioning properly. The company expects their applicants to have desired skills in the following domains such as UI/UX Design, Wireframe, InVision, and Portfolio Design Projects. These skills are essential to get a high freshworks fresher salary. The designer is concerned with the following key roles and responsibilities
Collect and evaluate the user requirement data, and products.
Explaining and Illustrating storyboards, process flows, and sitemaps.
Create visual user interface components such as menus, tabs, and widgets.
Create page's navigation buttons, and search fields.
Develop Prototypes and Mockups for website appearances.
Maintaining and Making Genuine & Unique designs (it may be sketches, tables, or images).
Preparing preliminary drafts and submitting them to internal teams and important stakeholders.
Identifying and resolving UX issues (e.g. responsiveness).
Modifying the user-interfaces based on the client's need.
Maintain the company's standard / brand in fonts, pictures, and colors.
Learn UI/UX Course Online to gain significant skills and design concepts required for the role of UI/UX Designer at Freshworks. The design courses are leading and creating a significant impact and job demand in the IT tech market.
Data Analyst
A Data Analyst is a professional researcher or analyst responsible for interpreting resultant data and hidden information from the stacked data. These data help clients to help better growth of business and solutions. Freshworks expects their candidates who are seeking good freshworks salaries must possess the following skills: knowledge in Business Data, Data Models, Data mining, SQL, MySQL, Javascript, ETL Frameworks, XML, Excel, SPSS, SAS, and other relevant skills. As a data analyst, they are concerned with the following key roles and responsibilities to fulfill
Data should be interpreted, outcomes should be analyzed using statistical approaches, and reports should be sent on a regular basis.
Develop and deploy databases, data gathering systems, data analytics, and other statistical efficiency and quality improvement initiatives.
Collect data from internal and external sources and keep them with databases, and data systems up to date.
In complicated data sets, identify, analyze, and understand trends or patterns.
To detect and solve code flaws, filter and "clean" data by evaluating computer reports, printouts, and performance indicators.
Work with management to determine the most important business and information requirements.
Find and specify new possibilities for process improvement.
Enroll into the Data Science Course in Bangalore to gain additional hands-on experience in data analysis, and modeling which may improve your expertise in Data Science. As the digital intelligence data are playing a significant role in interpreting the client's and consumer's data in the current world.
Front-End Developer
Website designers that expertise in computer programming are known as front end developers. Front end developers are responsible for the structure and design of online sites, establishing a balance between practical and appealing design, and ensuring that web design is suited for smartphones. The company compensates with good freshworks salary to the applicants who have desired skills in HTML, CSS, Javascript, JQuery, SEO, Illustrator, and other relevant skills. The front-end developer is concerned with the certain key roles and responsibilities at freshworks which are
Choosing a web page's structure and look.
The goal of all design decisions is to provide a favourable user experience.
Enhancing the user experience by adding additional features.
Getting the proper balance of functionality and aesthetics.
Assuring that the design of the website is mobile-friendly.
Creating code that can be reused later.
Increasing the scalability and performance of web pages.
Using a variety of markup languages to create web pages.
Brand consistency across the design.
Earn additional credit and skillset parallel to front-end developing through pursuing Selenium Training in Chennai. This course may help you to gain additional experience in front-end development.
Software Engineer
Applicants seeking to this role at freshworks with good freshworks salary are expected to have the desired skills in the following domains: any experience in software development, engineering, and modification, experience in sign relevant toolkits, excellent verbal and communication skills, comprehensive computing skills, agile, and relevant skills. As a software engineer, they are associated with the following key roles and responsibilities to accomplish
Performing modeling, testing, and simulation strategies for software development.
Performing quality assurance checks and object-oriented design.
Testing and evaluating software requirements, codes, and other tools.
Doing object-oriented designs and analysis.
Maintaining system performance and integrated software solutions.
Managing the industry standards and software compliances.
Interpreting the life-cycle development of a company's softwares.
Reviewing the technologies for newer softwares.
Developing the project plans, technical specifications, and meeting the project requirements.
The Freshworks software engineer salary usually ranges from 3.0 to 4.0 Lakhs Per Annum, but usually varies from freshers to the experienced and the years of experience the candidate possesses. Learn Software Testing Course in Chennai to gain additional expertise in software development and testing. It may undoubtedly hike your annual payscale with exponential increase in freshworks salary.
Employment Benefits at Freshworks
The employees at Freshworks are offered with multiple employment benefits and perks. Some of them are
Employees at Freshworks are provided with free snacks, juices, drinks, and other food items at workspaces.
The company also affords Work From Home (WFH) opportunity to desiring candidates during emergency and critical situations.
It also provides medical, health, and life insurances parallel to house, vehicle, and other relevant insurance policies.
In order to maintain a healthy employee, the firm provides gymnasiums and sport grounds for physical fitness and health benefits.
Freshers at the initial stage are given with adequate job training and soft-skill assessment. So that the freshers can gain additional hands-on experience.
Employees are also benefited with children's health care, and educational assistance for career and growth prospects.
Finally, all the employees are free to prefer any international offices to work. In order to avail this offer and process the visa, learn IELTS Coaching in Chennai today.
This blog has covered the Freshwork's overview, job postings, application processes, numerous roles and responsibilities, employment perks, global prospects, and freshworks salary for freshers. The organization has a great worldwide recognition and continues to be a potential platform for aspiring IT professionals. Candidates will benefit from the environment's creative and cheerful culture, which will help them achieve a distinguished and promising career. From our in-depth research, we strongly recommend freshers to approach Freshworks and apply for numerous job openings. The applicant's professional expertise and abilities will make them recognized globally across any IT firms worldwide.
Recent Post: Virtusa Salary for Freshers