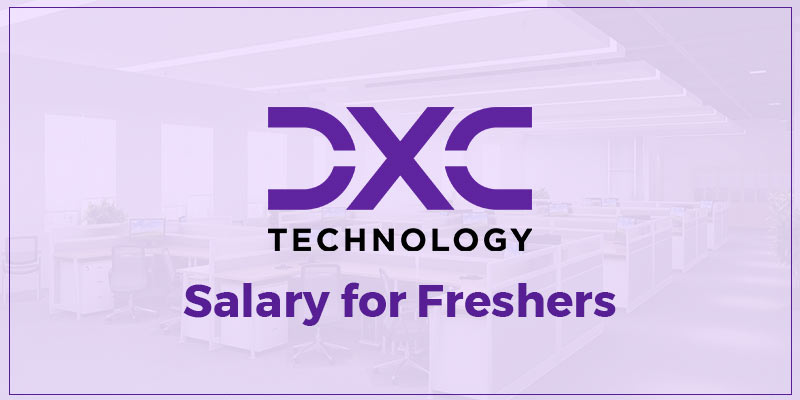 DXC Technology is a major IT company that provides mission-critical IT services using emerging technologies. It is a Fortune 500 firm whose clients entrust its 130,000+ employees in 70+ countries worldwide to deliver the most significant and demanding digital services. The services and support are intended to build and increase business impact. DXC Tech is also looking for IT enthusiasts who can help them transform their IT business solutions into the next generation of technologies.
In this blog, we will assist freshers looking for the best opportunities and job postings at DXC Technologies with a reasonable DXC Technology salary for freshers.
Who can apply for DXC Freshers Jobs?
Freshers with professional degrees, B.E., B.Tech., MCA., MBA., M.E., M.Tech., or any PG degree are qualified to apply for DXC with a reasonable DXC Salary for Freshers. In addition, the candidate must have 60% of aggregate marks in all subjects of their UG and PG without any active backlogs.
Besides, Freshers willing to join DXC must possess the unique qualities before applying. Some of the special qualities are as follows.
Strong desire to drive digital technologies for businesses
Interest in advancing technologies through digital tools.
Passionate about transforming digital technologies through innovative solutions and tools.
If you meet these requirements, you can proceed to the application phase and search for job openings at DXC Technologies. Further, if you want to add credits to your qualification standard, we encourage joining Python Training in Chennai at FITA Academy would be more beneficial. Since the language is ever-demanding, it can increase the weightage of your application during the assessment.
Interview Assessment and Selection Procedure
Freshers applying for different positions have three stages of interviews. They are as follows.
Technical Written Exam - All the fresh candidates will be assessed by the recruiters with major computer subjects in this phase. You can expect aptitude-based questions from computation programming and debugging.
Technical Interview- DXC experts will conduct a direct interview with entrants in this phase. To clear this phase, you need to get well-prepared for the written exam questions.
HR Interview - Finally, freshers who have cleared all the preliminary tests will be allowed to interact with HR teams. Here, they will be assessed with their capabilities and potentialities.
Through all these interview stages, the HR and other DXC experts will evaluate the knowledge and talents such as programming in familiar languages, knowledge of IT, outstanding verbal and communication skills, and administration skills. So, we advise you to prepare and be relaxed during the interview procedure.
What kind of Salary Structure does DXC have for Freshers?
Here is the list of different roles for freshers at DXC technologies. These roles require hands-on experience from 0-to 3 Years, but non-experienced candidates are also eligible for these job positions. Nevertheless, the DXC technology fresher salary varies for distinct roles, but the chart below can refer to our approximated salary package.

What are the prime duties of freshers at DXC Technologies?
Freshers at different job positions are associated with numerous job roles and responsibilities. In addition, you are also required to acquire some fundamental skills to apply for specific job positions. Let us discuss this in brief.
BPS Assistant
DXC looks for aspirants who want to begin their careers as BPS assistants. They play a substantial role in providing support and guidance to customers and clients. If you wish to apply for this position with a good DXC Salary for Freshers are required to possess some basic skills, which are
Good verbal, written, and communication skills.
Strong problem-solving and analytic skills.
Knowledge of computers and Microsoft products.
Excellent in typing and email management.
If you join as a BPS assistant, then you are required to accomplish the following key roles and responsibilities, which are
Manage P&C and Life Insurance Policies.
Perform everyday tasks on recruiting.
Manage and ensure the quality of work to the admin.
Develop customer relationships with international clients for better business solutions.
Handle the company's confidential data and protect them without damage.
Make quick decisions in critical situations and balance the company's sustenance.
In order to have a good relationship with international clients, you need to possess good verbal and communication skills in English. Those who lack these skills can approach and join Spoken English Classes in Bangalore. The course teachers will help you gain more effective communication skills and develop interpersonal skills.
Technical Support Engineer
Technical Support Engineers support consumers and clients with technology assets. They also deal with techniques to upgrade software, debug web server failures, and repair hardware-related issues. Freshers applying for this job with the expectation of earning a reasonable DXC Salary for Freshers must develop the following fundamental technical skills:
Desktop and technical support skills.
Knowledge of computer hardware and software technologies.
Good skills in network management and system protection.
Fundamentals of Web design services, operating systems, and APIs.
Capacity to monitor remote systems using Teamviewer.
Capabilities for troubleshooting complex hardware problems.
Strong communication, interpersonal, and analytical capabilities.
If you are interested in applying for this role, you will be responsible for the following essential IT support duties and responsibilities:
Remote access system for troubleshooting client computers.
Configure the system using computer applications and networks.
Troubleshoot and fix computer hardware, network servers, and software applications issues.
Maintain good contacts with international customers.
Submit the work reports and a history of system troubleshooting.
Technical support aspirants who are new to the field must acquire more techniques and gain experience in computers and networking. Learn more about advanced networking techniques by enrolling in the CCNA Course in Chennai. This course will cover basic and advanced networking, network management, and network server infrastructures.
Software Engineer
Software engineers use a variety of program development methods to design and implement software. They're also responsible for updating and debugging software to enhance the overall performance. If you want to work as a software engineer at DXC to earn an affordable DXC Salary for Freshers. You need to acquire specialized skills, such as
Excellent PHP, Python, Java, and C/C++ programming skills.
Basic knowledge of software programs and technologies.
Excellent coding and computational skills.
Knowledge of SDLCs of an application (Software Development Life Cycle).
As a software engineer, you must accomplish the following key activities and responsibilities:
Software testing methods should be defined, tested, and evaluated.
Control and Track the software programs and the software development process.
Report the present status of software development to the clients and internal project teams.
Investigate and implement novel software transformation technologies.
Maintain the state of the software development life cycle.
Observe and enhance computer software performance.
You must enhance and develop your programming skills before applying for software engineer positions. So, obtaining a python certification at Python Training in Bangalore would be extraordinary. This course will teach you all of the primary programming skills required for software development.
Junior Business Analyst
Junior Business Analysts employ statistical data to see the business trends and create insights for pushing the company business into a success. They make a cost-effective measure for preparing a great revenue model. Freshers wishing to join as business analysts with excellent DXC Salary for Freshers must obtain the following skills.
Microsoft Office Fundamentals, Analytic Tools, and Programming
Learn to implement diverse methodological approaches.
Strong problem-solving and mathematical abilities.
If you join as a business analyst, you must perform the following key roles and responsibilities.
To identify business trends, gather data, and conduct the analytic process.
For data collecting and analysis, collaborate with internal teams.
Identify and verify additional data sources.
Create new business procedures and analytical reports.
It is crucial to have advanced data or data science skills before stepping into this position; therefore, we recommend you enroll in the Data Science Course in Chennai to enhance your basic and advanced data handling expertise.
Software Developer
Software Developers perform based on clients' necessities. They build the leading systems and guarantee the smoothness of running devices and networks. If you want to join this position with an acceptable DXC Salary For Freshers, you require to develop critical skills, which are
Knowledge of Software Development Life Cycle.
Skills in Full-Stack and application development.
In-depth coding and computing skills in Python, PHP, Java, and C/C++.
As a software engineer, you must perform the following key roles and responsibilities, which are
Upgrade the software interfaces and constantly improve the program performance.
Validate and test the software development process.
The software programming methodologies should be recorded.
To design better software products and applications, consult and collaborate with IT professionals.
Develop and deploy software for scientific investigation and the development of mathematical models.
To work as a software developer, you'll need to have a different range of skills. So learning selenium skills would be excellent. Hence, we recommend undertaking Selenium Training in Bangalore to understand software development and testing approaches.
What are the flexible benefits for freshers at DXC?
Work from Anywhere - DXC is one of the I.T. companies that would provide Work from Anywhere (WFA) options. It opened a new era of innovative ideas, opportunities, and a diverse workforce. The company has successfully established a work-from-home program to help employees achieve a positive work-life balance.
Vocational Excursions - DXC arranges vocational trips and team gatherings over a specific time to keep employees interested and engaged. Because the I.T. industry has a dramatic effect on psychological stress and physical health due to workloads, it helps maintain mental and psychological balance.
Health and Life Insurance Policies- The company also covers life and health insurance policies of their employees. It takes care of medical expenses, therapy, medications, and the unavoidable deaths due to accidents.
Vacations and Vocational Trips - DXC grants their employees paid leave off and vacation trips. During this time, the average monthly payments won't be affected.
Stunning Bonuses with Salary Packages - Employee motivation and success are recognized with compensation packages and higher salaries at DXC. Furthermore, the company offers additional bonuses during celebrations and other ceremonial occasions.
Refreshment Hotspots - Employees can have refreshments from the restaurant during business hours, including drinks, snacks, and sandwiches.
Complimentary Transportation System - DXC provides employees with a discounted transportation system from neighboring areas, allowing them to travel easily between their homes and offices.
Education Support - DXC helps the employee and their children with educational assistance.
Free Child Care Centers - DXC gives a convenient child care center for workers' kids.
Universal Relocation and Overseas Travel - DXC has numerous multinational headquarters worldwide. Hence, workers have the privilege to make decisions about universal relocation.
How are freshers satisfied with their jobs at DXC?
Freshers are incredibly delighted with their jobs at DXC. Our study discovered that the DXC accounts for 70% of job satisfaction, with 64 percent of the credit to salary and benefits, 78 percent to work-life balance, 66 percent to career advancement, 70 percent to work satisfaction, and 74 percent to job security.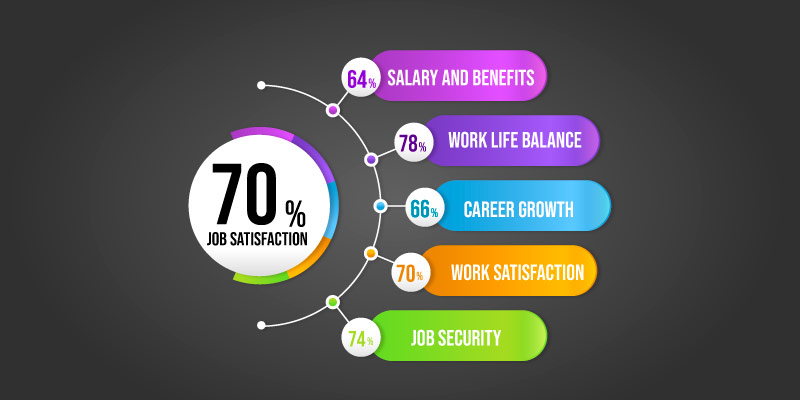 From IT to engineering, the modern world provides many job opportunities. We have thoroughly discussed the DXC Technology Salary for Freshers and its multiple job positions in this blog to guide emerging IT aspirants or Graduates. In 2021, DXC was recognized as a leading and emerging IT firm, winning the CyberRes Security Award, the Strategic Alliance Partner Award, and the Oracle Linux & Visualization Award. DXC Technologies is ideal for freshers seeking excellent job opportunities. Because of your exposure and experience, you will be in high demand internationally and recruited by international companies across the world. So, visit DXC's official Careers Page to see the most recent job positions and take advantage of the opportunity.
Recent Post: SAP Salary for Freshers