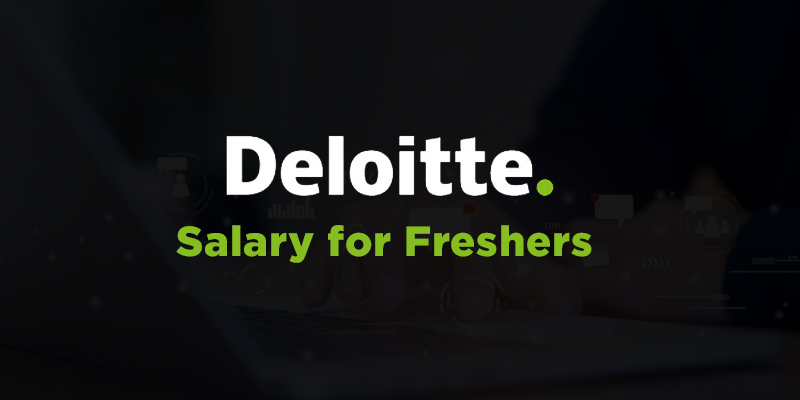 Deloitte Touche Tohmatsu Limited is one of LinkedIn's top 25 companies where most of our country's people work. The Deloitte salary for freshers is one of the major reasons behind it. The company offers audit and assurance, financial advisory, consulting, risk advisory, tax, and other services. The company proffers robust wellness programs for the employees to achieve high satisfaction in their job.
The Deloitte fresher salary is extensive on par with the other IT companies. This is because they hold the largest clients like Microsoft, Metlife, Morgan Stanely, Apollo Global Management, Boeing, and Berkshire Hathaway. According to Global Employee Engagement Study, 88% of Deloitte employees say it is a great place to work and grow their skills.
Deloitte Salary for Technical Job Roles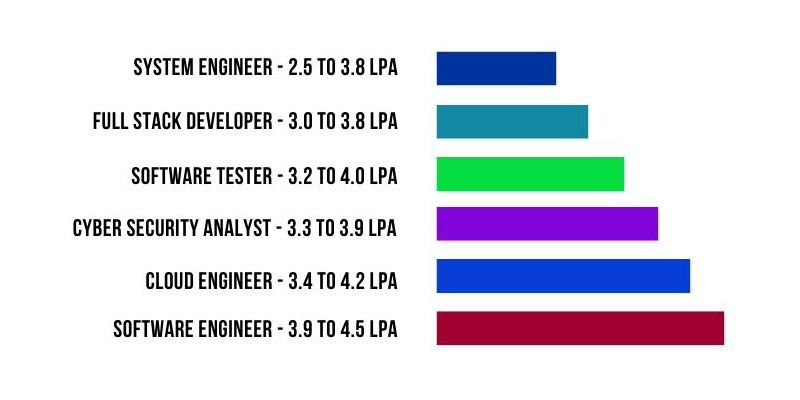 Though Deloitte is a financial and risk advisory company, they offer a compromising package for the technical employees depending on their needs in the company goals. The Deloitte fresher salary for various technical job roles is graphed in the above bar chart for your reference. The average pay scale for a technical job role at Deloitte falls between INR 2.5 to 4.5 LPA.
Joining Java Training in Chennai at FITA Academy is essential for any individual seeking a career in the IT sector. Because Java is a foundational programming language necessary to move forward in your career with any of the job roles in this field.
Deloitte Eligibility Criteria
The Deloitte company salary for freshers is bewildering to those who are seeking to start their career in the IT field. Below are the basic requirements of the company for freshers.
Deloitte recruits graduates of B.E and B.Tech in any discipline. They also offer job roles for those who hold a Master's degree in Computer Science, Computer Applications, and Information Technology.
The above-mentioned degrees are considered only if the candidate has pursued them full-time in a college recognized by the Central or State Government of India. A diploma or part-time or correspondence is not taken into consideration.
The Candidate must also have 60% marks in their SSLC, HSLC, and degree examinations.
The candidate should not have any pending arrears by the time of applying for the job.
The candidate must perform well in all the rounds of the interview process and be eager to learn more.
Demanding IT Skills
Deloitte Salary for freshers can be increased as you possess additional skills that are necessitated by the IT sector. The field demands additional soft skills as well as technical skills to sustain and uphold yourself with the changing needs of the world. The most in-demand IT skills to boost your profile are as follows,
All of the applications and websites are developed through programming languages. It is essential to enter the IT field to even use tools or software to complete your tasks. The few most popular programming languages include C, C++, Python, Ruby, and Java.
Strong interpersonal skills are important to build strong and positive networking in the workspace and to smoothly complete team tasks.
The IT sector is all about coding and computer-related tasks, but creativity is also necessary. It helps in mind-mapping and innovative thinking to complete daily tasks.
Cloud Computing is one of the growing technologies that help in storing databases and accessing computer services like software, networking, servers, and analytics over the internet.
Since Amazon Web Services (AWS) is the most exhaustive and broadly adopted cloud platform, joining the AWS Training in Bangalore is inevitable for you to elevate the Deloitte fresher salary.
Adaptability is a must-possessed skill as people in IT have to be up-to-date with the changing trends and technology in the field.
Problem-solving skills are required to brainstorm ideas and make effective decisions for the tasks.
DevOps is a set of tools that are practiced to combine software development and operations. It is used to cut short the development life cycle of systems in companies.
Work ethic skills are expected from the candidates to maintain a productive working culture in the company. This helps in achieving the company goals and performing better in the workspace.
Teamwork is the most sought-after skill for the candidate for any type of job role. It fosters a positive work environment and helps in problem-solving to come out with better results.
Data Science is yet another booming field that provides numerous job opportunities. Data hold insights for the company to make efficient management and better decisions.
Job Roles and Responsibilities at Deloitte for Freshers
Python Developer
A Python Developer is a software team member who knows how to use the Python programming language to make, design and deploy computer programs and applications. A Python Developer is also responsible to find errors in projects that were made with Python.
Most of the time, a Python Developer works on the back end (server-side) of an application. Since Machine learning and Data Science are now growing tremendously, Python Developers don't just write code and fix bugs. They also help apps connect to third-party web services and help the front-end development team make their features come to life for the user interface.
Roles and Responsibilities
To understand, analyze and implement needs, feature requests, and conversion into software components.
To write efficient, scalable, reusable, and testable code.
Integrating the user-oriented elements into different elements and data storage solutions.
Develop back-end components to improve server-side logic, statistical learning models, and performance of web applications.
Design and implement data protection and security features. They also tune and automate applications
To enhance the functions of present software systems.
They create predictive models for Machine Learning and Artificial Intelligence-based features.
Enrolling yourself in Python Training in Bangalore helps you to fetch a high-paying job for a secured future. This programming language has countless applications in the world and can add credits to your resume.
Software Test Engineer
A software tester's job is to come up with test scenarios to see how usable the software is from the end-user perspective. They run these tests, and send reports to the production team about how well the software worked and its drawbacks. A software tester is also called a quality assurance (QA) tester or a software test engineer.
Roles and Requirements
Review the design and user documentation, as well as the project requirements and specifications.
Based on the needs of the products, they write functional test cases and test steps.
Expected to have working experience with automation testing tools.
They run functional test cases to make sure the product meets quality requirements.
They perform regression and functional testing for the software.
Assist in requirement analysis, test design, and test documents.
They should have knowledge of DevOps and Agile Methodology.
Candidates should be aware of the various phases of SDLC.
Strong diagnostic skills with organized and task-oriented candidates are preferred.
Deloitte fresher salary differs based on the additional technical skills that a candidate possesses. So, take up the DevOps Training in Chennai and explore the automation testing tools like Ansible, puppet, and many more. It gains you a comprehensive knowledge of the entire processes of the Software Development Life Cycle (SDLC).
Data Integrity Analyst
A data integrity analyst's job is to make sure that all versions of data on all storage devices are safe by backing up company files in a protective way. The data integrity analyst makes sure that employees use internal information sources in the right way by supervising the company's computer systems.
Roles and Requirements
Creating and maintaining data systems and databases which includes fixing coding mistakes and other problems with data.
They are expected to possess knowledge of database languages like SQL, R, or Python.
Data mining is the process of getting information from both primary and secondary sources and putting it in a way that both people and machines can easily read.
Using statistical tools to understand data sets, paying special attention to trends and patterns that could be useful for diagnostic and predictive analytics.
Showing how their work fits in with local, national, and international trends that affect their organization and industry.
Making reports for the executive leadership that use relevant data to explain trends, patterns, and predictions.
Working with programmers, engineers, and organization leaders to find ways to improve processes, suggest changes to systems, and come up with data governance policies.
Data is the newfound fuel of today's economy. It is essential for making important corporate decisions. Join a Data Science Course in Bangalore to gain professional skills and experience in working on a real-life project under expert guidance. You can enjoy the Deloitte Salary for freshers and the company's employee welfare programs by owning this certification.
UI UX Developer
The main thing that user interaction (UI) designers care about is how a user is attracted to a digital product. User experience (UX) designers make sure that when a person uses a digital product like a website or an application, they have the best experience possible. Their main job is to study user interactions, figure out their needs, and design a user journey that lets users do what they want to do with as minimal effort as possible.
Roles and Requirements
Proficiency in prototyping tools like Sketch, Invision, etc.
To create user-centered designs based on the needs and feedback.
They create user flows, wireframes, mockups, and prototypes. They also troubleshoot UX errors and bugs.
Taking insights from requirements and turning them into style guides, design systems, design patterns, and user interfaces that look good.
UI elements like input controls, navigational elements, and informational elements are designed.
Collaborate effectively with the engineering and management teams. They create impressive graphic designs for applications or websites.
Join UI UX Design Course in Chennai to develop your design skills and reflect them in producing attractive user-friendly websites and applications. UI UX designer role is the most in-demand job on LinkedIn as every business no matter the size, has started to own either a website or application.
No matter the type of job role, the Deloitte salary for freshers can be elevated with your additional certifications in various technical skills. The certifications show your interest in continued learning and dedication to achieving professionalism in the field. This is the top most demanding personality sought by the recruiters in a candidate.
Deloitte Salary for Non-technical Job Roles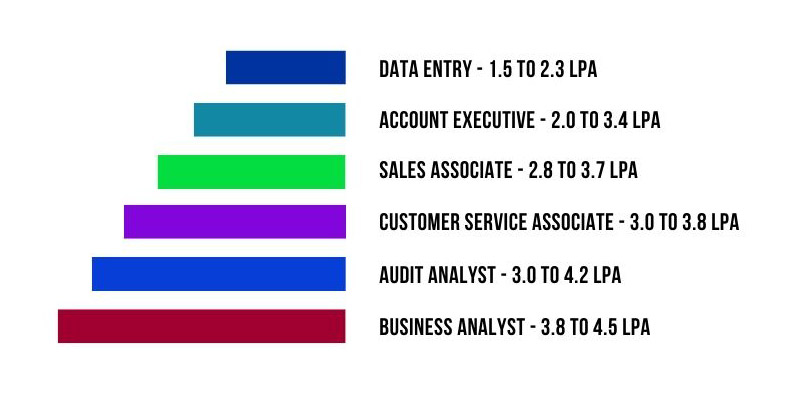 For a better understanding, the Deloitte fresher salary for non-technical job roles is represented in the above picture. Job roles like Data Entry, Account Executive, Customer Service, Sales, and Business Analyst are paid between INR 1.5 to 4.5 LPA. The pay scale increases with the employee's experience, location of the company, additional certifications, and technical skills possessed.
Employee Benefits at Deloitte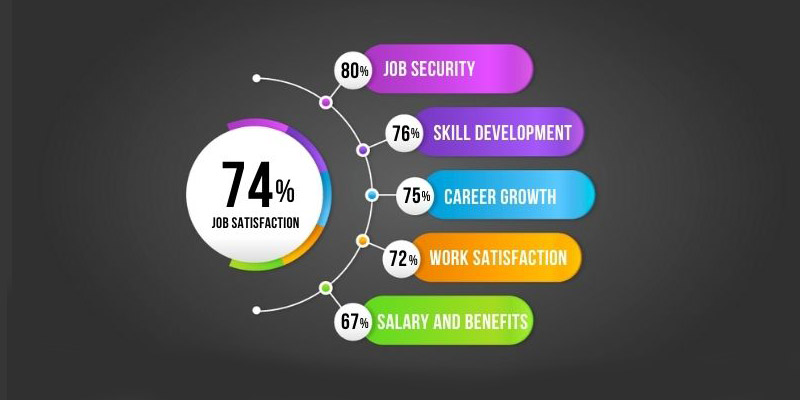 Deloitte is known for its informal, open, collaborative, and fun culture. Apart from the Deloitte salary for freshers, the company provides maximum support and flexible working arrangements to help their employees to achieve work-life balance. They provide a comprehensive insurance plan that envelops a corporate discount for dependents, medical insurance, and travel insurance with life and disability insurance. They arrange for additional compensation for working shifts for sick leave for the employees to aid them from loss of pay.
Each department has its own learning and development programs to develop employees' technical and soft skills. They support them in achieving professional certifications in ACCA, CFA, CPA, etc. The company offers other general reward programs like employee referral programs, childcare benefits, and intensive travel benefits.
Start applying for the above job roles that suit you to enjoy the Deloitte salary for freshers and their employee welfare programs. You can take home a huge work experience and knowledge that adds weight to your job profile. Consider joining the Python Training in Chennai as it is widely known as the all-purpose language that is used extensively in IT as well as everyday life. Choose wisely what you do and where you do it for your bright future!
Recent Post: Digital Marketing - Features, Advantages, Career and its Impact