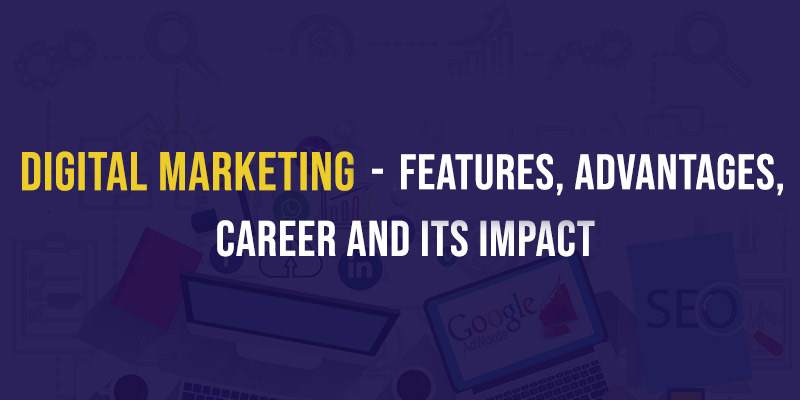 Looking at the repeated advertisement posters on various social media channels? Wondering how you get personalised advertisements? The features of Digital Marketing can leave you awed. The tremendous growth of the internet and smartphones has resulted in the development of the marketing sector. Almost every house has an internet connection these days. What else does a business person want to reach out and make you buy their products? Learn more interesting facts about what you see daily on your phone by learning digital marketing. It is never late to start something new and worthy. Take up the Digital Marketing Course in Chennai as the benefits of digital marketing course are jumbo to advance your career.
Digital Marketing
In simple words, marketing that takes place on any digital platform is termed Digital Marketing. Business people have recently started to promote their products and services to customers using digital channels. For this kind of marketing, websites, mobile devices, social media, search engines, and other similar tools are used.
With the growth of the internet in the 1990s, digital marketing became more popular. Digital marketing uses some of the same ideas as traditional marketing, and it is often thought of as a new way for businesses to reach out to customers. Companies often use both conventional and digital methods in their marketing strategies. It differs from traditional marketing because it uses a one-way message to get customers to interact immediately with the brand. It's a better way to get people involved in your advertising and promotion than just giving them something to notice.
People on social media who are interested in a product, form a network of interactions, which spreads the word and promote quality products. People have made it easier for a brand to advertise more than one product in a single ad, and customers can save them to their "wishlist" and return to them later.
Advantages of Digital Marketing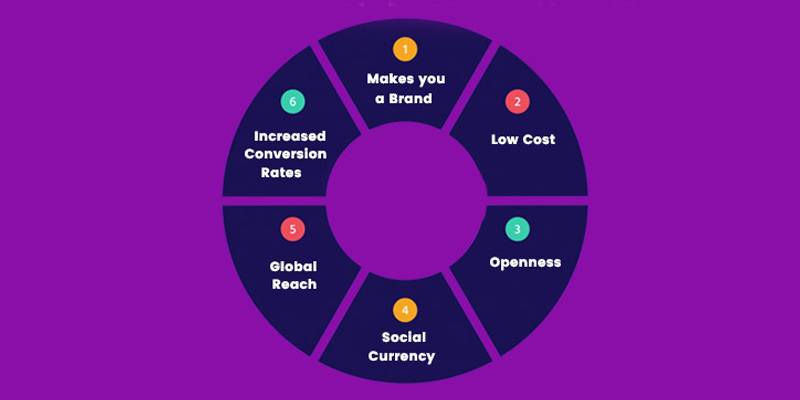 Makes You a Brand - The most crucial advantage of digital marketing is that it allows you to make yourself a brand for your business. Learning this strategy is one of the essential benefits of digital marketing course.You can also take up the Leadership Online Training at FITA Academy to become an effective leader to groom yourself as a brand ambassador for your business.
Low Cost - On par with traditional marketing, a well-planned digital marketing strategy and the right targeted audience can make more engaged with customers at a lower cost rate
Openness - Getting involved in Social Media and its effective management will gain customer loyalty and create a reputation for your brand as it is easy to engage with.
Social Currency - Your marketing campaigns can gain social currency through an effective content strategy. You'll gain social currency as your content (poster, video, article) is shared by people and gets viral.
Global Reach - With a small investment, a website or any other social media channel can take your product and business globally. The significant advantages of international marketing are it helps you to find new markets for your business.
Improved Conversion Rates - Digital Marketing can be seamless and immediate when you have your official website. The products are always a few clicks away from making your customer buy on the website than making them call or visit your store.
Features of Digital Marketing
Measurable
One of the most important features of digital marketing campaign is that it helps you measure at what percentile your product has reached the audience. So, whether you put up an ad or a post on social media, you should be able to measure how many people saw the ad and how many people responded to it. Digital marketing makes gathering this kind of information easier, which can be used for future marketing. It helps to narrow your target audience, how well your copy worked, and which strategies didn't work in the past. Machine Learning Training can benefit you in analysing the data of your customers to find out their interests and advertise their essential needs.
Targeted
Every online or digital marketing strategy is targeted, which means it is aimed at a specific group of people. The information gathered helps marketers target strong demographics. For example, a vegan cosmetics brand would target women between the ages of 16 and 45 who have been known to search for vegan brands and a particular region if the company only delivers in those areas. It also helps get a number for how many times the ad has been seen and figure out what works best.
Remarke Ting
Remarketing is another important features of digital marketing. It comes from the company's previous marketing campaigns, which show ads only to people who had been to its page before or shown interest. It's primarily used for services or products where customers frequently visit the website. The remarketing is based on the audience, their behaviour and the situation.
For example, you may have noticed that you see ads for the goods you have seen but not bought. It's one of the ways to get people to visit your website and learn more about your brand by sending them to the page you want them to land on. You could add more product information and details in the form of answers to frequently asked questions and descriptions.
Personalisation
When the copy of your digital marketing strategy is measurable, you can also keep track of what your customers buy, how often they look at certain products, and what they like. It lets you make personalised product suggestions and suggest goods or services that go well with the customer's preferences. You can also send a user personalised, one-time-use discount vouchers based on their "Watch list" or "wishlist," which they cannot share with anyone else. The Internet lets you meet customers' needs, so digital marketing is accessible on the wallet and easy to use.
Multi-Channel
A digital marketing strategy should be used on more than one channel. Not everyone in the audience uses all of the social media platforms. The goal is to get in touch with the possible buyer through different online communication methods. The way people talk to each other should be easier and simpler to use.
For example, you should consider whether your audiences like a reminder on Instagram or a personalised checkout link sent through email to finish the process. It keeps the prospect interested in the brand over time and cuts down on printing and mailing costs. The aim is to produce information that is easy to find an answer.
Adaptability
Features of digital marketing require being flexible and able to adapt to changes in technology, customer needs, and media needs. The campaign is meant to change with the needs of the people it's aimed at for marketing. It can be hard to be a digital marketer, and you must be creative to track and match buyer signals and make a call-to-action to your product promotions. In a constantly changing world, companies need to be able to change with the times.
Digital Marketing - The Most Demanding Career
The Internet has grown over the years, especially since covid. People are getting used to the new normal, and they are now very comfortable doing things online, like shopping, ordering food or medicine, or even doing their banking. So, digital marketing is vital if you want to meet these newly formed consumer needs in business.
Also, it's important to think about how the next generation will be used to everything being online because they will have grown up in a digital world. So, companies need to start working on digital marketing right now if they want to sustain themselves in the future market. The demand necessitates your content strategy to be more innovative, creative and related to the latest trends.
Impact of Digital Marketing on business
Increased Brand Awareness - Social media is a natural place to connect with buyers who are looking for the products you are selling. This can help your brand get the attention it deserves. About 60% of Instagram users say they have found new products on this social media networking site. This means customers also find new brands through Social Media. Take up the Social Media Marketing Courses in Chennai to learn more tactics to get your product marketed to customers on social media platforms.
Generation of Leads - Digital media is an easy way for new customers to show interest in a business and its products without making a big commitment. One of the most important things social media can do for a business is to help them get leads.
Boosted Sales - The impact of digital marketing is that you can sell anything on social media. A brand can get more business and opportunities with an excellent digital marketing plan. This will make social media networks more important for online shopping and product searching.
Grow Viral - With the increased liking, sharing and commenting on your marketing content, it gets exposed to new audiences and different masses of people. It gets viral as it reaches thousands and millions of shares on the internet.
Various Job roles in Digital Marketing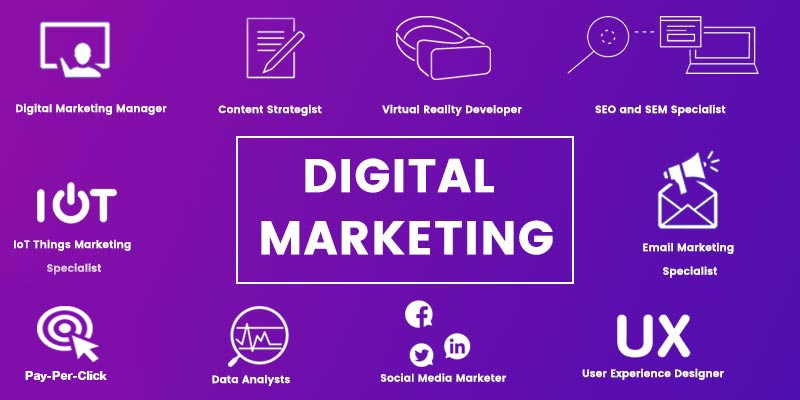 Digital Marketing Manager
Digital project managers are essential for keeping integrating and keeping track of digital marketing campaigns. They are responsible for laying out a project, making a timeline, setting milestones, and managing budgets. Project managers for digital projects need to be very good at organising, communicating, and working with others. Take up this Communication Course to upskill your profile in the digital marketing field.
Virtual Reality Developer
Virtual reality (VR) products are still young but getting more popular. Because of this, a lot of companies use VR in their digital marketing campaigns. This high-tech job draws in people with a lot of experience in technology and the arts. The VR developer helps in enjoying the advantages of international marketing by attracting new markets with this technology.
SEO and SEM Specialist
Websites must be on the front pages of the search engines to get as many people as possible to visit their websites. Besides the search engine algorithms are always changing, SEO (Search Engine Optimization) and SEM (Search Engine Marketing) experts know how to make sure that the right people see a company's website. The SEO Training in Chennai helps you in learning new strategies to get the website on the front page. On completion of this training, people who like working from home and are good at marketing can also take up these jobs as freelancers.
Content Strategist
Content strategists are in charge of making content that fits the goals and audience of a business. They must know to use analytic tools to find out which topics interest the audience and get people to look at the company's digital media. Content strategists are good writers and know how search engine optimisation works (SEO).
Email Marketing Specialist
Email marketing specialists are in charge of making and sending out email campaigns, as well as keeping customer information and lists in databases. Email marketing experts are very good at writing and editing, especially when it comes to writing in a convincing way. Take up the Content Writing Course in Chennai to learn professional writing skills for marketing. The course also offers you skills in writing blogs, website page contents and articles.
Internet of Things (IoT) Marketing Specialist
People do different things on the web with tablets, smartphones, smartwatches, and other devices. IoT marketing experts use the information they get from these devices to make campaigns that work for those who use them.
Pay-Per-Click Specialist/Manager
The PPC Specialists or Managers keep an eye on the online PPC marketing campaigns, which include coming up with a strategy, designing the campaign, putting it into action, using SEO, and figuring out the effectiveness of the ads. PPC specialists have to keep up with the latest trends in order to understand how consumers choose keywords and make the necessary changes to get the right results. Since the ads have a direct link to the company's website, the PPC Managers have to give website visitors something interesting to read in order to build brand value and get them to become customers.
Data Analysts
With the growth of artificial intelligence (AI) and the Internet of Things (IoT), there is a huge amount of data and information to sort and analyse. Data analysts make systems to organise and look at this data so that companies can understand it and use it in their digital marketing campaigns.
User Experience Designer
User experience (UX) designing is not all about technology and design. UX designers also know a lot about how people react. They make websites, products, and apps in a way that makes people more likely to buy from them. They run their business with the whole experience in mind, aiming to increase sales, keep customers, and get new leads. Learn how to attract customers through your website and application designs in the UI UX Training in Bangalore. The course will also help you in creating a user-friendly website or application.
Social Media Marketer
Social media managers help businesses talk to their customers on different social media platforms. They use analytics to find out how customers interact with brands. Social media marketing managers also create content campaigns that attract new customers and keep old ones interested.
Digital Marketing is a promising career in the future with various booming job roles and its increasing demand in the internet era.The features of digital marketing make it predestined with the future marketing world. Make a wise choice and take up the Digital Marketing Course in Bangalore to build a bright future.
Recent Post: Infosys System Engineer Salary for Freshers