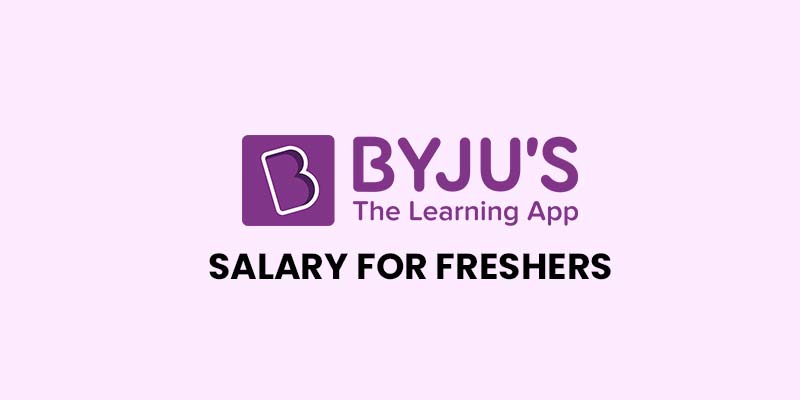 Definitely, you would have come across BYJU'S, The Learning App, which assists students in gaining better knowledge of the world to create a better future. Have you ever thought of working for this platform? They have an amazing BYJU'S salary for freshers as they seek dedicated minds who can help them provide quality education to students. This Indian Multinational Education Technology company is actively recruiting young minds with the aspiration to revolutionise the education system. BYJU'S salary package for freshers is excitingly huge, with an excellent platform to grow.
Who can Work for BYJU'S?
Candidates should possess a minimum of bachelor's degrees like B.E/ B. Tech, MBA, B.Sc, B.Com, and B.A or other equivalent degrees from a recognised university.
Candidates applying for faculty job roles must possess excellent teaching skills.
For job roles at the back-end, support of the company should possess the demanding skills particular to the job roles.
Applicants should not have any arrears in their academic records at the time of the interview.
Aspiring mind to join the company and achieve the forlong goal in the educational system.
Candidates applying for software job roles at BYJU'S are expected to excel in every one of their skills in the respective domain. Let's start with the computer programming languages, take up the Java Training in Chennai and gain proficiency in the language for effective coding.
BYJU'S Salary for Salary for Freshers based Technical Skills
BYJU'S fairly pays their technical employees for their contribution and endless support in providing a trouble-free platform for the students to learn. Since the company runs completely online, it is inevitable to develop and maintain effective and trouble-free software and websites. Below is the BYJU'S salary for freshers based on software building technical skills,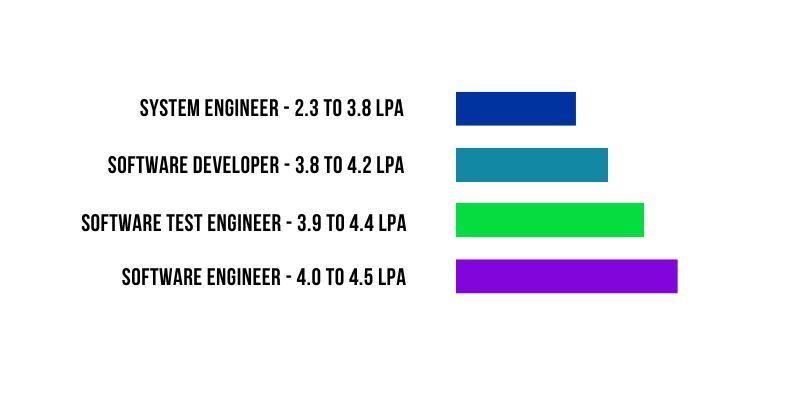 In order to provide a feasible platform for all the operating systems, candidates applying for System Engineer or Analyst should have a strong knowledge of Linux, Unix, Windows, ios and android. If you aren't strong in the sector yet, take up the Linux Online Course and build your foundation right from the comfort of your home.
Various Job Roles at BYJU'S
Software Test Engineer
An engineer who tests software, often known as a software test engineer, runs tests on programmes or apps to make sure they function properly. Software testing engineers frequently participate in Quality Assurance (QA) teams at software firms. They are crucial in the planning and design phases of the software development process. Their testing guarantees that the business can release a high-quality and functional product. Software testing professionals also find errors in programmes or apps as well as problems with the functionality or user interface of goods.
Responsibilities
Developing software in teams by testing that fulfils business needs.
Creating test and evaluation plans, processes, and scripts for software.
Evaluating the functioning of software and apps using human or automated testing techniques.
Creating test procedure documentation to guarantee consistency and adherence to requirements.
Ensuring software complies with quality criteria set by clients or corporate policies.
Identifying faults and errors in the software.
Evaluating performance, scalability, and user approval metrics.
Creating testing scripts in various programming languages like Python, Java, C++/C# and others.
Using white box, black box, and grey box testing techniques.
Reporting on the testing methods used and the subsequent findings or results in writing and presenting.
Giving the software development team members comments regarding the software's need for changes or enhancements.
Since all of the software test processes are started to automate in almost every company, it has become mandatory for a Software Test Engineer to get certified in Automation Testing. So enrol yourself in the Selenium Training in Bangalore, one of the most widely used automation tools in the top IT companies.
Associate Content Writer
A content writer is someone with expertise in creating pertinent, interesting written content for websites. Every website is created with a certain target audience in mind, and to speak to that demographic, it needs well-written, educational, and generally high-quality material. The content that a content writer will create will typically include keywords intended to improve a website's Search Engine Optimization (SEO).
You can also consider taking up SEO Training in Chennai and get to learn the professional skills to optimize a search engine. Writing content is their area of expertise, and a skilled content writer will be able to write for most or all of the internet mediums like
Blog posts
Web pages
Social media posts
Video/audio content
White papers
Press releases
Email marketing
To create high-quality work, a competent content writer must thoroughly understand the motivation behind certain kinds of these materials.
Responsibilities
Carrying out extensive research on themes relating to the sector in order to provide original material.
Creating material for websites, blogs, articles, product descriptions, and social media.
Helping the marketing department create material for ad campaigns.
Checking content for grammar mistakes and issues in consistency.
Editing and refining current to make it easier to read.
Applying SEO best practices and conducting keyword research to increase website traffic for the company.
Creating attention-grabbing headlines and body text to attract the target audience.
Identifying the content gaps in the company's current offering and suggesting new material to fill them.
Join the Content Writing Course in Chennai and upgrade your writing skills that suit Google bots and publish blogs that always rank on the first page of the search engine. You can also get to learn tips to create user-engaging content from the course.
Software Engineer
Software engineers are given the duty of developing and implementing Byju's software programmes and applications. The present BYJU'S learning app is upgraded, improved, and given new features for a better user experience. For freshers looking for this job role with a fair Byju's Salary for Freshers, software testing, software tools, suites, the software development life-cycle, and delivering timely projects are required. They are concerned with the following significant work tasks and responsibilities as software developers.
Responsibilities
Creating and disseminating cutting-edge software applications.
Basic knowledge of DevOps culture and to co-exist in it.
Testing methodologies and validation systems are used for software tools and applications.
Programming and software development documentation.
Examining current software data to enable system distribution and integration.
Systems already in place are changed to enhance user experience.
Knowing more than one programming language can increase your chances of enjoying BYJU'S salary package for freshers by getting placed in the company. Join the Python Training in Bangalore to elevate your professional skills on the resume.
Digital Marketing Executive
The main individual responsible for the company's digital marketing efforts is the digital marketing executive. They are involved at every stage of the campaign's conception, planning, execution, evaluation, and optimization. They must consequently have practical knowledge of a variety of digital marketing tools.
The unique objectives of the Head of Marketing, such as boosting online sales, lead generation, brand engagement, and conversions, are closely pursued by the Digital Marketing Executive in collaboration with the internal marketing team.
Responsibilities
They aid in the creation of plans to create enduring digital connections with customers.
Plan and keep track of your company's continuing social media presence (Twitter, Facebook etc.)
To raise company and brand exposure, launch optimised online advertisements through Google Adwords, Facebook, etc.
Participate fully in SEO campaigns (keyword, image optimization etc)
Prepare online newsletters and advertising emails, then plan their avenues of distribution.
Update the website and offer innovative content marketing ideas.
Improve user experience by working with designers.
Utilize various Web analytics tools to evaluate the effectiveness of digital marketing initiatives (Google Analytics, WebTrends etc.)
Learn about current trends in online marketing and maintain current methods.
Continue to collaborate with media companies and vendors.
Join the Digital Marketing Training in Chennai and learn new strategies of marketing a brand and product to increase the company's revenue through their sales. The course gives you comprehensive knowledge of analysing trends, optimising search engines, social media, and many other tactics.
BYJU'S Faculty
The teachers employed by the management are in charge of conducting classes in all its courses and subjects. This position is permanent with an excellent BYJU'S salary structure for freshers. Candidates with zero experience are also welcome to apply for this position if they are freshmen and want to work as teachers or tutors. The ideal applicant for this role must be exceptional at teaching, can manage their time well, and be able to teach students of all paced learners.
Responsibilities
Teach pupils in accordance with the course requirements and schedule.
Increasing students' interest by clearing up questions in class.
Participate in parent-teacher conferences to raise parent satisfaction.
Assess and monitor the development of students.
When completing the essential information for the portal, maintain student discipline.
Assign tasks, tests, and homework in accordance with the schedule.
The company also offers IELTS training and helps students to develop their English language skills, allowing them to achieve their ambition of working or studying abroad. So if you are looking forward to becoming a BYJU'S faculty, you can also earn certification from the IELTS Coaching in Bangalore and apply for the Trainers position to enjoy the BYJU'S salary for freshers.
Product Specialist
Product specialists work together as a team to deliver the product in a high-quality manner. They possess an in-depth understanding of a good or service, the capacity to assess market trends, devise pricing, sales, and profitability plans, provide recommendations, spot opportunities, and boost earnings. Freshers who are interested in this position with a fair BYJU'S salary for freshers must have strong communication skills as well as experience in retail management, product and sales, and customer care. As product specialists, they are accountable for the following duties and obligations.
Responsibilities
Performing thorough market research, which could involve gathering surveys, Looking up information on a computer, making phone calls, sending emails, and even attending product launches of rival companies.
Professionally responding to questions about the right products and doing it fast.
Collaborating and innovating with the engineering and business teams.
Doing refresher courses and training in sales and marketing.
Coordinating and supporting the launch of new goods and events.
Displaying goods to clients, employees, and other stakeholders.
Assisting with the development of company ideas.
Attending conferences and arranging training sessions as necessary.
Locating fresh market opportunities and informing the manager and other relevant stakeholders.
To provide sound product suggestions and recommendations to increase sales.
As the job role lies surrounding sales and marketing, it is very important to have effective communication. Join the Communication Online Course to learn the possible ways to develop and establish better communication.
Operation Associate
Operations Associates execute a number of tasks, including administrative duties, to help the effectiveness in attaining business goals and objectives. Freshmen who are interested in applying for this position with a competitive BYJU'S salary package for freshers must have the following qualifications of prior experience in business administration; excellent organisational and analytical skills; communication skills; and a solid working knowledge of computer and database management. They are concerned with the following important functions and responsibilities as an operation associate.
Responsibilities
The procedure includes performing administrative activities like setting up appointments and returning phone calls.
Helping human resources with hiring and creating work schedules
Helping the operations manager put business policies and procedures into practice.
Assistance with accounting and payments as needed.
Maintaining inventory records and creating purchase orders for suppliers.
Monitoring everyday activities, providing reports, and resolving problems.
Monitoring computer databases.
Take the Soft Skills Online Training at FITA Academy and groom yourself with the necessary skills and work ethics required in a workspace. Learning soft skills is as important as learning technical skills for a job.
BYJU'S Salary for Freshers based on Non-Technical skills
The job roles apart from software development and maintenance include the core job role of teaching faculties and content writers who plans and writes the modules and learning manuals for students to strengthen their skills. The other sector is marketing the brand and making it seen wherever people go. All of them play a major role, and their salary differs based on their working hours, skills and responsibilities showered to them. The difference in BYJU'S salary package for freshers is given below in the picture for a better understanding.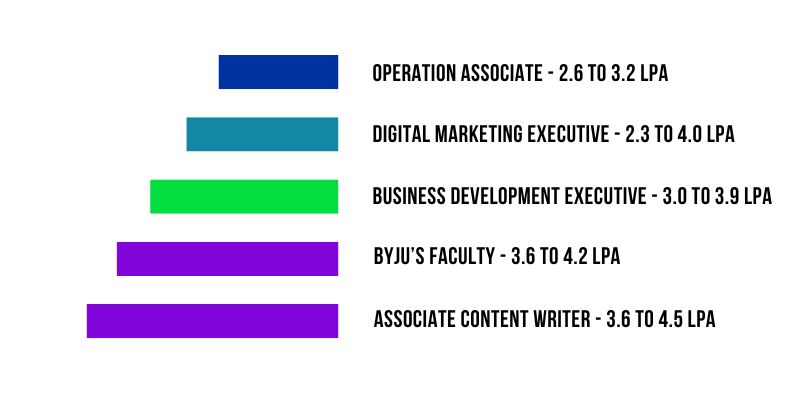 All of the BYJU'S faculties are expected to have a good command of their language to provide a standard education for students. Take the Spoken English Class in Bangalore and develop your communication skills with better fluency in the English language.
Interview Process at BYJU'S
The interview process at BYJU'S typically has three rounds, as briefed below,
Telephonic Round, where the HR cross-examines details about you and gets to know more about your background in the field. When you are shortlisted in this round, you will be contacted through mail or a call back for the next round.
Technical Round is to evaluate your technical skills and experience in the field you have applied for. They also check for your capacity to learn new things easily and consistently to perform your everyday tasks effectively.
The final Round is the Zoom Interview you have with HR regarding your job roles, salary negotiations, working hours and other responsibilities for the job.
Consistent performance in all three rounds is inevitable to get placed in the BYJU'S multinational education technology company. Taking the IELTS Coaching in Chennai course will help you improve your normal English to advanced English. This helps you to speak English fluently, helping you to present yourself confidently in all the interview rounds.
BYJU'S Salary for Freshers based on Experience
Despite the salary offered by BYJU'S to theirfaculties, it is just the entry-level package for the fresh graduates. You can increase them with your field experience and the added technical skills you gain through the years. According to the research on the company's employees, below is an approximation of salary hikes one can get from BYJU'S salary package for freshers level.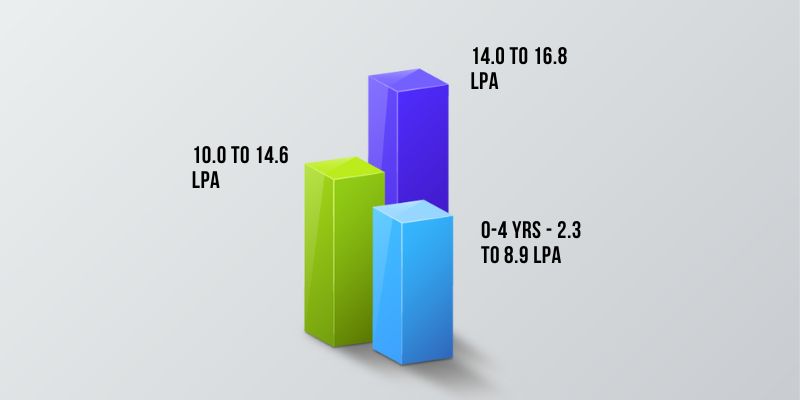 Employee Welfare Programme at BYJU'S
BYJU'S offers a wide range of bonuses and advantages to its employees. Below are a few of them,
The company provides all employees with life, health, and medical insurance policies.
Some qualified job roles are eligible for work-from-home options. However, management welcomes employees who choose to use this option in other job roles.
All of the BYJU'S employees receive free laptops and academic kits.
For permanent employees, the company also provides retirement and financial plans.
It provides the employees and their family with parenting helps through maternal as well as paternal leave allowances.
The company also offers months off without any form of salary loss to keep employees engaged and their work-life well balanced.
In addition, it offers professional training assistance to help the applicant's career growth concurrently with their work life.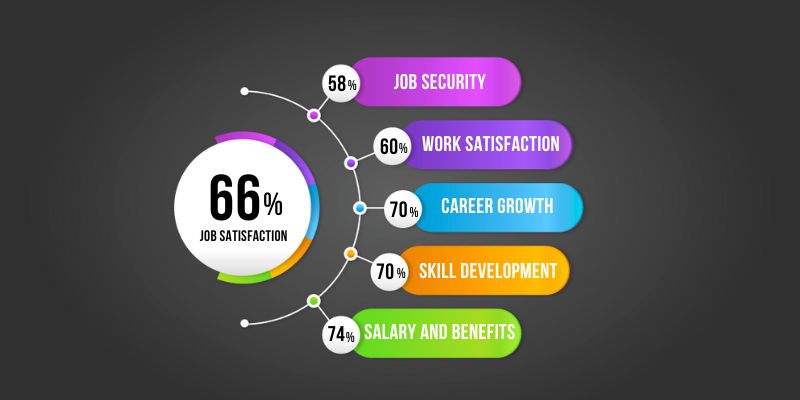 An approximation of the job satisfaction rate is calculated from the ratings of BYJU'S salary structure as well as the current and past employees' reviews of the company to provide an overall view of the company's environment and takeaways for the employees. This academic institution has widespread acclaim for prospective IT professionals and online educators. Freshmen are heavily encouraged to apply for Byju's wide range of employment positions. Freshers have many opportunities in the company because it is an academic IT company. Excellency in the English language is a must for any job role at BYJU'S, especially for their faculties. So enrol in the Spoken English Classes in Chennai to speak fluent English.
Recent Post: Application of Data Science in Business