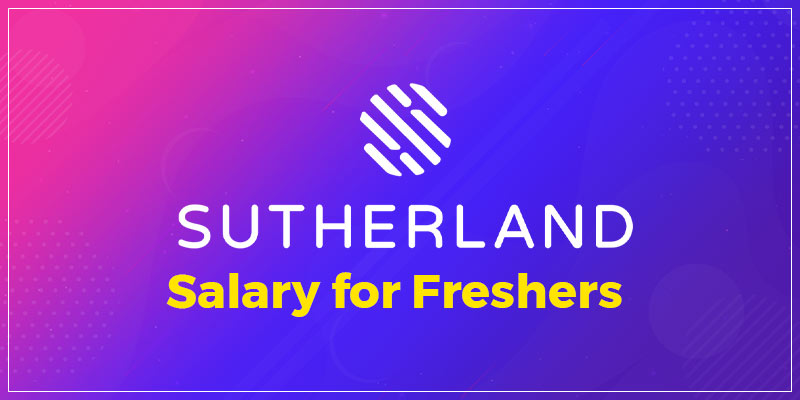 Sutherland, a worldwide business process outsourcing and technology services firm, whose Sutherland Salary for Freshers will range from Rs 2.4 Lakhs Per Annum to 5.0 Lakhs Per Annum for freshers in India. According to the corporation, the offer is intended to recruit the most excellent person in the market and boost the company's expansion objectives in the country. For a better IT experience, it excels at artificial intelligence, cognitive technology, automation, and human-centric design. Sutherland offers a wide range of job options and career opportunities for graduates looking for Sutherland pay for freshers in the IT industry. So, in this blog, we'll give you a summary of Sutherland, including its many technical roles, the application process, salary structure, and a variety of career opportunities.
Applicable Candidates for Sutherland Freshers Jobs
Freshers and applicants interested in pursuing an outstanding IT career are appreciated to apply for Sutherland. Freshers with a bachelor's or master's degree in computer science or a related subject are eligible to apply. In the next sections, we'll go over eligibility and qualification criteria. Earn an additional certification to make you more eligible through learning RPA Training in Bangalore and it might increase the probability of getting a fantastic Sutherland Salary for Freshers.
Application Procedure for Freshers Jobs at Sutherland
Candidates can apply for Sutherland in one of two ways. The list of ways are as follows:
Online Mode - In this mode, the applicant can go to their official website's employment page. Search for numerous positions and apply for them by submitting a resume. Shortlisted candidates will receive an email with information about the next steps in the interview process after submitting their application.
Offline Mode - Candidates can go for an off-campus drive in addition to the online mode. Applicants must schedule an appointment in advance through their official page. The human-resource executive will then email the location, eligibility details, interview date, and other pertinent information.
Qualification Criteria for Fresher Roles at Sutherland
Candidates looking for great career opportunities at Sutherland and a feasible Sutherland Salary for Freshers must meet the following requirements:
The applicant must secure a bachelor's degree in engineering (B.E); a bachelor's degree in technology (B.Tech); a bachelor's degree in science (B.Sc); a bachelor's degree in computer application (BCA); a master's degree in engineering (M.E); a master's degree in technology (M.Tech); a master's degree in science (M.Sc); and a master's degree in computer application (MCA).
The applicant must also have an academic score of 60 percentile or a 6.5 CGPA throughout their academic career (cumulative grade point average).
There should be no backlogs in the applicant's current or previous academic careers.
Learn DevOps Training in Chennai to improve your Sutherland qualification standards and may increase the probability for considering your application.
Supplemental Skills Considered for Fresher Roles
Applicants are required to have additional skills and relevant experience, and their academic qualifications. Some of the different criteria are as follows:
Candidates with 0-3 years of hands-on work experience are strongly encouraged to apply.
Intermediate understanding of Microsoft SQL Server, Database Management, and 2008-SQL.
Hands-on expertise in clinical application administration, system manual, automation, and other relevant experience in customer handling and services.
Knowledge of US healthcare, analytic thinking, and user training experience.
Excellent knowledge of Microsoft Office and related products.
Sutherland Salary Structure
Sutherland Global Services Salary for Freshers varies depending on the position. The salary package, on the other hand, ranges from 2.3 to 5.0 Lakhs Per Annum. In the graph below, we've approximated the average salary structure for several job roles at Sutherland.
Applicants who seek a salary increase in the shortest amount of time should acquire and improve their skill set by enrolling in FITA Academy's Python Training in Chennai.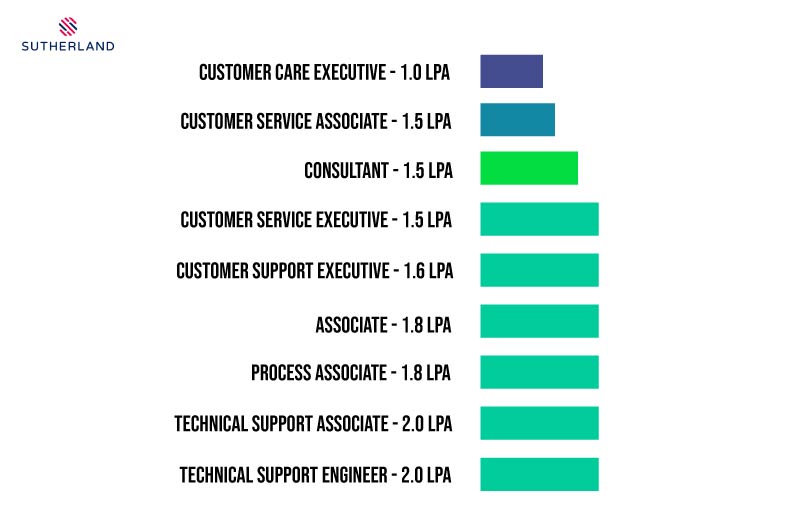 Basic Skills, Roles, and Responsibilities of Various Job Roles
Customer Care Executive
The customer service executive is in charge of providing exceptional customer service, sales support, and team management. Sutherland expects their new applicants to possess required abilities such as customer service assistance, good communication skills, BPO consulting and processing services, national and international call management, flexible work hours, and the ability to handle international voice calls. Freshers seeking this role with an affordable Sutherland Salary for Freshers are required to fulfill or follow the major tasks and responsibilities listed below.
As a team representative, the applicant should be capable of managing the team.
Managing the customer service process.
Creating and implementing company policies and procedures.
Training and Organizing standardized service sessions.
Examining applications and appointing new employees.
Learn Spoken English Classes in Bangalore to improve your communication abilities. The institute affords a great spoken english training through the experts and english native speakers.
Consultant
Sutherland expects their freshers who are looking for a good Sutherland Voice Salary for Freshers to have desired skills such as: commercial product awareness; numerical and analytical skills; excellent interpersonal and communication skills; ability to perform well in a collaborative environment; well-written skill; and self-motivating & passionate. The following are the main functions and responsibilities of a consultant.
Conduct company research, including surveys and interviews, to gain a better understanding of the company and its operations.
Detecting, Identifying, and Resolving the technical issues.
Reporting issue data, either verbally or graphically, demonstrates the current situation and identifies a fresh strategy to resolve them.
Making data models, doing research, and reporting findings to clients and industry professionals using analytics data.
Training the new hires or freshers before implementing them to work.
Process Associate
Freshers seeking process associate positions with a competitive Sutherland Associate Salary for Freshers are expected to possess desirable skills such as process associate experience, knowledge of software processing and process simulation, technical and communication expertise, and the ability to manage mechanical equipment. Process associates are responsible for the following essential roles and responsibilities,
Examining the company's development, delays, and other obstacles.
Suggestions for effectuating more efficient production methods.
Processing the Product purchase and Sales.
Mechanical production equipment maintenance and management.
Reporting on the quality assurance of the production channel and identifying production faults.
Producing records and reports on the manufacturing process.
Technical Support Associate
To be considered for this job position as a technical support associate with affordable Sutherland Salary for Freshers, a candidate must have extensive knowledge of Microsoft products, Linux, and Cisco, as well as relevant experience in desktop support, technical support, Linux/Windows/Mac and other operating systems, desk software, remote applications, and miscellaneous. As a technical support associative, they are concerned with the following key roles and responsibilities which are as follows
Choosing the proper hardware and softwares.
Recognizing and fixing technical problems.
Detecting and resolving issues.
Network issues need to be troubleshooted and resolved.
Installing and configuring hardware and software.
Listening to and talking with customers about their issues
Providing clients with accurate and timely feedback.
Customers are led through a series of procedures to resolve a problem.
Following up with clients to make sure the problem has been rectified.
The essential components must be replaced or repaired.
Assisting with the installation of new apps.
As a form of assistance, providing procedure for documentation.
Taking care of multiple projects or tasks at the same time.
Testing and Evaluating the newer technologies as per the company's requirement.
Conducting electrical safety checks on equipment.
Earn a supplemental credit to your technical support career through learning AWS Training in Chennai. This course will teach you all the prospects and techniques related to cloud and cloudflare services.
Technical Support Engineer
Freshers who are looking for a new technical support engineer with affordable Sutherland Salary for Freshers are required to possess skills in the following areas: Linux/Windows/Mac OS, computer networks and mobile devices, and WAN/LAN/MAN networks. In addition, the candidate must be proficient in scripting languages such as Java, Perl, Python, Selenium, BASH, and others. They must fulfill the following roles and responsibilities, which are significant obligations for technical support engineers.
Configuring and Installing computer programs and software products.
Keeping computer networks and operating systems up to date.
Faults in the network should be diagnosed and fixed as soon as possible.
Analyze, troubleshoot, and resolve client issues.
Earn a certification in networking concepts by pursuing CCNA Course in Bangalore this course will teach you how to become an expert in networking services.
Employment Benefits at Sutherland
Employees or freshers looking for a Sutherland Salary for Freshers can take advantage of the following benefits.
Diversity & Inclusion: Everyone has access to washrooms, and health insurance policies for partners of the same gender are gender-neutral. A mentoring program for members and managers of the LGBTQ+ community could be beneficial. People with disabilities can use it. Friends of Pride, a PWD buddy program, and employee disability sensitization programs are some of the engaging perks at Sutherland.
Health and Insurance Policies: Sutherland provides its workers with medical, health, and life insurance policies. It enables employees to file additional financial claims during times of crisis or emergency situations.
Week-Off and Paid Leaves: The company also offers 24 paid sick leaves and 182 days for maternity & 5 days for paternity.
Stunning Allowances: Sutherland grants Work at Home (WAH) opportunity with great allowance for all employees. It also accepts the comfortness of each employee who is willing to avail this work from home option.
Career Opportunities: Applicants will have access to leadership, mentoring, and internal career opportunities after working with Sutherland.
Health Care Management: Sutherland runs virtual exercise classes to benefit employees' and other mentors' health.
Discount and Coupon Vouchers for Purchases: Employees get access to a variety of attractive shopping brands as well as cashback offers through shopping hubs and discount coupons.
Awards and Recognition: Sutherland recognizes and rewards great employees with a variety of prizes for their achievements.
Referral Compensation and Increments: Finally, the corporation offers great referral bonuses to its employees to bring people who are similar to them.
FITA Academy offers IELTS Coaching in Chennai to help you learn and pass the exam. A great scorecard can help you process your visa application for international opportunities.
Job Satisfaction Rate
In this section, we calculated the average work satisfaction rate concerning employee ratings and reviews. The job satisfaction rate is calculated by considering the criteria such as work-life balance, job satisfaction, career growth, salary and benefits, and job security. The average percentage is represented in the diagram below (which is 71 percent)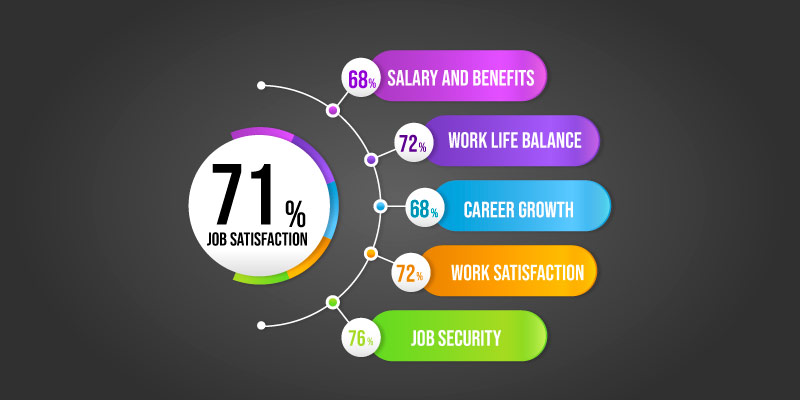 Sutherland's summary, job postings, application processes, numerous jobs and duties, employment perks, global potential, and fresher's benefits have all been discussed and overviewed in this blog. The organization has a strong international reputation and is a potential platform for aspiring IT professionals. Candidates will benefit from the environment's innovative and splendid culture, which will help them build successful and exciting careers. Freshers are strongly encouraged to approach Sutherland and apply for various job positions. The applicant's professional skills and abilities will be in high demand in the worldwide market. In other words, the salary for freshers at this company is excellent, and you can find numerous job roles in Sutherland with a great Sutherland Salary for Freshers.
Recent Post: Mphasis Salary for Freshers