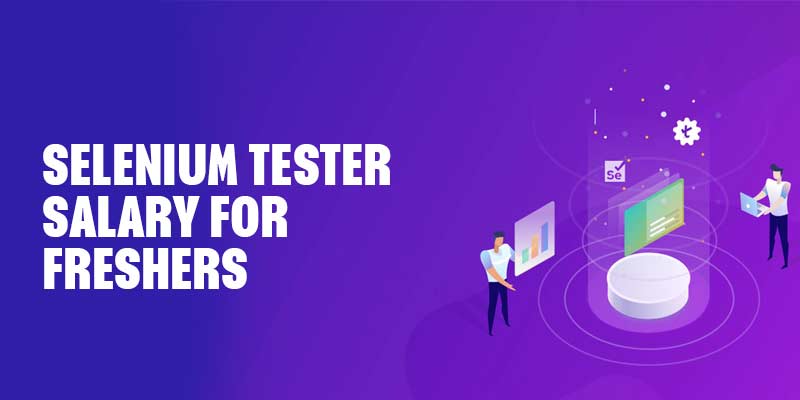 With the launch of innovative automation tools, the digital world is shifting from manual to automated testing. Selenium is widely utilized by many developers and testers due to its popularity and flexibility. Selenium automates web browsers and facilitates rapid web application testing, allowing developers to launch new updates quickly.
Many enterprises prefer it as a promising test automation tool for web application testing. Starting a career in Selenium might give you a promising future in the software development industry as technology pushes toward automation. So, selenium automation tester salary ranges from 3 to 3.5 lakhs per year.
If you want to become a selenium tester, you can join Selenium Training in Chennai and learn Setup Java Environment – Download JDK and Setup eclipse, Java Programming concepts, and Class, Object, Variables, Methods & Packages.
The field of test automation has advanced in leaps and bounds during the previous decade. Marketers have released new tools, developers have released new open-source solutions, and testers have been bombed with a plethora of automated testing technologies. This is why the profession of test automation engineer has grown in popularity in the tech world.
In this blog, we shall discuss why selenium automation testers are in high demand, the roles and responsibilities, skills required to become selenium testers, and selenium automation tester salary.
Why Selenium is a demanding career:
If you are interested and intended to become a selenium tester, you have chosen the right career. If you are freshers intended to begin your career in automation testing, there are numerous job opportunities. Moreover, selenium testers are paid around 2.2 to 3 lakhs per year. According to the survey, more than 4000+ jobs are unfilled in the automation field. Moreover, many top companies hire freshers with automation testing skills.
In addition, Selenium Web Testing has become one of the most critical aspects of many companies' operations. When it comes to web application testing technologies, Selenium is unquestionably one of the best for assisting developers with automation testing. As a result, the market for Selenium Web Testers is increasing, and it will continue to proliferate in the future.
Selenium automation tester salary: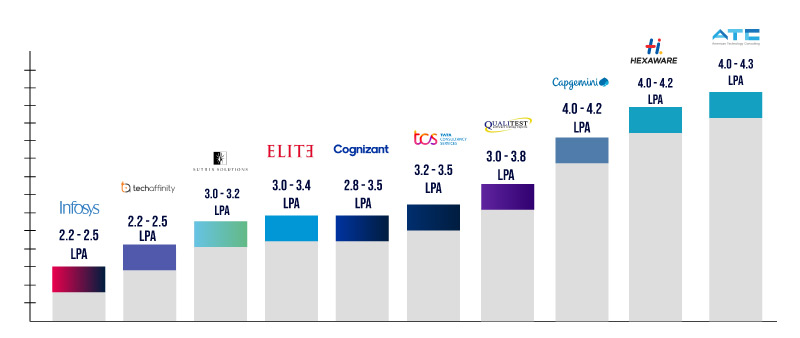 What is test automation?
When a team employs an automation tool to execute a test case, it is called automation testing. Moreover, automation is utilized by IT sectors for various testing to reduce the number of manual test cases that have to be run. Still, it does not eliminate the necessity for manual testing because, before automation testing, applications or software must be tested manually for the following automation testing process.
In order to test a software system utilising manual testing, manual testers at the front of the device must properly execute all test processes. Automation testing, unlike manual testing, is carried out by a machine.
Automation testing uses software to input test data into the tested system to evaluate the anticipated outcomes, and produce accurate test reports.
While test automation necessitates a significant initial investment, it provides companies with significant value and ROI in the long term. The value is derived after successful development cycles and by repeating the same test suite. A test automation tool allows teams to record tests when needed. Once a test suite is automated, it will never require human interaction to execute. It is how test automation boosts the testing process's return on investment.
What is Selenium?
Selenium is an open-source automated testing framework. It is used to check the compatibility of web applications across various platforms and browsers. It can be integrated with the different programming languages and used to construct test scripts in Java, C#, Perl, Groovy, PHP, Python, Scala, and Ruby. Selenium Testing refers to testing performed with Selenium tools. These tests can be conducted in a variety of browsers.
Selenium test scripts can be written in various programming languages and can be run in multiple modern browsers directly. Selenium supports:
Internet Explorer
Mozilla Firefox
Google Chrome and
Safari browsers.
With the aid of selenium testing tools, we can execute functional testing. The function tools that can be integrated with the other tools such as:
Join Java Training in Chennai at FITA Academy and learn the logical Operators, Assignment Operators and Relational Operators.
Moreover, with the aid of these tools , we can generate continuous testing. Additionally, it can be utilized to handle the test cases and create reports using tools like TestNG and JUnit. Selenium automation testing supports multiple OS, browsers, and coding languages. Look at the list given below:
Scripting Languages:
C#, Java, Python
PHP, Ruby, Perl, and JavaScript
Operating System:
If you want to become an android developer or intend to learn about PHP, you can join Android Training in Chennai and learn the features of PHP.
Browsers:
Google Chrome
Mozilla Firefox
Internet Explorer
Edge
Opera
Safari, etc.
Selenium Suite:
Selenium Software is a collection of tools rather than a single one. It comprises numerous components that aid with specific tasks in web application automation testing. The following is a list of Selenium tools:
Selenium Integrated Development Environment (IDE)
Selenium Integrated Development Environment is developed as a Firefox extension that allows you to save and repeat test scripts. Moreover, It will enable selenium testers to generate recorded scripts in HTML, Java, Ruby, RSpec, Python, C#, JUnit, and TestNG, among other languages. The generated scripts can be used with Selenium RC or Webdriver.
The Selenium IDE has a limited scope, and the test scripts it generates aren't extremely robust or scalable.
If you want to learn about python you can join Python Training in Bangalore and learn the core concepts of python, python tools, libraries and frameworks.
Selenium Remote control (RC)
Selenium Remote control was a tool used instead of Web drivers. It enables testers to create automated user interface (UI) tests for web applications using any scripting languages, including Java, C#, PHP, Python, Perl, and Ruby.
If you want to learn about PHP, you can join PHP Training in Chennai and Client Side Scripting Vs Server Side Scripting, Installation of XAMPP, Importance of Apache Server and Looping Structures.
Selenium Web Driver
Selenium web driver can be integrated on Selenium Remote Control. It aids the selenium tester in designing and implementing test cases. Moreover, it has multiple application programming interfaces that allow the tester to prevent the browser from operating at an operating system level.
Join Java Training in Bangalore at FITA Academy, which aids you in learning the core concepts of java programming language, features of java, tools and libraries in java.
WebDriver is better suited to more intricate and advanced automation. Since WebDriver directly calls different browsers' methods, we have a distinguishing driver for each browser. Some of the web drivers include:
Mozilla Firefox Driver
Google Chrome Driver
Internet Explorer Driver
Opera Driver
Safari Driver
Hypertext Markup Language Unit Driver
Selenium Grid
Selenium Grid is another critical component of the Selenium Suite, as it allows us to run your tests in parallel across multiple machines and browsers. To put it another way, we can run our tests on different devices using various browsers and OS simultaneously.
To enable parallelization of test scripts, Selenium Grid uses the Hub-Node Architecture. The hub is the network's master, while the nodes are the network's slaves. The hub directs the deployment of test scripts across the network's nodes.
Now, we shall discuss the advantage of Selenium automation testing:
It saves time and money.
Ensures consistency in testing and increases accuracy by allowing parallel execution.
Faster feedback
Automation Testing using Selenium:
Core functional testing
Cross-browser testing
Graphical User Interface testing
Database Testing testing
End-to-end testing
Sanity testing
Business process testing
Regression testing
Usability testing
Selenium Frameworks & Drivers
Selenium can be used in several ways. Selenium Automation Testing relies on many third-party drivers and frameworks. Here are a few examples:
Browser Drivers: Google ChromeDriver, Mozilla GeckoDriver, Microsoft Edge Driver
Language Bindings: RSelenium, hs-webdriver, webdriver.dart
Frameworks: Capybara, Helium, Nerodia
How to become a selenium tester:
Obtain a degree:
Am I able to learn Selenium without having any IT background knowledge? It was the question asked by the many freshers who are not from the IT background. It would be fine if you have a bachelor's degree in computer science or a related field, but it is not mandatory. So, freshers interested in learning selenium automation testing can learn and explore their career opportunities in the IT sector. However, freshers who have intended to learn Selenium must have at least one degree.
Join course:
Freshers or professionals who want a career swift can take a selenium automation course. So, if you are interested in becoming a selenium automation tester, you can join FITA ACADEMY. After completing this course, you will have a profound understanding of Keyword lists, String Handling, Exception Handling, Retrieving data from databases, OOPS concepts, etc.
Selenium Conference:
After completion of the selenium course, you might have gained an in-depth understanding of automation testing, So you can start participating in a conference. At the conference, you will have opportunities to meet developers and professionals worldwide. Moreover, you will be able to learn new ideas; you can brush up on your skills and have the chance to work together. So, attending the conference would help you gain more knowledge.
Selenium Books
These are yet another excellent source of Selenium information. Here are some suggestions:
Absolute Beginner Selenium WebDriver for Functional Automation Testing by Rex Allen Jones
Selenium with Python Simplified For Beginners(Simple, Concise & Easy guide to Automation Testing using Python and Selenium WebDriver by S BASU
Selenium web driver with Node.js Beginner's Guide by Paul Watson
Selenium Testing Tool A Complete Guide by Gerardus Blokdyk
Python Testing with Selenium (Learn to Implement Different Testing Techniques Using the Selenium WebDriver) by Sujay Raghavendra
Though we have lots of books to learn, having practical knowledge would help you have an in-depth understanding of selenium testing. So, joining the course would help you have practical plus theoretical knowledge.

Now, you would have understood the software tester salary for freshers, selenium suits and what is selenium? and a roadmap to become a selenium tersertty. So, if you want to begin your career as a selenium tester, you can join Selenium Training in Bangalore and learn from basic understanding of java, object-oriented programming language to advanced level of selenium testing.
Recent Post: Java Developer Salary For Freshers