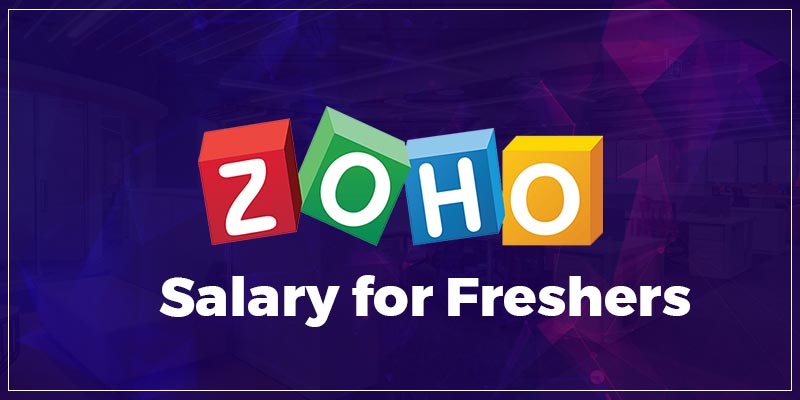 Zoho - is an Indian multinational company popular for web-based technologies and business tools. The company has spread across Austin, Texas, and India creating wider opportunities for freshers who are looking for amazing Zoho freshers salary.
The company has been utilizing its newer information technology services to transform digital services and technologies to a global height. In this blog, we will brief about various job opportunities, vacancies, application procedures, tips to get recruited, employment benefits and perks.
Eligible Candidates for Zoho Corporation
Candidates aspiring to kickstart a new information technology career can go for Zoho corporation. Also, candidates who are passionate about digital transformative technologies, Cloud Computing, and other relevant IT services are encouraged to apply. In addition, the Zoho corporation affords a great initial salary package for freshers compared to other IT companies, so applicants who expect high freshers salary can go for Zoho job postings.
Procedure to Application Process
Zoho aspirants can apply for various positions through two modes. They are as follows
Online Mode - For online application submission, the candidates are advised to visit their official career page followed by submission of application through proper procedures.
Offline Mode - Zoho drives its IT placement cell to various nearby locations for hiring fresh candidates. External candidates (those who are alumni or non-academic students) can attend the interview through preliminary registration in their career page.
Qualification Criteria for Jobs at Zoho
Freshers looking for excellent job roles with good Zoho salary for freshers must possess the following qualification criteria
Any Degree (either B.E or B.Tech) from computer science engineering, information technology, and electronics & communication engineering are eligible.
The applying candidate must have above 60% of aggregate marks throughout their academic career.
The applicant must not possess any kind of academic backlogs.
Skill sets in computing languages like C, C++, C#, Java.
Additional certification credits will be awarded if you complete Java Training in Chennai. Because the course is about Zoho's mainstream, it's possible that your Curriculum Vitae will be considered and get the highest Zoho freshers salary package.
Significant Policies to be Considered Before Applying
In addition to academic qualification criteria, there are some important policies that need to be taken into consideration before applying for job posts with a good Zoho salary for freshers. The policies are
A candidate is disqualified to apply if he or she has attended an interview within the last 6 months from the date of the present application.
If an applicant is rejected by Zoho during an interview, he or she is ineligible to apply for 6 months after the interview.
If Zoho terminates the candidate's application for whatever reason, the candidate is no longer eligible to apply.
If a candidate misses the chance to offer an interview after applying in Zoho for any reason, the individual has the right to reapply and participate in the selection process.
Important Documents Required During Interview Process
During the offline mode of campus-drive selection process, The candidates need to carry the following documents for verification and consideration.
At the time of the interview, all original mark sheets from SSC (10th), Intermediate (12th), and Graduation must be shown. Also, please bring a copy of all documents with you to the interview.
A copy of the candidate's most recent resume
Passport size and relevant photographs.
The government of India issued authentic identification evidence (Aadhar Card, Pan Card, Voter id, Passport etc.)
Additional New Criteria to Improve Your Chances of Being Hired
Zoho is looking for recent college graduates with excellent interpersonal skills. Problem-solving, quantitative thinking, analytic capabilities, good organizational and communication skills, and basic computing or programming talents are all desirable qualities. Similarly, diligent, creative, competent, enthusiastic, and flexible applicants with business hours are more likely to get selected. If you want to increase your qualification standard and Zoho freshers salary package then learn DevOps Training in Chennai at FITA Academy.
Zoho Salary Structure
The Zoho salary package for freshers varies for different positions from freshers to the experienced. Also, it varies in accordance to the experience the candidate has. Below in the image, we have approximated the salary package of an employee at Zoho.

The above defined salary structure is also valid for freshers. However, the Zoho starting salary for freshers can vary with the years of hands-on experience the candidate has. Further, applicants who seek a salary increase in the smallest period of time should acquire and improve their skill set by enrolling in Python Training in Chennai.
Basic Skills, Roles, and Responsibilities of Freshers Job Roles
Web Developer
A Web Developer is a kind of job role where the person is responsible for the design and development of websites. They ensure that websites meet user expectations through ensuring that they look beautiful, run efficiently, and provide simple access points with no loading difficulties or error messages between pages. Zoho expects their freshers to have minimum skills such as knowledge on HTML, CSS, PHP, ASP, .NET, Ruby on Rails; SEO optimization; CCNA; networking and troubleshooting; and adequate understanding of database management. As a web developer, they are concerned with the following key roles and responsibilities
Write well-designed, tested, and efficient code using optimum software development principles.
Create a website layout and user interface using standard HTML/CSS concepts.
It is necessary to aggregate data from several back-end services and databases.
Using technical requirements, collect and refine requirements and specifications.
Produce and maintain programme documentation.
Be responsible for the care, growth, and scalability of our website.
Maintain a pulse on changing technology and industry trends, and incorporate them into your daily operations and activities.
Work with site designers to make sure the visual design goal is achieved.
For improved networking hardware experience, do a CCNA Course in Chennai and learn and become an expert in networking services. Applicants with additional CCNS credits are likely to get excellent Zoho freshers salary.
Technical Support Engineer
A Technical Support Engineer is responsible for delivering in-person and remote technical support to clients. Giving such help entails resolving difficulties from the moment the caller dials the customer support number until the caller's concerns are handled. To apply for this role with a good Zoho salary for freshers, the candidates are advised to possess the minimum skills such as IT Help Desk Management;, Windows, other operating systems, and other relevant OS. During their job roles, the need to accomplish the following key responsibilities
Investigate and solve problems using software and hardware.
Account setup and network settings are examples of technical issues that need to be diagnosed and resolved.
To get to the root of an issue quickly, ask customers precise questions.
Follow up on computer system issues until they're rectified, staying on track with agreed-upon dates.
Clients are walked through a series of stages via the phone, email, or chat until the problem is fixed.
Assign unsolved concerns to the relevant internal teams (e.g. software developers)
Provide quick and accurate feedback to customers.
Consult an internal database or other resources to give the right tech solutions.
Documenting all the concerns and their solutions.
Organize and manage several open problems at once.
Follow up with clients after troubleshooting to ensure their IT systems are fully functional.
Prepare in an exact and timely manner.
Learn Spoken English Classes in Bangalore to improve your communication abilities. So that, the engineer will be able to communicate fluently with any customers and global clients in order to provide pleased services and support.
Marketing Analyst
Tracking advertising expenses, investigating customer behavior, and evaluating market trends and prospects are all tasks of a marketing analyst. You should have prior expertise with PPC campaigns and be comfortable processing and analyzing marketing data to be successful in this position with a good Zoho freshers salary. To join as a marketing analyst for a good Zoho freshers salary must have skills in the following domains: Google Analytics, SEM, SEO, PPC campaigns, Microsoft Excel, and Analytics skills. Marketing Analyst are associated with the following key roles and responsibilities
Examine consumer intent and sales funnels.
Estimate the return on investment (ROI) from online and offline advertising efforts.
Marketing KPIs including leads, conversion rates, website traffic, and social media engagement should all be reported on.
Keep track of the results of your email marketing campaigns (delivery, open, click-through rates)
Monitor the allocation of budgets and the results of sponsored ad campaigns.
Analyze benchmarking data and conduct competitive research.
Recommend improvements to your website and campaign.
To support our promotional campaigns, we must conduct research and apply marketing techniques (automation software, social media scheduling etc)
Collaborate closely with the sales and marketing departments to find new customer acquisition possibilities.
Technical Content Writer
A Technical Writer is also an important job role at Zoho who is in charge of generating documentation that explains the features and benefits of a product. They focus on things like content planning and scoping out new goods to make sure that all relevant information is provided so that people can swiftly grasp what they're reading. Zoho expects their fresh content writers to have good vocabulary and writing skills in English, familiarity with SDLC, and ability to deliver quicker contents. As a content writer, they have the following key roles and responsibilities to fulfill
Collaborate with internal teams to gain a thorough grasp of the product and its documentation needs.
Produce high-quality paperwork that complies with all applicable regulations and is acceptable for the target audience.
Create user interface text, online assistance, and development guidelines that are simple to grasp.
Create tutorials to assist end-users in the use of a wide range of apps.
Analyze existing and future material, concentrating on options for reuse and single-sourcing.
Create an information architecture and keep it up to date.
Software Developer
Applicants seeking an initial software developer role with a good starting salary for freshers must possess the following skills: internship in software development; familiarity in Agile, C, C++, java, Javascript, Angular JS, Git, and Hibernate Frameworks. Besides, skills in database structures and object-relational mapping are highly preferred. As a software developer, they must fulfill the following key roles and responsibilities
Develop algorithms and flowcharts with the help of developers.
Based on specifications, create clear, efficient code.
Integrate third-party apps and software elements.
Programs and systems must be verified and implemented.
Existing software should be troubleshooted, debugged, and upgraded.
Gather and analyze feedback from users
Make suggestions for improvements and try to implement them.
Create technical documentation for use as a reference and for reporting purposes.
Employment Benefits at Zoho Corporation
Zoho offers multiple employment benefits to their employees. Some of the perks and benefits are
Dental, Medical, and Disability Insurances for all employees
Free breakfast, lunch, snacks, and dinner at the workspace.
Paid leave-offs during maternity and paternity.
Medical and Clinic facilities for their employees during emergency situations.
Free Transportation services for the ease of movement between home and work offices.
International travel benefits and perks
Vacation trips, team outings, and other tourisms with employees.
Friendly and innovative work environment to work with
Creates a wider area for global collaborations and international benefits.
Assistance with housing, immigration, fertility, and foreign relocation is available.
Desired individuals or experienced experts will have the opportunity to work from home.
Employees that are reliable receive financial and retirement perks.
Allows for the creation of a flexible spending account for shopping and purchasing.
Discounts and perks for online buying and purchases.
Freshly graduated students who wish to have a successful and fabulous information technology career with an excellent Zoho package for freshers can go for this firm. Also, candidates who are passionate and enthusiastic about the Zoho corporations and their IT services are greatly encouraged to apply. A featured career with Zoho will bring you a tremendous amount of global opportunities with standard recognition and high impact in the IT employment market. A certified professional or Zoho employee has a wider probability to get recruited by the other information technology sectors. Hope our blog has cleared your future vision and path towards an excellent IT career.
Enroll in and pass IELTS Coaching in Bangalore at FITA Academy to take advantage of all of Zoho's worldwide prospects. The leading institute is popular for mass training and placement of thousands of information technology students across global's greatest tech giants.
Recent Post: Dell Salary for Freshers