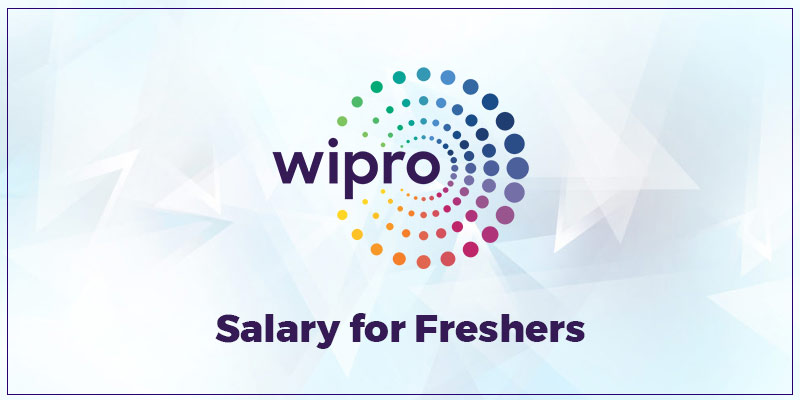 Wipro is a digital and analytic IT company that holds a global merit among top leading companies. The firm intends to recruit thousands of freshers through next-decade with outstanding Wipro Freshers Salary. It also outsources infrastructure, consulting, data driven-AI, and analytic solutions for better insight to next-generation.
This blog will lead you through the freshers' openings, vacancies, salary structures, job roles and responsibilities, and application procedures. Reading this article may show you a prospective way to enter Wipro Company along with the broader opportunities to avail of all the fresher's benefits and career prospects. Let's discuss the applicability and eligibility of candidates for various Wipro roles.
Applicable Candidates for Wipro Job Positions
Applicants who want to make a featured IT career with information technology and consulting services are highly encouraged to apply for various job postings at Wipro. Also, candidates who are passionate about digital technologies, softwares, and computing codes are recommended to look for numerous jobs at Wipro with a good Wipro salary for freshers. When compared to other IT firms, Wipro also affords a feasible salary package due to which the demand of job vacancies is exponentially growing every day. Therefore, undertake and study Python Training in Bangalore to make you eligible for all information technology companies.
Procedure for Application Registration
Freshers willing to apply for various job roles at Wipro are advised to apply through two application modes which are as follows.
The first option is the online mode, where the applicant needs to visit their official career page followed by submitting an application through proper procedures.
The second option is to apply via offline mode, where the candidate needs to follow the same registration process followed by a walk-in-interview at the company's placement center.
In order to get recruited for different job roles and positions at Wipro, any candidate must meet some academic and skill qualification criteria, let's discuss briefly in the following section.
Qualification Criteria for Freshers Jobs at Wipro
The candidates seeking to freshers job role at Wipro with excellent Wipro fresher package must possess the following educational qualification criteria
The candidate must have a bachelor's degree from computer science, communication, civil, electrical, automobile, and aeronautical engineering background.
The candidate must have acquired above 60% aggregate marks during their total academic semesters
The candidate must not possess any kind of backlogs throughout the academic career (either it's past or present).
Make yourself qualified and eligible by taking Java Training in Chennai, the most popular programming course. The certification has wider scope and open-up lots of opportunities in the IT employment market.
Policies to Consider Before Appearing for Wipro Jobs
Prior to the application procedure, the candidate need to read and follow the following policies and rules which are
An applicant cannot apply if they have attended an interview within the last six months from the new application date.
If Wipro rejects an applicant during an interview, they are ineligible to apply again for six months following the interview.
If Wipro has terminated the candidate's application for whatever reason, the candidate is no longer eligible to apply.
If an applicant misses the chance to offer an interview after applying to Wipro for whatever reason, the applicant has the right to reapply and re-participate in the selection process.
Important Documents Required for Interview
Candidates who wish to participate in a walk-in-interview or an off-campus drive must have the following documentation with them. The papers are required for the application to be processed.
The candidate must bring their most current and updated CV and their Aadhaar Card or any other government-issued identification card and recent passport-size pictures to prove their identity.
In addition, the applicant must have photocopies of all applicable certifications, consolidated and original mark sheets, and other relevant papers in the form of a PAN Card, Passport, or Voter ID.
Wipro Salary Structure for Freshers
The salary structure for freshers at Wipro differs for different job postings, and also varies from freshers to experienced professionals. However, we have estimated the basic and average freshers salary from the online free-resource data are shown in the below chart.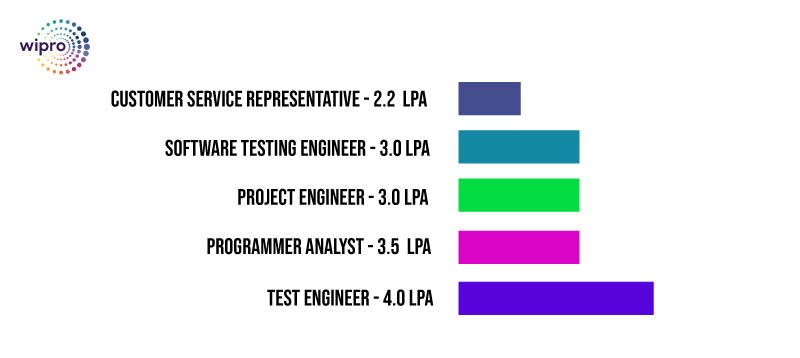 Besides, the Wipro starting salary for freshers mentioned above is tentative and can vary in accordance to the experience, skills, location, and other relevant categories. Increase the chances of getting the highest salary through learning DevOps Training in Bangalore.
Fundamental Skills, Roles and Responsibilities of Freshers Job Roles
Customer Service Representative
Wipro expects their fresh candidates who are seeking customer service representative roles with a good Wipro freshers salary must possess the following skills: basic understanding of computers; verbal and communication skills; good digital marketing and selling skills; and ability to collaborate as teams. As a customer service representative, they are concerned with the following key tasks and responsibilities
Maintain an optimistic way to manage all customers.
Prompt response to all the customer complaints and enquiries.
Maintaining an effective way of communicating with consumers or clients.
Receiving and Resolving customer complaints.
Process the product orders, forms, requests, and applications.
Preserving the records of customer's interactions, comments, complaints, and transactions.
Affording feedback on the efficiency and customer service process.
Ensure customer support and satisfaction.
To improve the way of consulting with customer service , enroll today for Spoken English Class in Chennai.
Software Testing Engineer
Software test engineers are in charge of creating and executing test procedures to guarantee that software programmes perform as expected. They are typically recruited by software development businesses with an affordable Wipro freshers salary to guarantee that products meet standards before they are published to the general public. The applicant needs to acquire knowledge and skills in the following domains: Bugzilla, HP LoadRunner, Linux, Troubleshooting, and Software testing procedures. As a software testing engineer, they are associated with the following key roles and responsibilities
Discussing software specs and controls with development managers.
Analyzing the software's functioning qualities as planned.
Creating manual and automated testing techniques for each software product.
Creating, creating, and putting into action software assessment test programmes.
Using test programmes to guarantee that testing processes are accurately evaluating the software.
Software testing systems are being fine-tuned for optimal performance.
Testing techniques are being finalized and documented.
Creating test reports and completing final tests.
Providing management with test findings and making software recommendations.
Become an exceptional software testing engineer through learning Software Testing Course in Bangalore. It will provide you with the best testing tips and tricks.
Project Engineer
A project engineer is responsible for the engineering and technical disciplines needed to complete a project. The project engineer works to plan projects, establish project criteria, coordinate project reviews, and ensure the proper implementation of project elements. Wipro expects their applicants to have desired skills such as design and visualization, supervision skills, excellent verbal and communication skills, and fundamental knowledge in computing codes and algorithms. As a project engineer, they are concerned with the following key roles and responsibilities
Assigning engineering projects and preparing, arranging, organizing, and monitoring them.
Defining project specifications and allocating duties to the most capable staff, as well as keeping track of the project team.
Interacting with clients, comprehending their wants and expectations, and working as their representative in the field.
Performing quality control responsibilities on budgets, timelines, plans, and staff performance, as well as reporting on the progress of the project.
Cooperating with the project manager and other project participants, as well as senior engineers, to develop more effective project techniques and preserve the project's profitability.
Reviewing engineering work and making remedial measures as needed.
Developing equipment specs for the project.
Developing frameworks for measuring project metrics and collecting data.
Developing field test methodologies as well as tools to monitor the quality of such tests.
Assuring that the project follows all relevant codes, procedures, rules, performance standards, and specifications.
Programmer Analyst
A programmer analyst is a computer programmer and a system analyst responsible for the creation, development, and implementation of computer programmes and software. Wipro wants to hire the applicants with a good Wipro company salary for freshers, then the applicant must possess the following skills: excellent analytical skills, SQL Server, HTML, SSQS, and ASP.NET. The programmer analyst is responsible for the fulfilling the following key tasks and responsibilities
Identifying and resolving system and programme issues.
Creating support documentation for in-house created apps and system fixes.
Responding to requests for assistance in accordance with IT support policy.
Keeping the company's website and intranet up to date.
Organizing and identifying project needs.
Test Engineer
Test engineers are in charge of creating and implementing the tests that assure a product's quality and functioning. They are involved in every aspect of the testing programme, from setting up test parameters to debugging issues and drafting up final test procedures. Wipro wants their test engineers to have the following desired skills: Selenium, JMeter, TestStand, LabVIEW, AutoCAD, Microsoft Viso, and Gliffy. As a test engineer, they are associated with the following key roles and responsibilities
To define product testing criteria, meet with the product design team.
Creating test cases and test strategies for the product.
Using the new testing techniques, conduct quality assurance and design performance tests.
Identifying and resolving any mistakes, as well as simplifying the testing methods.
For the quality technicians, writing up the final QA and test protocols.
Providing technical support and training to the quality assurance employees.
Ascertaining that all tests and processes adhere to business and industry guidelines.
Creating management-level test reports.
Become an exceptional test engineer through learning Selenium Training in Chennai at FITA Academy. The leading institute is popular for successful IT training and placement.
Employment Benefits at Wipro
Employees at Wipro company are offered with a variety of employment benefits and perks. Some of them are listed below
Freshworks employees receive complimentary snacks, juices, beverages, and other food products at their workstations.
During emergency and essential situations, the organization also provides Work From Home (WFH) opportunities to qualified applicants.
In addition to housing, automobile, and other related insurance policies, it also offers medical, health, and life insurance.
The organization provides gyms and sports fields for physical fitness and health advantages in order to maintain a healthy workforce.
Freshers are provided proper work training and soft-skill testing at the start of their careers. So that freshmen may obtain more practical experience.
Employees also receive health care for their children as well as educational help to improve their career and growth opportunities.
Finally, all workers have the option of working in any of the foreign offices. Learn IELTS Coaching in Chennai today to take advantage of this deal and process the visa.
As mentioned earlier, this blog has overviewed all the essential guidelines and application procedures to enter Wipro Company with a good Wipro salary for freshers. The organization has a strong international reputation and continues to be a valuable resource for aspiring IT professionals. Candidates will benefit from the environment's innovative and upbeat atmosphere, which will help them advance in their careers. We strongly advise freshers to approach Wipro and apply for a variety of employment positions, based on our extensive research. The applicant's professional skills and qualities will make them well-known in any IT organization throughout the world.
Recent Post: Freshworks Salary for Freshers