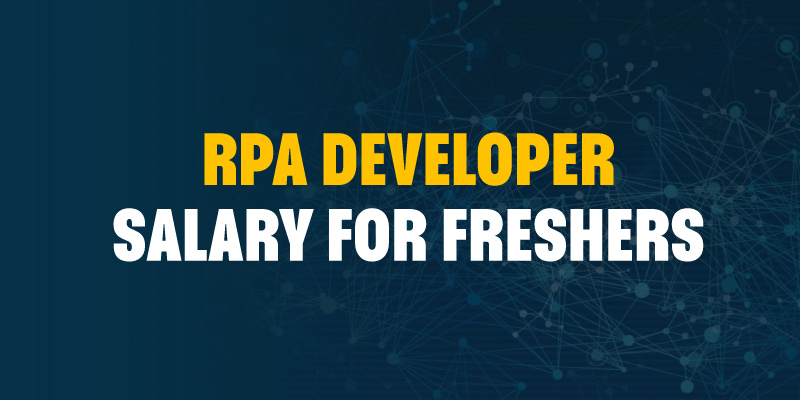 There might be various technological developments, but among different technological developments, one essential part of the evolution is Robotic Process Automation. Robotic Process Automation is crucial in every industry to complete these processes in less time. However, it is time-consuming and lessens the burden of manual operation. Due to its exponential growth in IT industries, not only in IT but in every sector, from small to big, the Robotic Process Automation has increased its demand.
RPA Jobs and Future
According to the survey, there are more than 11,000+ job openings in job portals. The demand for RPA developers may increase according to the location-based need. The given estimation is the average demand for RPA developers.
If you want to become a RPA developer, you can join RPA Training in Chennai at FITA Academy and learn the features of RPA and process automation using tools.
Why RPA is a Demanding Career
Since RPA emerged, it has been evolving careers in the IT industry. RPA is growing in popularity because it promises to replace periodic, mandate, tedious, manual digital operations with software robots. It also ensures that businesses' operational processes are error-free.
Scope of RPA
Robotic Process Automation is an excellent career for freshers and professionals who intend to begin their career in the RPA field. Every organization benefits from the RPA process because of the efficiency and completion of work within a limited time.
At first, it was adapted only by the iT sectors. Later due to efficiency, it is widely utilized by every small to large industry because it operates rule-based processes with the software bots.
Moreover, many top companies like Accenture, IBM, Infosys, and Tata Consultancy Services hire RPA developers with the skills. Later, it is used in other industries such as finance, accounting, banking, etc. To provoke your eagerness to perceive your career as an RPA developer, we have listed the top ten companies' and RPA developers fresher salary. But the pay scale depends on their skills, qualifications, and experience.
RPA Developer Salary in India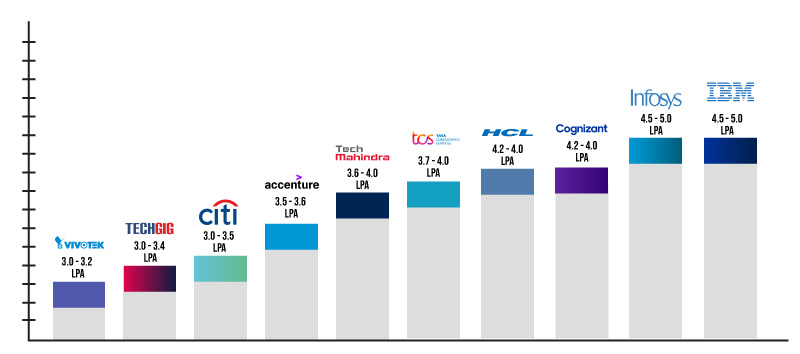 The Demand for RPA Tools in Industries
Several firms are currently utilizing RPA tools. In the coming years, this will be the most significant factor. The following are some predictions made by experts concerning the future of this technology:
Keysight's Eggplant
Inflectra Rapise
Blue Prism
Automation Anywhere
Contextor
Nice Systems
Kofax
Kryon
Softomotive
Visual Cron
These are demanding tools utilized by RPA developers. Now, we shall look at robotic process automation, RPA developer salary in India, and roles given to RPA developers.
If you want to have a comprehensive understanding of RPA, join Blue Prism Training in Chennai and learn Comparison of Various RPA Tools, Blue Prism Architecture, most demanding RPA Tools in the Market, etc.
What is Robotic Process Automation?
RPA is a word that refers to all software-based tools that automate repetitive, manual, rule-based human tasks completely or partially. They imitate the movements of a real person by interacting with software tools to conduct various tasks such as responding to client inquiries, entering data, and basic payment processing. Almost every website now has a chatbot, which is almost often an RPA tool rather than a human.
Robotic processes help the business process more efficiently by stimulating and integrating human activities into digital systems. Using RPA, you can run applications, interact with other systems, and capture data and stimulus responses.
The primary goal of using robotic process automation tools to automate organizational tasks and processes that need manual labor is to obtain a competitive edge by significantly reducing the amount of money spent on these operations when humans perform them. This technology is adaptable and versatile, and enterprises of all sizes can use it.
Moreover, many start-ups utilize automation tools because of their cost-efficient and time-saving benefits. There are two types of automation testing tools in the market: Intelligent bots and programmable bots.
Artificial intelligence allows intelligent bots to analyze both current and existing data. They assist in assessing the results of several employees involved in implementing the process.
If you want to have an in-depth understanding of AI, you can join the Artificial intelligence Course in Bangalore at FITA Academy which will help you and many more.
On the other hand, programmable bots act according to predefined rules and instructions. So, the programmer is responsible for defining the parameter the bot should follow. These bots act according to the instructions and process the mapped structure step by step. It consumes lots of time and performs a complex task more efficiently within a time duration.
Now, we shall discuss RPA developer salary in India, the skills required to become an RPA developer, and the responsibility of the RPA developer.
Skills for RPA Developers
Strategic Planning Skills: Planning is indispensable to becoming successful in this role. Fixing a goal or mapping the workflow would help you execute the project easier.
Strong Analytical Skills: As an RPA developer, you must be able to analyze the work process and development of the process. The purpose of adopting RPA is due to the improvement in the workflow.
Problem-Solving Skills: When we adopt RPA for the first time, it will never process smoothly. The mistakes arise, bugs will pop up, and you are responsible for fixing bugs. So, having the ability to debug the robot will save your processing time and reduce the pressure that you handle.
Understanding of Programming Languages if your interest is to become an RPA developer, then knowing coding skills like C/C++, Python, Ruby, and Java will help you process efficiently.
If you are interested in learning a programming language, you can join Python Training in Chennai and learn the core concepts of python. Tools, libraries of python , and python strings.
While the abilities described above are only a few of the many you'll need as an RPA developer, don't limit yourself to them.
Responsibilities of RPA Developer
RPA developers are responsible for various activities; the responsibilities are:
RPA developers are responsible for building, developing, designing, and executing RPA products for worldwide clients with the global market demand.
As an RPA Developer, you must design the project and deploy the software bots with other RPA processes.
RPA developers are responsible for providing updates for continuous improvement.
Automation customization is created and managed by RPA developers.
RPA developers facilitate process design, validation rules, and generated reports.
RPA developers configure process flows, control objects, exception handling, etc.
Now, this information would be beneficial if you seek the proper guideline. Moreover, if you are seeking to begin a career in RPA, there are plenty of job opportunities:
Job Roles
RPA developer
Senior RPA developer
RPA process architect
Senior RPA consultant
RPA project manager
RPA lead developer
RPA business analyst
RPA data analyst
If you want to acquire coding knowledge, you can join Java Training in Bangalore and impart with the core concepts of java, tools, libraries, Data Types, Operators and Variables.
RPA Developer Salary for Freshers
RPA developer salary for freshers merely depends on the skill, experience, and qualifications. There are many factors affecting the RPA developer fresher salary; the one main reason is the location and lack of skills. So, taking a certification course would add a credential to your certification. RPA developer salary India ranges from 2 to 3 lakhs per year.
If you want to have a better understanding of AI, you can join the Artificial Intelligence Course in Chennai at FITA Academy which aids in understanding machine learning, neural network, deep learning, Supervised and Unsupervised Learning.
Experience-Based RPA Developer Salary in India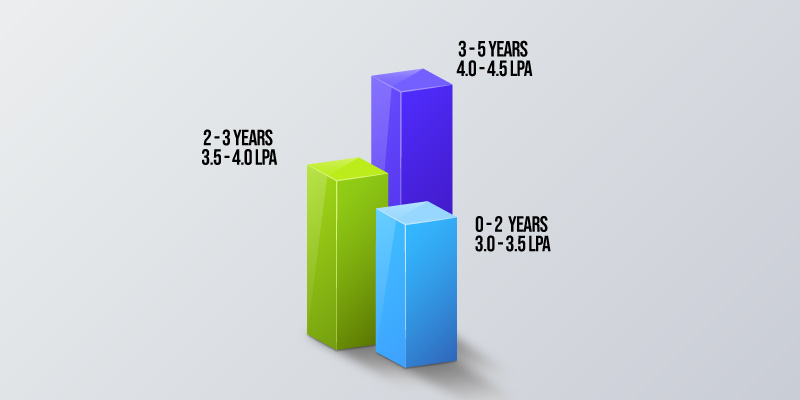 We hope you would have benefited from our blog on RPA Developer Salary For Freshers. The pay scale, skills, and responsibility are not set in stone, so you can learn more to improve your skills. Real compensation always depends on your skills, experience, qualification, and certification path. Moreover, it merely depends on how you adopt, master, and upskills yourself. So, you can join RPA Training in Bangalore and learn business process knowledge, Process mapping skills, develop analytical skills and automate tasks.
Recent Post: AWS Developer Salary for Freshers