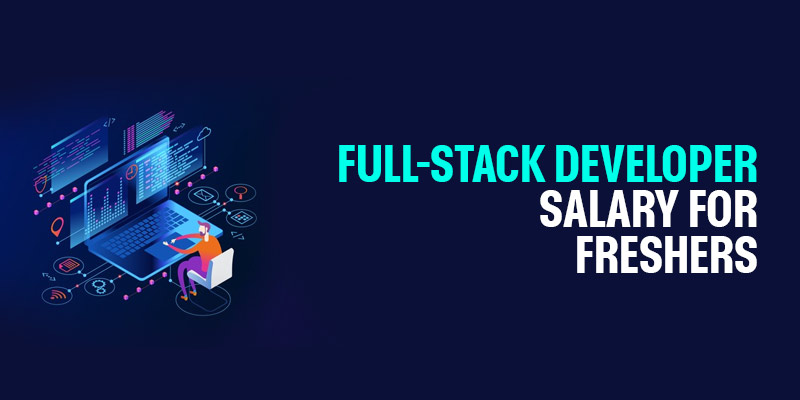 A full-stack developer is a jack of all trades professional demand in all industries. If you are freshers looking to begin your career as a full-stack developer, you have many job opportunities in many top IT companies. Many think learning a full-stack would take lots of time and be challenging, but not so. It would not be difficult to understand if you are interested in learning.
According to the survey, there are more than 8 million full-stack developers globally. Moreover, a full-stack developer is the number four most demanding career on LinkedIn. Now, in top job portals like Naukri and Indeed, more than 7000+ job openings are unfilled, and demand for this job role is expected to grow by 5% at the end of this year. Moreover, compared to other IT-based job roles, the full-stack developer salary in India for freshers ranges from 3. to 3.5 lakhs per year.
If you want to become a full stack developer, you can join Full Stack Developer Course in Chennai and learn Front-end or Client Side programming, Back-end or Server Side programming, and Ajax implementation.
In this blog, we shall discuss the full-stack developer salary in India for freshers and the steps to becoming a full-stack developer.
Is Becoming a Full-Stack Developer Worth It?
Full-stack development is a thriving field that is rapidly growing in prominence. As a result, given the current situation and the growing demand for full-stack developers, it is worthwhile to pursue this career path. Moreover, many top companies like IBM hire skilled full-stack developers. The full stack developer salary for freshers is given below:
Full-stack developer salary in India for freshers
What Does a Full Stack Developer Do?
A full-stack developer has become one of the crucial roles in technology today. A full-stack developer is a web developer or engineer skilled in both the front end and back end of a web-based application or website. A full-stack developer's job includes working on projects that involve creating user interfaces, databases and administering servers. Moreover, Full-stack developers can also collaborate with clients during the project planning phase.
If you want to have a better understanding of frontend technology, you can join Angularjs Training In Bangalore and learn the core concepts of mastering Lambda functions, loops in Javascript, operators in Javascript, handling functions, and Javascript DOM.
Skills required to become a full-stack developer
Make a list of your abilities! If you want to succeed as a full-stack developer, you'll need to master the following skills:
HyperText Markup Language
Cascading Style Sheets
JavaScript
Document Object Model Manipulation
SQL/NoSQL
Object-Oriented Programming
Join Java Training in Bangalore and learn core concepts of java, libraries, tools and connection in java.
Full Stack Developer Responsibilities
Full-stack developers are responsible for developing front-end website
Developing and designing a user-friendly web page
Responsible for developing back-end applications.
Ability to create server and database for performance.
Ensure mobile phone cross-platform optimization.
Assure application responsiveness.
For web design features, I collaborate with graphic designers.
Create and design APIs.
Deliver for both technical and consumer requirements.
Keep up with the latest web applications and programming languages.
If you want to understand web designing features, you can join a Web Designing Course in Chennai and learn View the HTML Document with the Browsers, Website vs Webpage and Web Hosting and Web Servers.
How to Become a Full-Stack Developer?
Determine Your Timeline
As freshers, we might have many questions about how long it would take to complete this course. It does not extend more than three months. In this course duration, equipping knowledge merely depends on you. Moreover, if you are interested in pursuing your career as a full-stack developer, then focus on equipping skills.
Learn the Programming Languages
As a full-stack developer, you must profoundly understand programming language skills like HTML, CSS, and JavaScript. Knowing these languages would help you begin your full-stack developer career.
Learning the fundamentals of programming can help you improve your coding abilities. Servers and their operation, web hosting configuration, databases and data structures, coding techniques, algorithms, and strategic planning are some critical theories or concepts you must have learned before you begin your project.
Enroll In Full Stack Developer Course
Why enrolling in a full-stack developer course is essential? Because it helps you give fundamental to advanced skills. Moreover, you can learn through practical sessions. So, you can join FITA Academy and understand the core concepts such as installing Android Studio, installing Eclipse and ADT Plugin, Setting up an Android Project, and Android Project Structure.
If you want to have a profound understanding of android development, you can join Android Training in Bangalore and learn Native App Development, Cross-Platform App Development, Android Vs iOS and many more core concepts.
Keep on updating new skills
After completing the course, you should not think we have gained sufficient knowledge. Learning and technology have no end. Do keep on learning and updating new skills. New techniques and tools rapidly add to the foray, so keep learning and equipping skills.
If you want to understand to have profound understanding of PHP, you can join PHP Training in Bangalore at FITA Academy and learn MySQL data types, Handling Transactions in MySQL, Installation of XAMPP and Coding PHP in HTML Document.
Get Practical Exposure
Learning theoretical principles isn't enough to get your career as a full-stack web developer off the ground. After building a stable foundation, the following stage is to put your new skills to the test. You can set your abilities to the test by creating a tiny website and using all the skills you have learned, as the core skills are used in practically all web apps.
Practical experience is required since it helps you acquire confidence in your abilities. Furthermore, coding is a field in which the only way to learn is by doing. As a result, after studying the theoretical concepts, the next stage is to begin working on a project to obtain practical experience.
If you are intending to learn python programming language ,you can join Python Training in Chennai at FITA Academy which helps you understand the python tools, libraries, strings, Web Scraping and many more core concepts.
Boot Camps
Participating in boot camp helps you gain lots of relevant skills. Enrolling in these boot camps aids you in acquiring the skills that you need to become a full-stack developer.
After finishing a boot camp, you will have gained the necessary skills, made crucial industry contacts, developed an excellent coding profile, and prepared yourself for the job hunt.
Build Your Web Developer Portfolio
Any employer wants you to be a perfect fit for their organization. You will need to create a portfolio to show off your skills. The employer's first impression of you will be based on your portfolio. As a result, if you have worked on something you're proud of, put it in your portfolio.
Now, you would understand the full stack developer salary in India for freshers and the step to becoming a full stack developer. So, Full-stack development allows you to work with cutting-edge companies on unique solutions with advanced technology. Furthermore, because the sector continually expands, it provides significant job opportunities and stability to tech-savvy programmers looking to build a name for themselves in the programming area.
If you want to head your career in the IT sector, then join Full Stack Developer Course In Bangalore at FITA Academy which has a meticulously designed course for Bangalore based students.
Recent Post: Android App Developer Salary for Freshers