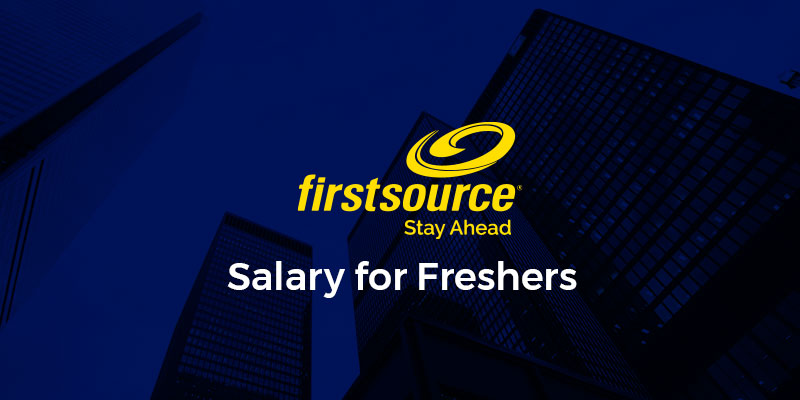 Firstsource Solutions Limited is an Indian process management company based in Mumbai. The revenue of Firstsource solutions ranges upto INR 51.8 billion, which is approximately $685 million in the financial year of 2021. This brings up a plethora of job opportunities in the company with a compromising salary package. Firstsource solutions salary package can be the only piece of icing on the cake until any fresher knows about their motive of 'People centricity'. They follow equity, diversity, and inclusion in the workspace. Moreover, they create the right environment to ensure work is fun and engaging.
The company is owned by RP-Sanjiv Goenka Group. They follow the 'Digital First, Digital Now' strategy as their north star in simplifying complex business processes and elevating the customer experience. They have 100+ global clients, including 17 Fortune 500 companies and 9 FTSE 100 companies, as they host in India, the US, the UK, and the Philippines. Business process management is provided by Firstsource Solutions in the banking and financial services, customer services, telecom and media, and healthcare sectors.
Eligibility Criteria
The foremost eligibility criterion for any IT job at Multi-National Companies would be a 65% grading in 10th and 12th, followed by any respective degrees.
Graduation from any one of the IT-related degrees like Bachelors/Masters in Technology, Information Technology, Engineering, Information Science and Computer Science.
Must possess the required skills as posted in the job description.
Effective performance in all the rounds of the interview process is necessary.
Demanding Skills
Programming languages like JAVA, Python, C++, etc.
Certifications in additional courses like AWS, CCNA, Selenium, etc.
Digital Marketing
Team working
Effective Time management
Problem-solving skills
Analytical abilities
Strong work ethics
Consistency
Good communication skills
Adaptability to the dynamic work environment
Salary Approximation
Firstsource salary structure depends on your skills and the role you apply for. Developing soft skills like analytical abilities, creativity, project management, problem-solving, and so on is as crucial as programming skills to earn promotions and hikes.
Firstsource Solution salary for freshers would range from INR 1.2 L to 2.5 L per annum for roles like Data Entry Executive, Data Entry Operator, Customer Support Executive, Sales, and Marketing. Firstsource Solution salary for freshers with technical knowledge and skills ranges from INR 2.2 L to 3.5 L per annum.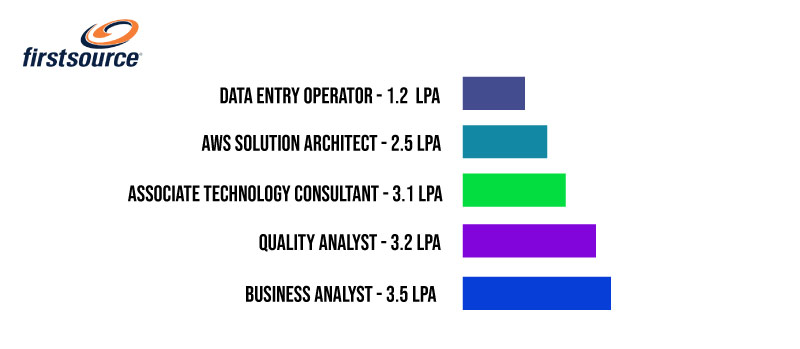 Learning additional programming language courses, cloud computing courses, graphic designing, artificial intelligence, and other demanding courses in the IT sectors would help any freshers stand out from the crowd and elevate their salary package.
Candidates can easily upgrade their profiles by joining Cloud Computing Training in Chennai. Learning the main three types of cloud computing - Infrastructure-as-a-Service(IaaS), Platforms-as-a-Service(PaaS), and Software-as-a-Service (SaaS) can boost the Firstsource Solutions salary for freshers.
Job Roles and Responsibilities At Firstsource Solutions Limited
Associate Support Engineer
Associate Support Engineer at any firm is employed to extend IT support to the customers via helpdesk software applications, emails and calls. They assist them with troubleshooting, resolving technical problems and configuring the network.
Required Qualifications
A degree in Computer Science - BCA, BSc, BE or other related fields.
Proficiency in Windows and Unix OS.
ITIL Foundation Certificate is preferred.
Basic troubleshooting knowledge in TCP/IP.
Knowledge of RDBMS (SQL, Oracle).
Certifications in A+, Net+, MCP.
Monitoring applications like ProActiveNet, Nagios, SiteScope, etc should be familiar with the applicant.
Should possess the ability to seek alternative sources of information.
Roles and Responsibilities
Active monitoring to maintain service availability and respond to the service management alerts and anomalies.
Managing operational shift log and periodic environment validations to ensure that the services are properly functioning.
Resolving customer issues in the service request queues by troubleshooting application issues and closing the loop with all parties involved.
Managing service request escalations according to service level objectives and agreements.
Monitoring tool administration.
Improving usability and functionality of client applications by providing feedback to product and development teams.
Resolve and develop a detailed understanding of issues before escalation by troubleshooting with internal and external clients.
Digital Marketing Executive
Digital Marketing Executive plays the chief role and is responsible for the Company's digital marketing campaigns. They work with the internal marketing team of the company. Join the exciting and constantly evolving Digital Marketing Course in Bangalore as they open up doors in every nook and corner of your career journey!
Required Qualifications
Diploma or a basic degree certification in Marketing, Digital Marketing, Public Relations or Mass Media Communication.
Preferred knowledge in coding and website development.
Basic experience in paid advertising and blog writing skills.
A portfolio of the digital marketing campaigns that are successfully executed.
Should possess technical skills like social media advertising and marketing, social media optimisation, content creation, marketing analytics, Pay Per Click (PPC), website and search engine optimisation, etc.
Learning Social Media Marketing Courses in Chennai could be fun if you are a social media buff and linger most of your day in it. Double Dhamaka! You can earn while you continue to do what you love!
Roles and Responsibilities
Managing and maintaining websites, mobile apps, and email/CRM software of the company.
Implementing digital marketing activities across SEO, SEM, Social Media, Email, Mobile, Display and other similar digital marketing channels.
Managing digital advertising campaigns like SEM, Display, Social, Programmatic and SEO.
Developing optimisation plans with the team by sharing insights from the digital marketing analytics report.
Should stay updated with the knowledge of emerging digital tools and platforms, digital marketing trends, and new technologies.
Assisting the team with the overall digital marketing strategy of the company.
Earn a certificate from SEO Training in Chennai. This can help you understand how website ranking works in popular search engines like Google and Bing. You can elevate the Firstsource Solutions salary as you elevate the scale of their official website and other platforms.
Executive - Robotic Process Automation (RPA)
The process of building and deploying software robots to assist humans in their manual tasks is called Robot Process Automation (RPA). Many organisations have begun to use RPA technology to increase profits and revenues to increase profits and revenues. RPA Training in Bangalore has a syllabus based on industry practices and methods. This helps you in gaining experience-based knowledge to enhance your profile.
Required Qualifications
Should possess theoretical knowledge of Cloud Computing.
Good knowledge in any one of the programming languages like JAVA, C#.Net, Python and Node JS.
Familiarity with the database concepts and the ability to work on multiple tasks.
Knowledge of the Software Development Life Cycle (SDLC) is preferred.
Should be able to effectively work in a team as well as independently.
Should possess the desire to work in a fast-paced, entrepreneurial environment and good analytical skills.
JAVA learning is the foundation to extend your knowledge in other subsequent coding languages like C, C#, C++, Python and others. Join JAVA Training in Bangalore, to increase the Firstsource salary for freshers as they enlarge your programming skills and raise your profile to the next level.
Roles and Responsibilities
To execute the entire Software Development Life Cycle (SDLC).
Integrating software components into a fully functional software system.
Developing software verification plans and quality assurance procedures.
Software functionality should be well maintained and documented.
Troubleshooting, debugging and upgrading the existing systems.
Developing programs for production and ensuring software updates with the latest features.
Associate - Technology
Robotic Process Automation (RPA) Associate identifies business processes suitable for automation. They build simple automation solutions for it by applying their knowledge.
Required Qualifications
Should be graduated from any technical courses.
Should possess the Root Cause Analysis (RCA) skill.
Programming languages like JAVA, NET, etc are preferred to be known by the applicant.
Good problem solving and logical reasoning skills are required.
Knowledge in developing RPA bots using any leading tools like Automation Anywhere, Blue Prism or UiPath.
Roles and Responsibilities
Ability to comprehend end-to-end business processes and use RPA to automate to satisfy the requirements.
Developing, testing and deploying RPA bots. Should be able to create the Bot using Flowchart, scripting and Sequence workflows, creating scripts and objects that are efficient, well-structured and maintainable.
Creating modular re-usable solution components in a project to save time and update the solution library on a regular basis.
Deploying Bot to production and conducting a test run. Regular monitoring and optimisation of existing robots.
To conduct root cause analysis, review RCA and lessons learned with customers.
Do you find the role intriguing? Join RPA Training in Chennai to learn various popular RPA tools like UiPath, Blue Prism, Automation Anywhere and others. RPA Certification from FITA Academy can help in upraising your Firstsource Solutions salary for freshers.
System Analyst
System Analysts are commonly referred to as Business Technology Analysts. At times, System Analysts serve as change agents. They identify the need for organisational structure and design systems to implement those changes.
Required Qualifications
The applicant must require a bachelor's degree in any discipline.
Should possess knowledge in SQL Management Studio, XML and Data Mapping.
Should be familiar with Mortage Cadence LOS (Enterprise Lending Centre (ELC) or Mortage Cadence Platform (MCP)).
Knowledge of SDLC lifecycles such as Waterfall and Agile is recommended.
Knowledge of C# and VB is an advantage.
Must possess substantial Business Requirements Documents (BRD) writing skills.
Strong understanding of workflow design and possess analytical skills.
Skills like Project Management, Listening Skills, and Business and Technology Acumen are required.
Roles and Responsibilities
Responsible for executing system configuration and unit testing against documented requirements.
Performing system configuration efforts like including data mapping efforts for data import and extract files, configuring workflow, User Set-Up and third-party services.
Collaborating with onshore Implementation Consultants and Onshore Business analysts to understand business requirements, with the ability to convert the needs into effective configuration.
Support quality assurance (QA) and user acceptance testing (UAT), triaging and correcting reported bugs or defects.
To ensure project success and quality, collaborate with internal organisations and outside vendors.
Employee Welfare At Firstsource Solutions
Firstsource Solutions provides freshers and aspiring employees with personal and professional growth opportunities. They provide,
Soft Skill Training is provided at the premises to tackle stress and complete their tasks trouble-free. It helps in building their self-confidence and leadership qualities.
Remote working helps the employee stay home in their comfort while working for the company under unavoidable situations.
International Relocation to fulfilthe dreams of employees to live overseas.
Education Assistance is provided to the employee's family as happier employees focus more on their goals.
Health Insurance makes employees feel safe and supported, resulting in a healthier and more productive workforce with lower absenteeism.
Free Transport to minimise employees' travel expenses and ease them with comfortable daily transport to the company.
Cafeteria to keep all employees hydrated, energised, and refreshed throughout the day.
Team Outings to stay connected with the team and improve their team spirit.
Gymnasium is a part of the office, to offer fitness benefits and motivate employees.
Child Care Service isprovided as the company functions under the motto of gender inclusivity.
They help their employees attain a healthy work-life balance. Their satisfaction in personal life reflects better performance at work.
They hold the Bloomberg Gender-Equality Index award of 2022 for their diversity in gender among employees. Their 'Gender Inclusivity' principle emphasises fostering a culture that recognises and promotes gender diversity by supporting positive diversity measures and removing barriers. Gender Sensitivity Workshops are conducted in all the centres in India, and a healthy gender ratio in the company is encouraged.
Firstsource values employee and client feedback and ensures that leaders are accessible and receptive to feedback. Fun at Work is also a priority when it comes to Firstsource. To ensure that people have fun, the Leadership Management Development holds workshops on innovative approaches for Creating Fun at Workplace. This program introduces participants to various techniques for establishing a joyful work environment.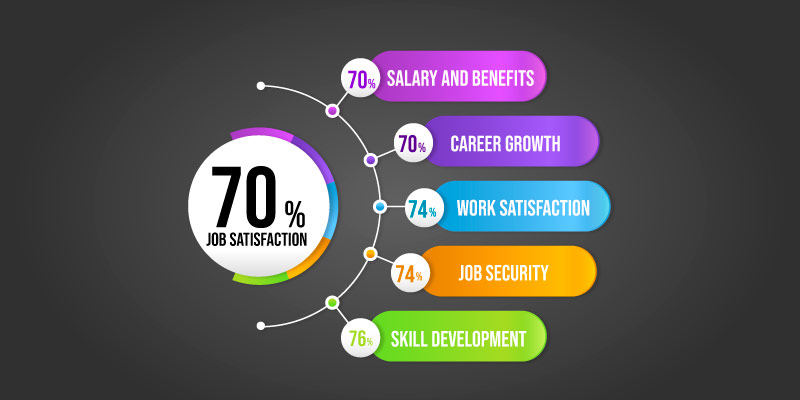 To wrap up, Firstsource Solutions Limited is the best place to experience a better work-life balance. It provides abundant opportunities for freshers to come off with flying colours. Firstsource Solutions salary for freshers and their lively work environment could be a bunny hug to all the freshers entering the IT sector.
Python can help you gain better hold up in understanding the structure for larger programs than shell scripting. Learn Python Training in Bangalore for wider opportunities in the IT Sector.
Recent Post: Salesforce Salary for Freshers