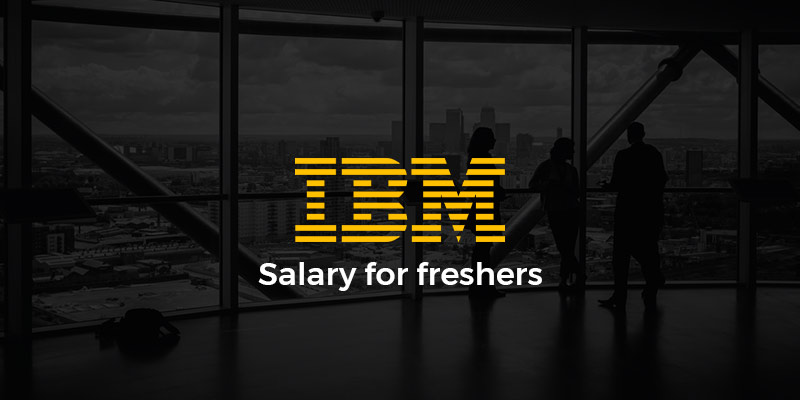 IBM is an American-based multinational company that provides hardware and software-based products to customers worldwide. It has its headquarters in many geographical locations such as India, the United States, Canada, the United Kingdom, Germany, France, Italy, Spain, Sweden, Switzerland, Belgium, Netherlands, Israel, Australia, Algeria, Angola, and more.
Moreover, IBM technology provides various services to customers worldwide with over 282 thousand employees. Predominantly, they focus on recruiting more than 6000 thousand freshers in all over location- based compnaies, with more than 160 countries globally.
IBM is well known for its software-based product services. Still, it is also recognized for its research and development corporation over the years, with significant innovations like the floppy disk, the hard disk drive, and the UPC barcode. Due to their constant diligence, IBM was awarded Nobel Prizes and Turing Awards.
Before moving on, discussing IBM salary for freshers, we shall look at IBM's types of services and performance in detail.
IBM Free Events and Training Programs
IBM offers various training and event programs for freshers. Freshers interested in beginning their career in IT sectors must notice the program they offer free for freshers. Many IT companies like IBM conduct programs and events for freshers, so freshers can participate in these events and learn many things. In IBM, many professionals organize programs and events in Remote mobile training, AI training, Agile learning, Security, Supply Chain, and Systems. So, these events would benefit freshers and professionals, so freshers should not miss out on these learning opportunities.
If you want to acquire artificial intelligence skills, you can join an Artificial Intelligence Course in Chennai and learn Machine Learning algorithms, Deep Learning, etc.
The Performance of IBM
In all the service processes, they focus on providing technological innovation to the customer worldwide. Moreover, they integrate technology-based products with partners, competitors, and clients who require hybrid cloud and AI as crucial sources for their business growth.
Further, they categorize the needs of the clients according to the requirements- With their diligence and constant growth among the clients and partners worldwide, they are competing with the competitors to provide the best IBM product, which could be compatible with the other products. Moreover, they provide IBM Software, IBM Consulting, and IBM Infrastructure to deliver this value.
IBM Software: hybrid cloud and AI services to the clients turn up and increase to 5%. The Red Hat continues to gain momentum, growing nearly 21% at constant; this makes IBM work more innovative and persistent.
IBM Consulting: Customers that depend on IBM are trusted partners and digitalization drove sales growth of 8% at constant currency.
IBM Infrastructure: At constant currency, revenues fell 3%, reflecting product cycle trends. Clients still use our Power servers, storage, and IBM Z systems as the core pieces of their hybrid cloud infrastructure. The z15 has shipped more MIPs than any other program in our history.
These are the effective performance of IBM to their clients, partners, and customers. Now, we shall look at IBM company salary for freshers and types of services.
Types of Services
IBM offers various services to clients globally. We shall look at a few services that they offer. Top products & platforms- Industries (Financial Services, Consumer goods, Energy, Government, Retail, and Telecommunications), Artificial intelligence, Blockchain, Business operations, Cloud computing, Data & Analytics, Hybrid cloud, IT infrastructure, Security, and Supply chain.
Moreover, they offer various technology-based services and lots of job opportunities for freshers, and in all the above industries, they plan to recruit more than 5000 freshers and professionals. Every year, IBM recruits more than 6000 freshers globally. So, it is the right career choice for freshers who intend to begin their career at IBM.
IBM Salary for Freshers
IBM package for freshers ranges from 2 to 3 lakh per year. If you are freshers intended to begin your career in the technical field, you will be paid around 1.9 to 2 lakhs per year. If you choose the technical role, you will be paid 2.5 to 3 lakhs per year.
IBM Fresher Salary Structure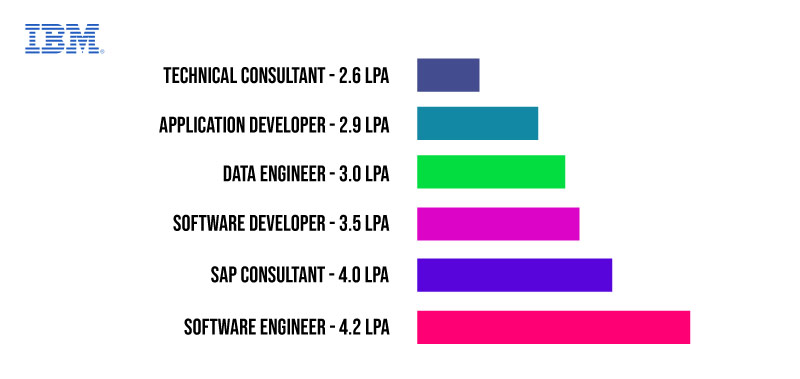 We shall look at a few job opportunities offered by IBM and the IBM package for freshers.
Job Opportunities at IBM
Application Developer, Finance and Administration Delivery, Technical Manager, Data Engineer, Senior Consultant, Associate Network Support, Security Consultant, Project Management Officer, Security and Privacy consultant, zSW Technical Sales Specialist, Application Developer: EAI, Application Developer: SAP ABAP, Reporting Analyst, Application Database Administrator, Java Full Stack developer, Cloud Application specialist, Senior Consultant for Hybrid Data Management, Database Administration - Oracle/ SQL, etc.
Moreover, there are multiple job opportunities for freshers and professionals to begin their careers in IBM- both technical and non-technical roles. Further, you have new job alerts for Associate Network Support, Security and Privacy consultant, Test Specialist, Infrastructure Specialist, etc. Among these numerous job opportunities, freshers have multiple job vacancies to employ.
Now, we shall discuss the role and responsibility of a few jobs at IBM; then, we shall discuss IBM starting salary for freshers.
Roles and Responsibilities
Mobile Developer
You'll be in charge of designing, building,and developing the mobile application.
communicate with the teams responsible for the products and other infrastructure based services.
Work as a team and have the ability to work with the development team.
Detect and fix bugs; if complex issues arise.
An in-depth understanding of offline storage, REST APIs, and the document request mechanism
Be able to develop well-documented JavaScript code.
Knowledge of automated testing tools such as Jest or Mocha, etc
Excellent at troubleshooting and working with third-party dependencies.
Application Developer
Interact with technical teams and deliver new products and improve processes.
Collaborate with the project manager in identifying and fixing production risks and issues.
Be able to design and develop architectural graphics.
Experience in Extensive React and Angular application development.
Create applications with Hypertext Markup Language5 and JavaScript frameworks like React.JS, Angular, Vue.js, and Cascading Style Sheets 3.
Create and maintain high-concurrency systems.
Know how to use atomic conceptual design, reusable components, and Responsive Web Apps and how to work with them.
Make user interface components that can be reused.
Data Engineer
Coordinate with multiple technical teams to ensure the system enhancements and focus on deploying new products and processes.
advanced knowledge of applications programming and ensure application design adheres to the overall architecture blueprint
Utilize advanced knowledge of system and develop standards coding, testing, debugging, and implementation
comprehensive knowledge on business process, such as architecture and infrastructure, integrate to accomplish business goals
Resolve a variety of high impact problems/projects through in-depth evaluation of complex business processes, system processes, and industry standards
Cooperate, define issues and develop innovative solutions.
Application Developer: Java Full Stack
The candidate must have a comprehensive understanding of Backend and frontend technologies.
Proficient at the end to end application development, including front end web development, middleware integration, and persevering data in no Structured Query Language or Database Management system.
Strong understanding of business, global market, and competitors
Focus on providing unbiased guidelines without political or personal concerns
Applicants must have basic knowledge of JAVA 8, Spring and Hibernate, etc.
OOP ideas should be well-understood. Should be able to handle exceptions, constructors, collections, Exceptions, Java Keywords, JVM and Memory Management, Multithreading, JMS, and other related topics.
Now, we have clearly understood that acquiring additional skills is essential to a part of IBM technology. So, apart from the degree knowledge, we should have gained skills like Java programming language, selenium automation testing skills, cloud computing skills, networking skills, etc. It depends on the role that you intended to perceive. So, start learning skills relevant to your degree.
If you want to become a Java developer,you can join Java Training in Chennai at FITA Academy and learn the core concepts of Core Java Programming - Introducing Java, Data Types, Operators, Variables, etc.
Job Satisfaction Rate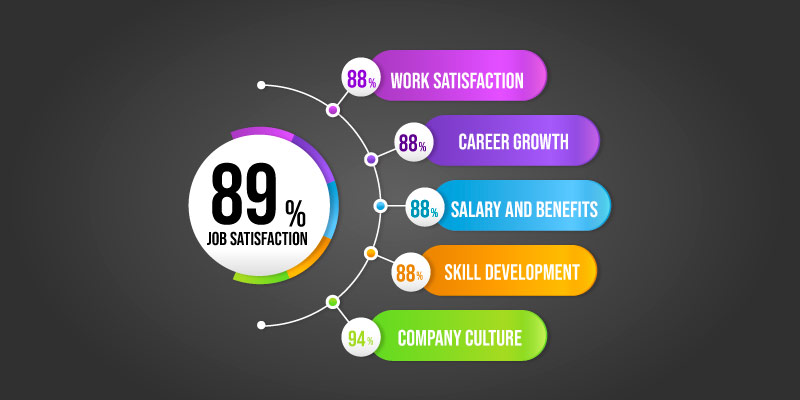 Educational Qualification
PG Courses
Master of Computer Application
B.E/B.Tech Branches
Computer Science Engineering / Computer Engineering
Information Science and Engineering / Information Technology
Electronics and Communication Engineering
Electrical and Electronics Engineering
Electronics and Instrumentation Engineering
Information and Communication Engineering
Electronics and Telecommunication Engineering
Basic Skills
Programming language skills like Java, python, C,C++, etc
Networking skills
Analytical skills and problem-solving skills
Good communication skills
Team working skills
Interpersonal skills
The skills that we have mentioned above are essential, but these are common skills required to enter the IT sector. So, freshers who apply for this IBM job must be well acquainted with the job description and skills they mentioned. Therefore, make sure that you have completed the certification course they mentioned. You can choose any demanding course. For example , you can also take Python Training in Chennai and learn core concepts of python coding, strings, tools , frameworks and other essential concepts.
Interview process
IBM conducts 3 to 4 rounds. Most importantly, the interview rounds depend on the job you prefer to choose. Now, we shall common interview process:
Written Round
Technical Round
HR Round
Written Round
You can expect questions from the general aptitude and English Assessment Test in this round. In general aptitude, you can expect questions like coding and decoding, Profit & Loss, Numerical relations and reasoning, data interpretation, etc.
Technical Round
You can expect questions from Data structures and Algorithms, Database Management systems, Operating systems, Networking, Object-oriented programming concepts, and a programming language of your choice. Moreover, you should focus on the essential topics relevant to your degree.
HR Round
After cracking above these two rounds, you will get into this round. In this round, the recruiter will ask general questions.
If you want to become a selenium tester, you can join Selenium Training in Chennai and learn the core concepts such as Selenium IDE, Selenium WebDriver, Selenium Grid, etc.
Application Process
Applicants can visit the official website of International Business Machines Corporation- www.ibm.com.
Type your job role on the search bar, or You will have a career option at the bottom of the home page.
Click on it; you will find a lot of job opportunities according to your experience.
You will also get the most recent IBM IT Jobs.
Then select a country/ region or location to get location-based job opportunities.
Choose from a range of roles based on your qualifications.
Fill in all of the fields on the IBM Application Form
Check all of the information you've entered.
Upload all relevant information, such as a resume, required photography size, and signature, among other things.
Submit the form by clicking the submit button.
Finally, make a printout for future reference.
IBM Salary for Freshers
IBM fresher salary ranges from 2 to 3 lakhs per year. The IBM package for freshers merely depends on their qualifications, skills, and experience. If you are freshers and have qualified additional certification relevant to the degree, your pay will differ from others. On the other hand, salary may vary depending on the experience you gained. So, gain skills and earn a high salary. Overall, IBM starting salary for freshers ranges from 3 to 3.5 lakhs per year.
Recent Post: Genpact Salary for Freshers