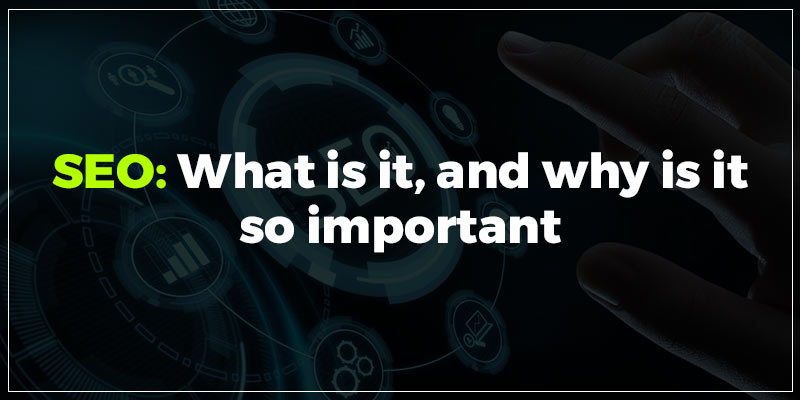 Every business owner knows that marketing is essential for growing a company. However, many entrepreneurs do not realise the incredible impact SEO can have on their business's success.
Google- 96% of web users
The fact is that SEO improves the rankings of your website in search engine results pages. Therefore if your site is more accessible to potential customers, it will take less effort to turn them into paying customers.
This means that no matter what type of business you own, whether you are selling pet products or mobile apps, there are always people searching for exactly what you are selling, just waiting to be found!
And when they can click through and purchase from one of the first results on Google rather than having to navigate to your site themselves, conversions will increase dramatically.
"Internet users are increasingly relying on search engines to find products and services."
You can ensure that more people visit your pages instead of wasting time on the competitors' sites by optimising your website. Your business does not want to miss out on this opportunity for growth.
By Taking a Digital Marketing Course Chennai at FITA Academy will help you learn more about Digital conversion and strategies to increase sales conversions by understanding customer behaviour using various tools available in Digital World.
Learn all about Search Engine Optimisation
So what exactly is SEO? And how do you make sure your company is getting the most out of it?
Read on to learn all about Search Engine Optimisation and discover how to create a web presence that brings in new customers every day.
1. Keyword Research- The first step in any successful SEO campaign is choosing which words (keywords) will be associated with your website. Finding popular and relevant keywords to your business will help you optimise your website so that Google sees it as an authority on the topic.
2. SEO Copywriting- Now that you have a list of keywords, you can begin incorporating them into your content. Search engines give more weight to keywords in page titles, meta descriptions, headings, bolded phrases and other new HTML tags, including images and videos.
By using these keywords correctly throughout your posts and web pages, the search engines will be able to index them with ease, improving your site's rankings.
3. Site Optimisation & Structure- Once a search engine indexes a keyword, it needs to match a webpage containing valuable content related to the topic.
This means every post should be well written and provide the reader with helpful information that is easy to understand.
Having "sticky" content that remains on a page for a more extended period will improve search engine rankings since Google sees this as quality over quantity.
In addition, utilising HTML tags can help you highlight essential keywords in your posts since they show up differently to people reading them online.
4. Link Building- Once someone lands on your webpage, they need to be able to find it again through other websites. Getting links from reputable sources pointing back at your site will increase its popularity and make it easier for people to find when doing a web search.
When someone else's website mentions your business or product by name, it does not cost anything for them to add a link using your business name, logo or website URL.
You can find link building opportunities by participating in communities, joining relevant forums and blogs where you can share your web address without coming across as "spammy".
5. Social Media Marketing- Since most people are active on social media, you must have an online presence there too. Social Media Marketing ensures that potential customers can contact your business directly through their favourite networks rather than having to search for the information themselves.
Having a social media strategy will also increase your chances of being found when different hashtags become popular, allowing even more traffic to land on your webpage.
Conclusion
While Search Engine Optimisation may take some time before its benefits start showing up in Google Analytics, it is definitely worth the effort. If you are ready to start, Sign up for a Digital Marketing Course Online to help you build a successful business with core SEO skills covered in this course. Various digital marketing techniques can boost your business recognition.
Recent Post: Benefits of learning Selenium Automation Testing