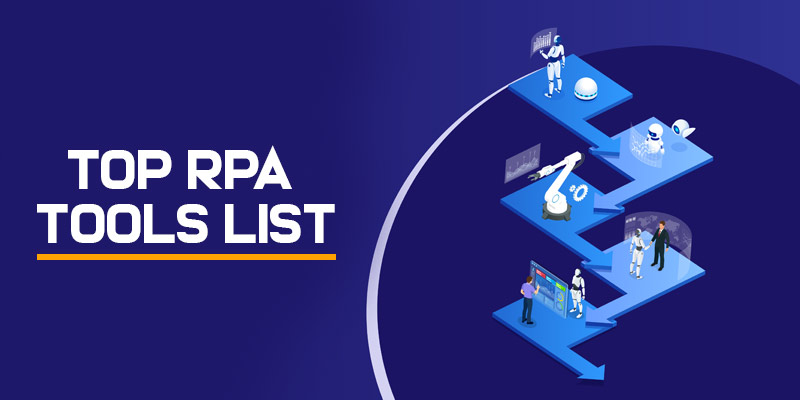 Robotic Process Automation tools are essential for automation processes. There are numerous RPA tools accessible in today's market. In an organization, employers do several tasks that are time-consuming and repetitive. There is a chance to get errors while performing multiple tasks. To avoid these, organizations prefer RPA software. Equip yourself in robotic process automation through RPA Training in Chennai. The specialist approach will help to enhance your skills in automation. RPA technology supports you to automate your business process and helps to interconnect with the digital system.
RPA is a user-friendly, great community, and easy to learn. It also assists your business to eliminate human error, reducing operation cost and saves time. Furthermore, it allows your business model to create new jobs. Get to know everything about these tools via RPA Training Online Learning RPA will help you to land in a successful and secure career.
Listed below are some of the top RPA tools and they are discussed in detail,
Blue Prism
Ui Path
Automation Anywhere
Kryon
Blue Prism
Blue Prism is an RPA tool that holds the capability of a virtual workforce. This helps to automate the business operations cost-effectively. It also offers drag and drops functionality. Learn more and achieve more through Blue Prism Training in Chennai. Aspirant's approach is helpful for all.
Features
It can be used in any application and any platform
It supports the multi-environment deployment
Security implemented from software and network credentials
Pros
Used on any platform
Implemented in a short period of 5 to 6 weeks
Security implemented for software credentials and network
Support for multi-environment deployment model.
UiPath
UiPath is an RPA tool which is used for Windows desktop Automation. Programming knowledge is not required to work in this field. It provides scheduling, deployment management, process modeling, change management, remote execution, access control, auditing, execution monitoring, and much more. Become an expert in this field with the support of UiPath Training in Chennai. Highly skilled professionals teach you everything about this tool.
Features
It affords the open platform
May handle any process, in any number.
It can automate faster
Pros
Open-platform
Support for a high range of desktop and web applications
It implements security to access control, managing credentials and rendering encryption
UiPath is hosted in cloud environments or implicit terminals
Scraping solution serves with PDF, Java, SAP, .Net and Legacy
Automation Anywhere
AA automates end-to-end business operations for organizations. It is a web-based management system used by control rooms to check the execution status. It is used in various industries such as Manufacturing, HR, Sales, Finance, etc. Automation Anywhere Course in Chennai makes you more comfortable in this field.
Features
Real-time analytics and reports
It permits the scriptless automation
It offers platform independence
Pros
The smart operation for IT operations and businesses
Analytics and real-time reports
It provides security through credentials, authentication, and encryption
Rapidly automates complex tasks
Allows for scriptless automation
Kryon
The other name of Kryon is Automate. It has three solutions for automation processes, they are Hybrid, Attended, and UnAttended. This tool gives you accuracy, speed, and efficiency.
Features
Scalable system
Improves productivity in any stage of your business
It helps you to recognize all your processes.
Pros
Improves productivity
Helps to recognize all your process
FITA Academy offers the best RPA Training In Bangalore under experts to get placed in MNC by imparting industry-relevant tools to the learners.
Recent Post: Reasons Why Digital Marketing is Important for Business Growth